Rowing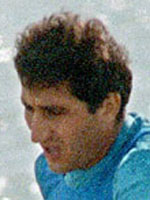 Giuseppe Abbagnale
Date of birth

1959-07-24
Birthplace

Pompeii
Height

186 cm
Weight

95.0 kg
Discipline

Coxed pairs
Olympic Games (3 medals - 2 gold, 1 silver)
Coxed pairs: 1st (1984, 1988), 2nd (1992)
World Championships (11 medals - 7 gold, 3 silver, 1 bronze)
Coxed pairs: 1st (1981, 1982, 1985, 1987, 1989, 1990, 1991), 2nd (1986, 1993, 1994), 3rd (1983)
The Abbagnale family, a rich rowing heritage
The three Abbagnale brothers, Giuseppe and Carmine on one side, and Agostino the younger brother on the other, won a combined total of nine Olympic medals (five titles) at five Olympiads - a collection which has made these rowing brothers sporting legends in Italy.
Their story had such an impact in their homeland that it prompted a three-hour film by Italian television.
Born into a horticultural family in Pompei on the slopes on Mount Vesuvius, the three boys were introduced to rowing by their uncle Giuseppe La Mura in the bay of Naples, although this did not offer the most ideal of training grounds.
La Mura subjected his charges to a harsh regime, which began each day at 4.30am, was followed by a day of work, and recommenced at 6pm.
Giuseppe and Carmine in a coxed pairs formation began to make a name for themselves in 1981, the year they won the world championships, the first of a series of seven, a record that was finally beaten by Englishman Steve Redgrave.
First Olympic title in LA
At Los Angeles 1984 they romped home to their first Olympic victory, finishing a full 5.22 seconds ahead of their nearest challengers. Giuseppe and Carmine then reconfirmed their superiority in Seoul, winning a second gold medal, while Agostino also climbed to the highest point on the podium, winning the quadruple sculls.
In Barcelona, although unbeaten since 1986, Giuseppe and Carmine's triple hopes were quashed by two other brothers, the Britons Greg and Jonathan Searle. Furthermore they had no chance to avenge this defeat, the coxed pairs having since disappeared from the Olympic programme.
In Atlanta, Carmine was among the eight-man Italian team which failed to qualify for the final and for which Giuseppe was excluded by his uncle - the new team trainer - due to a lack of form.
Agostino fared better: he added an Olympic gold medal to the family collection in the double sculls and then in 1998, he was part of the Italian quartet that won the world championship.
Two years later, he joined his brothers by winning his third Olympic title (quadruple sculls) at the Sydney Games.
Copyright 2008 Agence France-Presse.