Sailing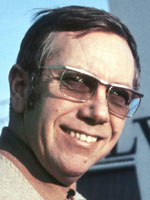 Paul Elvstrom
Date of birth

1928-02-25
Birthplace

Copenhagen
Height

180 cm
Weight

89.0 kg
Disciplines

Firefly, Finn, 505, Snipe, Flying Dutchman, Star, 5,50 m, Soling, Half Ton, Tornado
Olympic Games (4 medals - 4 gold)
Firefly: 1st (1948)
Finn (ex-Firefly): 1st (1952, 1956, 1960)
World Championships (18 medals - 13 gold, 3 silver, 2 bronze)
505: 1st (1957, 1958)
Finn: 1st (1958, 1959), 2nd (1956)
Snipe: 1st (1959)
Flying Dutchmann: 1st (1962/with. Hans Fogh)
Star : 1st (1966/with Albrechtsson, 1967/with. Mike-Meyer), 2nd (1957/with Albert Debarge)
5,50m: 1st (1966)
Soling: 1st (1969, 1974), 2nd (1973), 3rd (1971)
Half Ton: 1st (1971, 1981)
Tornado: 3rd (1985/with Trine Elvstrom)
European Championships (7 medals - 5 gold, 1 silver, 1 bronze)
Flying Dutchman: 1st (1955/with Aage Birch)
Finn: 1st (1960)
505: 1st (1970, 1971), 3rd (1972)
Tornado: 1st (1984/with his daughter Trine), 2nd (1983/with his daughter Trine)
Other honours
Denmark's sportsman of the century
The Flying Dane charts unknown waters
For Paul Elvstrom, his early introduction to sailing, coupled with his family's tradition of sea-faring, allowed him to traverse uncharted Olympic territory by competing in six consecutive Games, winning four consecutive gold medals between 1948 - 1960.
Having competed in his first event at the age of ten, his parents' large house later provided the teenager with the chance to experiment and create in his own sailing workshop while he was a member of the Hallerup Yacht club - a hobby which would eventually furnish him with a successful commercial career.
Elvstrom's skill, knowledge of the weather, and mastery of the sails brought him national and world recognition with repeated victories in numerous world sailing competitions, evoking praise from some of the sport's more experienced helmsmen.
His first Olympic exploit came in his Luciole dinghy in Torbay at the London Games of 1948 - but this was only the beginning.
Four years later in Helsinki his noted skills at the helm led him to his second consecutive Olympic title, with more than 25 metres to spare.
Brush with danger
At the age of 28, and with years of sailing experience behind him, Elvstrom established his own company, Elvstrom Sails, with an old school friend in 1954 - and he went on to win his third consecutive, and highly-deserved, gold medal in Melbourne. A fourth, unprecedented, sailing gold was won in the bay of Naples in 1960 - his last big Olympic win.
But Elvstrom was not finished. Participation in Mexico (1968) in the Star category almost led to an historic fifth gold medal. Alas, a fourth place finish in Acapulco, coupled with 13th place in Munich four years later signalled a change in fortune.
Changing categories, in 1974 he won the world championship Soling title in Sydney. In this period he also pioneered hanging over the side of the boat, while tied, allowing greater control over the speed of the vessel and the chance to survey the field of competition.
At the age of 56, it was a family affair as his daughter Trine helped in European championship victory (Tornado-EM).
One of his last major exploits, ten years later, almost led to tragedy, however, as his trimaran collapsed near Gotland in the Baltic sea while sailing with a friend. Elvstrom, hanging on for his life all night, was only saved by a passing Swedish navy boat.
Copyright 2008 Agence France-Presse.