Track and Field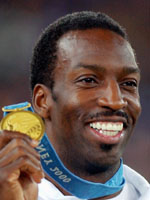 Michael Johnson
Date of birth

1967-09-13
Birthplace

Dallas
Height

185 cm
Weight

78.0 kg
Disciplines

200m, 400m, 4x400m relay
World Records

5 (200m, 400m, 4x400m)
Olympic Games (5 medals - 5 gold)
200m: 1st (1996)
400m: 1st (1996, 2000)
4x400m relay: 1st (1992, 2000)
World championships (9 medals - 9 gold)
200m: 1st (1991, 1995)
400m: 1st (1993, 1995, 1997, 1999)
4x400m relay: 1st (1993, 1995, 1999)
Running straight - into the arms of victory
At the Atlanta Games of 1996 Michael Johnson not only became the first athlete to take Olympic golds in both the 200m and 400m, but shattered the 200m world record with an eye-opening time of 19.32sec.
Johnson suffered a niggling hamstring problem after the 1996 Games which curtailed his 1997 campaign, but unfortunately for his opponents he was still ready for the 2000 Sydney Games.
His idiosyncratic upright running style, with little knee lift and short rapid strides, makes the Dallas-born athlete easy to spot in a race.
With this unique and highly successful technique under his belt, he exploded onto the public consciousness in 1990 when he became the best in the world at both 200 and 400m.
He then went on to establish an impressive run of 32 straight wins at 200m from May 1990 to June 1992, and 58 400m finals in a row from 1990 to 1997. Johnson also formed part of the winning Barcelona relay team which smashed the 23-year-old 4x400m world record in a time of 2:55.74.
Glorious career ends in 2001
In 1995 he became the first person since 1899 to land the 200m/400m double at the US Championships, emulating the feat then at the world championships.
He successfully defended his US titles before taking the Olympics by storm, winning the 200m in 19.32 secs, tearing round the bend and pulling away from Frankie Fredericks and Ato Boldon.
Turning up under an injury cloud at the 1997 world championships, Johnson was always going to be up against it, yet despite not being able to fire on all cylinders he still waltzed off with the 400m title.
Again, at the Worlds in Seville (1999), Johnson emerged from the doldrums of injury to defend his 400m title, for the fourth consecutive time and smashing Butch Reynolds' 11-year-old world record in a time of 43.18 sec.
Johnson also played a crucial part in the USA's 4x400m title win and is the most successful athlete at world championships with 9 titles.
A poor performance in the 200m American trials for Sydney meant he only defended his 400m crown which he did successfully before winning his fifth Olympic gold medal in the relay.
His brilliant career on the track came to an end in Yokohama in 2001 and he finished with five world records to go with his 14 gold medals (5 Olympic, 9 world).
Copyright 2008 Agence France-Presse.