Track and Field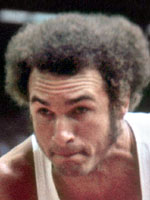 Alberto Juantorena
Date of birth

1950-11-21
Birthplace

Santiago de Cuba
Height

191 cm
Weight

84.0 kg
Discipline

400m, 800m
World records

2 (800m)
Olympic Games (2 medals - 2 gold)
400m: 1st (1976), 4th (1980)
800m: 1st (1976)
Pan American Games (3 medals - 3 silver)
400m: 2nd (1975, 1979)
800m: 2nd (1979)
Galloping to success in Montreal
Alberto Juantorena, nicknamed "The Horse", became the first and only athlete to have won the 400m and 800m double at an Olympic Games. His feat in Montreal (1976) also saw him break the previous world record in the longer distance by six hundredths of a second.
The lofty Cuban began his sporting career as a basketball player, but at the age of 20, due to what he judged were average performances, he decided to spend more time on athletics.
His physique and his giant stride (2.70m) was a perfect precursor, naturally, for the 400m. But although his progress was good, it was not quite good enough to allow him to shine in the Munich Games in 1972. He was eliminated in the semi-finals.
Surprisingly, Juantorena decided to prove himself in the 800m at a meeting in Italy, finishing the two laps in 1min 45.2sec, a time which in Munich would have given him the gold medal. Juantorena ran the 800m exactly as he did the 400m, effectively transforming it into a sprint event.
Running for Cuba
Unbeaten in the 400m in 1973 and 1974, his body would soon serve notice of his exertions when in his final competitive year he ruptured an Achilles tendon.
He underwent two operations, leading many observers to believe his non-inclusion in the Montreal Games was a mere formality. But his recuperation was quicker than had been anticipated.
In Montreal, Juantorena ran the 800m first. Following a first lap run in 50.9 sec, the Cuban crossed the finish line in 1min 43.50sec beating the world record set two years previously by American Richard Wohlhuter. "My medal belongs to Cuba," he declared shortly afterwards.
Four days later in the final of the 400m, he got off to a slow start but quickly made up the distance on his two American adversaries by clocking in at 44.26 sec, beating his personal record by almost half a second.
He went on to better his own 800m world record the following year in Sofia, Bulgaria in 1min 43.44sec, however he would later suffer a series of muscle complaints that would put an end to his career in Moscow in 1980.
In 1992, Juantorena was named vice-minister for sports in Cuba. He is also president of the Cuban Athletics Federation.
Copyright 2008 Agence France-Presse.