Blanka Vlasic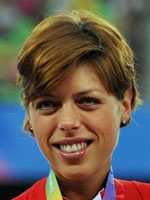 Blanka Vlasic
Date of birth

1983-11-08
Birthplace

Split
Height

193 cm
Weight

75.0 kg
Olympic games (1 medal - 1 silver)
World Championships (3 medals - 2 gold, 1 silver)
1st (2007, 2009), 2nd (2011)
European Championships (1 medal - 1 gold)
World Indoor Championships (4 medals - 2 gold, 1 silver, 1 bronze)
1st (2008, 2010), 2nd (2006), 3rd (2004)
Other honours
IAAF Athlete of the year (2010)
Groover Vlasic aiming high
Croatia's superstar athlete Blanka Vlasic is desperate to win the one trophy missing from her cabinet at London by clinching the Olympic gold denied her in Beijing by surprise winner Tia Hellebaut of Belgium.
Vlasic, whose feminine, slender frame and penchant for a hip-grinding celebration have made her one of the most recognisable faces on the circuit, won the 2007 and 2009 world titles.
And even though she showed up at the 2011 world championships at Daegu with muscular injuries to her left leg, she leapt the same height as the eventual winner Russia's Anna Chicherova, making it a moral victory for the silver medallist.
Beijing was the bigger blow for Vlasic as she went into the Olympic finals on the back of 38 consecutive victories, making her a red-hot favorite.
Both women cleared 2.05m and went for 2.07m, which they both failed to clear, meaning that as the Belgian had cleared 2.05m in a single effort and Vlasic in two, Hellebaut won the gold by the narrowest of margins.
It must not be forgotten that Vlasic had been unbeaten since June 2007 and had most of the top ten best performances of the season. Hard luck indeed.
Vlasic will still be only 28-years-old at London, but has had a string of niggling complaints to deal with. However, after clearing 2.08m in Zagreb in August 2009, London would seem the best date to tackle her ambition for Olympic gold or even her other ambition of eventually overhauling her idol Stefka Kostadinova of Bulgaria who still holds the long-standing world record of 2.09m from 1987.
Score to settle in London
Double junior world champion in 2000 and 2002 and world indoor bronze medallist in 2004 followed by silver in the same event in 2006 and then gold in 2008 and 2010, she won her first outdoor gold in 2007 at the Osaka world championships.
To make her winning performance in Japan even sweeter is the fact she came back from a thyroid operation in 2005 and came within centimeters of Kostadinova's mark after wrapping up the gold.
Her father was a gifted decathlete and still holds the Croatian record for points as well as winning the 1983 Mediterranean Games in Casablanca which inspired his daughter's first name.
She picked up the bug for competitive sport at a young age and it was Kostadinova's Olympic triumph at Atlanta in 1996 which pushed Vlasic to make a go of her athletics career.
There has also been consistency in her progress. She was eighth at the 2000 Sydney Games when just 16 years-old and was quickly identified as one for the future.
As London swings into view Vlasic will have another battle on her hands with Hellebaut and Chicherova just as hungry as her for the biggest prize in sport.
Results
Copyright 2008 Agence France-Presse.