Thomas Daley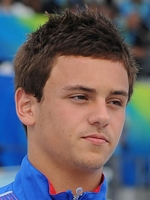 Thomas Daley
Date of birth

1994-05-21
Birthplace

Plymouth (England)
Height

155 cm
Weight

47.0 kg
Olympic Games
10m platform: 7th (2008)
10m synchronised (with Blake Aldridge): 8th (2008)
World Championships (1 medal - 1 gold)
European Championships (2 medals - 2 gold)
10m platform: 1st (2008, 2012)
Perfect Ten
Child star and dethroned world diving champion Tom Daley will be one of Britain's iconic performers at London 2012 as he hopes to use home advantage to edge back in front of Chinese hope Qiu Bo.
At just 14-years-old, Daley came seventh in the 10m platform at the 2008 Beijing Games, and being so fresh faced and extremely lucid only added to the media attention the potential home gold medallist was then showered with.
Weeks later anyone who had yet to hear Daley's name may have noticed it with a second set of headlines as he became Europe's youngest ever champion at the 2008 European championships with eight perfect tens edging Germany's world cup winner Sacha Klein into second.
But Daley really became an overnight star in Britain after winning the world title at the Rome championships in 2009 aged just 15.
He took an interest in diving at seven when his father, an electrician, took him to a local pool. By the age of ten he was British under-18 dive champion, earning a 10,000 pounds (15,000 euros) grant from the 'Talented Athlete scholarships scheme".
Since Beijing, Daley has matured somewhat and undergone a dramatic physical change. He also had to change school after Beijing on account of a growing bullying problem.
Dethroned
Daly switched to a school specialising in swimming not far from his family home but tragedy then struck him when his father died from a brain tumor.
Given the huge extent of his father's support and unbroken presence at Tom's performances, the full effect of his disappearance is yet to be measured.
Just a few months later he finished in fifth place at the 2011 world championships at Shanghai in the men's 10m platform behind Qiu Bo, whose victory sealed a magnificent clean sweep of all 10 diving events for China.
Daley would return home and focus on improving his consistency, do a greater volume of practice dives and hopefully be more comfortable in competition.
Daley's coach Andy Banks also talked about the need for greater consistency, praising the teenager for performing after all that he had had to cope with.
"It could have been better, it could have been a lot worse too and we've got a year" before the Olympics, he said.
Daley described his key rival Qiu Bo as seemingly unstoppable, but wants to see how the Chinese copes with the pressure of his first Olympics.
"The home support is something that's going to be a big factor because the crowd on your side is something that really gives you adrenaline, gives you extra oomph," said Daley
The youngster has decided to take a break from school from January 2012 to focus entirely on his Olympic bid.
Results
Copyright 2008 Agence France-Presse.