Xiang Liu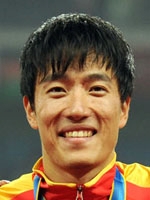 Xiang Liu
Date of birth

1983-07-13
Birthplace

Shanghai
Height

188 cm
Weight

84.0 kg
World records
Olympic Games (1 medal - 1 gold)
World Championships (4 medals - 1 gold, 2 silver, 1 bronze)
110m hurdles: 1st (2007), 2nd (2005, 2011), 3rd (2003)
World Indoor Championships (4 medals -1 gold, 2 silver, 1 bronze)
60m hurdles : 1st (2008), 2nd (2004, 2012), 3rd (2003)
Asian Games (3 medals - 3 gold)
110m hurdles: 1st (2002, 2006, 2010)
Liu looks to wake up from Beijing nightmare
After the Chinese disaster at the Beijing Games where home hero Liu Xiang was widely expected to win a rare athletics gold in the 110m hurdles and ultimately failed to start the race, the 2004 Olympic champion now gets a fresh chance to return to the top of his sport and reclaim his title at London 2012.
At 29-years-old, Liu appears to over the heartbreak of his Achilles tendon injury that sent a nation into mourning in 2008 and is well on the way to top form in the buildup to what should be an enthralling race over the hurdles in the English capital.
Successful surgery in Houston in 2008 launched Liu back into the competition fold in September 2009 in Shanghai where he recorded a solid time of 13.15secs but lingering after effects from his ankle injury meant the Chinese idol only raced in one race in 2010 again in Shanghai where his time was 13.40secs.
His comeback however really kicked into gear on May 15, 2011 when he won the Diamond League meeting ironically once again in Shanghai with an impressive run of 13.07secs before recording the second fastest time of the year with a run of 13secs flat in Kobe six weeks later. Only American Davie Oliver was quicker in 2011 with a chrono of 12.94secs.
In the world championship final in 2011, Robles was first to the line but eventually disqualifed allowing another American Jason Richardson to take gold while Liu moved into the silver medal spot.
Another indication that he is back to top form took place at the 2012 world indoor championships where he won silver over 60m behind the American Aries Merritt.
He will forever be the first Chinese male athlete to win Olympic gold with his triumph in Athens but it did not always look like he would reach such heights as a hurdler.
"Liumania"
His sporting talents were enough to find him a place in a sports academy and he left home at a relatively young age to focus on athletics.
In 2002 at Lausanne, his career began to take shape and a time of 13.12secs broke the Asian record and the world junior record held by American Renaldo Nehemiah.
At the 2003 world championships, Liu snatched bronze behind the American duo of Allen Johnson and Terence Trammell but one year later, he hit the jackpot with a world record equalling run (with Britain's Colin Jackson) of 12.91secs that gave him the Olympic title in Athens.
He went to the 2005 world championships in Helsinki as favourite, but was beaten by the Frenchman Ladji Doucoure into second place before returning to the summit with a world record run of 12.88secs in 2006.
At Osaka in 2007 he finally became world champion despite having to live with intolerable media pressure, getting off to a slow start and breaking the golden rule by looking across at his rivals before the finish.
Then in March 2008, he became world indoor champion over 60m which just added to his cult status in China and kicked off "Liumania" which will again rise in intensity as the London Games come into focus.
Results
Copyright 2008 Agence France-Presse.