Victoria Pendleton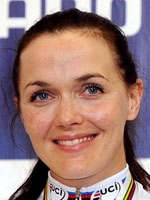 Victoria Pendleton
Date of birth

1980-09-24
Birthplace

Stotfold (England)
Height

164 cm
Weight

62.0 kg
World record

1 (team sprint) - up to 17/02/2012
Olympic Games (1 medal - 1 gold)
Sprint: 1st (2008)
500m time-trial: 6th (2004)
World Championships (16 medals - 9 gold, 5 silver, 2 bronze)
500m time-trial: 3rd (2009)
Sprint: 1st (2005, 2007, 2008, 2009, 2010, 2012), 2nd (2006), 3rd (2011)
Team sprint: 1st (2007, 2008), 2nd (2009, 2011)
Keirin: 1st (2007), 2nd (2008, 2010)
Commonwealth Games (2 medals - 1 gold, 1 silver)
500m: 2nd (2006)
Sprint : 1st (2006)
Velodrome Queen is a bag of nerves
Britain has fallen in love with cycling over recent years and its pin-up girl is defending Olympic track sprint champion Victoria Pendleton, whose greatest obstacle may well be a lack of faith in her own abilities.
She'll be taking part in the individual sprint, team sprint and keirin at London and is the only female cyclist to have won all three of those titles at world championships.
But Pendleton by her own admission was left traumatised by her lack of success at the 2004 Athens Olympics when she was just 22-years-old, and then when she stormed to her first world spint title in Los Angeles in 2005 said she was unable to celebrate because she felt she'd been lucky.
In Palma de Majorca in April 2007 everything came right for the then 26-year-old when she reclaimed her coveted sprint crown, took the inaugural women's team sprint with her new partner and friend Shanaze Reade and stormed to a third gold in the keirin, finishing convincingly ahead of strong Chinese racer Shuang Guo.
World record ahead of Games
Ahead of the home-based world championships of 2008 the Observer newspaper ran an party photo of a nude Pendleton on a bike, similar to the one Annie Liebevitz did of Lance Armstrong.
She defended her world sprint and team sprint titles at those Manchester worlds but mistimed her finish in the keirin, where she had to settle for silver.
I actually enjoyed this one," she said. "I had a lot of pressure on me to back up what I did last year so I was really hoping I wouldn't disappoint anyone.
"So winning this one really confirms to me that I can do it, that I do have the legs to be the best in the world," she said about her sprint title.
Pendleton grabbed her first Olympic gold at Beijing 2008 after dominating Anna Meares of Australia over two legs of the women's sprint final with China's Guo Shuang winning the bronze.
Pendleton maintained unbeaten momentum throughout the tough three-day sprint tournament as Britain claimed seven track cycling gold medals at the Loashan Velodrome, including three from Chris Hoy.
She retained her world sprint crowns in 2009 and 2010 but lost out to Meares in 2011, openly admitting she was well off top form.
In February 2012, Pendleton got just the boost she needed at a World Cup meeting at the London Olympic velodrome when breaking a world record and beating arch-rival Meares in the team sprint.
Along with youngster Jess Varnish they beat Meares and Kaarle McCulloch, clocking under 33sec, Pendleton herself at a fastest ever time of under 14sec.
A year off is in the pipeline as she plans to bring the curtain down on her sprint career after the Games, although a return over longer distances remains a distinct possibility.
Results
Copyright 2008 Agence France-Presse.