Asafa Powell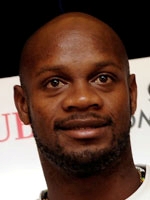 Asafa Powell
Date of birth

1982-11-11
Birthplace

Saint-Catherine
Height

190 cm
Weight

88.0 kg
World record

5 (100 m, 4x100 m) - up to 22/08/2008
Olympic Games (1 medal - 1 gold)
100m: 5th (2004, 2008)
4x100m: 1st (2008)
World Championships (4 medals - 1 gold, 1 silver, 2 bronze)
100m : 3rd (2007, 2009)
4x100m relay : 1st (2009), 2nd (2007)
Commonwealth Games (3 medals - 2 gold, 1 silver)
100m: 1st (2006)
4x100m relay: 1st (2006), 2nd (2002)
Mr Nervous
Could it be possible that serial big day choker Asafa Powell ends his mercurial sprint career by defeating an open field in the 2012 London Olympic 100m final?
Only two men have ever run faster, his compatriot, world record holder and Olympic champion Usain Bolt (9.58sec), and the 2007 world champion Tyson Gay (9.69sec).
The affable Powell held the world record himself between June 2005 and May 2008 and as recently as 2011 he owned the fastest 100m of the season at 9.78sec going into the Daegu 2011 world championships, before pulling out with groin problems.
In that 2011 world final Bolt false started and was disqualified, and now a third Jamaican, the rookie Yohan Blake will now go to the Olympics with the world crown and a reputation as one of the men to beat.
At the 2009 world championships where Bolt set the current world record of 9.58, Gay took silver with 9.71 and Powell took bronze with 9.84.
In the run-up to both Athens and Beijing, Powell had been seen by many as a potential champion, and few can argue thanks to the stunning 70-plus runs under 10secs (a world record in itself) that the timid preacher's son is amongst the all-time greats, albeit only when the pressure is off.
At the 2004 Athens Games he struggled home in fifth after setting the fastest semi-final time. He then missed the 2005 worlds with a calf strain and choked in the 2007 final.
At the starting blocks, he was sweating profusely and remained head bowed during the public roll call while Gay waved happily to the crowds.
Athlete of the year
Powell was fast out of the blocks but as Gay pressured him at 60m and his style went to pieces, with his knees thrusting way too high. As Gay overtook him he again bowed his head, even appeared to stop trying, subsequently conceding even the silver to his distant cousin Derrick Atkins from the Bahamas.
And yet just two weeks later Powell smashed his own world record with an eye-popping 9.74sec in the semi-final at the IAAF Grand Prix at Rieti, Italy September 10, 2007. An hour later he ran 9.78 in the final.
Other career high points would include setting his first world-record of 9.77 in Greece in 2005 and equalled it twice in 2006, a year in which he won all six European Golden League meetings for a cash prize of 250,000 dollars on the way to being named male IAAF athlete of the year.
And then came 2008 and the sensational emergence of Bolt, who had been a virtual unknown until setting a blistering new world record in New York in the May and taking the honour from Powell.
He again trailed home fifth in Beijing as all eyes were now on his compatriot Bolt and will remain solidly fixed there right up to the starting pistol in London.
Maybe that will suit him finally, but his track record suggests he will be sweating, nervous and likely to wilt, unless for once...
Results
Copyright 2008 Agence France-Presse.