January, 18, 2011
01/18/11
5:13
PM ET
If the season after the Winter Olympics is supposed to be low-key for figure skaters, someone forgot to send the memo to Meryl Davis and Charlie White.
The Canton, Mich.-based ice dancers have had a tumultuous stretch since winning the Olympic silver medal in Vancouver, British Columbia, as just about everything about their routine in recent years shifted in some way. But despite many adjustments -- and the heady notion that they're in an ideal position to become the first American ice dance world champions in March -- Davis and White sound notably composed and ready for the U.S. national championships at the end of January.
[+] Enlarge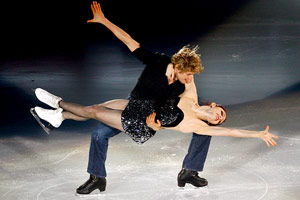 Feng Li/Getty ImagesMeryl Davis and Charlie White tinkered with their program all the way through the Grand Prix season and won at Skate America and the NHK Trophy before taking gold at the Grand Prix final.
Their usually methodical preparation was delayed about six weeks by a stint in the Stars on Ice tour, followed by a much-needed physical and mental break. In the meantime, the International Skating Union made a long-awaited format change in the discipline, eliminating the oft-maligned compulsory dance event and making ice dance a two-part competition. The new "short dance" gives skaters some freedom but also incorporates a required sequence (this year, it's the Golden Waltz), while the free dance remains a creative showcase.
Neither skaters nor spectators will mourn the change, but it left even top teams like Davis and White a little at sea about what judges would expect of the short dance. They initially developed a program set to music from the movie "Amelie'' that was "very intricate and out of the box,'' according to Davis. After conferring with U.S. officials, they decided they needed something more classic and had choreography structured to selections from "La Boheme" and "La Traviata.'' They continued to tinker with the program all the way through the Grand Prix season and, despite some speed bumps, won at Skate America and the NHK Trophy before taking gold at the Grand Prix final.
The big-number, athletic "Phantom of the Opera" free dance that was such an important part of their success last season was a hard act to follow, so Davis and White decided to go an entirely different direction. Their new free dance theme, an Argentine tango, forces them to create their own story rather than elaborating on the familiar plot of a Broadway show.
"Charlie and I had gotten used to programs that were more character-driven and dramatic and theatrical,'' Davis said. "We wanted to expand our horizons. This program focuses on the connection between us -- it's a more sensual feeling, something we really hadn't experimented with before.''
In another departure from recent years, Davis and White trained this fall without their friends and familiar rink-mates Tessa Virtue and Scott Moir of Canada, who also happen to be the reigning Olympic and world champions.
Virtue underwent leg surgery this past fall for compartment syndrome, a muscular condition that causes chronic pain. The Canadians, who are coached by the same tandem -- Igor Shpilband and Marina Zoueva -- that guides Davis and White, recently began training in earnest. They withdrew from their country's national championships this week but expect to return for next month's Four Continents event and plan to defend their title at worlds.
White said he and Davis are proceeding under the assumption that Virtue and Moir will be in top form. "They're such spectacular competitors,'' White said. "It doesn't take much training time for them to be on top of their game. … In the judges' eyes, they're still the team to be beaten, and that's the approach we're going to take.''
One of the few things that has remained the same for Davis, 24, and White, 23, is their dogged part-time pursuit of undergraduate degrees at the University of Michigan. They take a course or two each term year-round and have amassed enough credits to be considered juniors.
January, 11, 2011
01/11/11
2:49
PM ET
Three-time U.S. figure skating national champion and world bronze medalist Johnny Weir posed for the cover of his new autobiography "Welcome to My World" with one stiletto-clad foot appearing to hold up a huge disco ball. Yet despite that unconventional image, the book follows the familiar arc of many an athlete's life: a driven child with a loving, supportive family; a conflicted adolescent who grows into an accomplished performer; an imperfect adult who stumbles at inopportune times and tries to savor his experience no matter where he finishes. By turns thoughtful, snarky, giddy and caustic, the book also serves as the vehicle for Weir to confirm that he is gay -- a subject he had long refused to address because he considered it private and unrelated to his athletic career.
Weir, who is not skating competitively this season, sat down with ESPN.com's Bonnie D. Ford on Monday to talk about his book and his future in the sport. The following are excerpts from that conversation.
Ford: Discussing your sexual orientation publicly was something you resisted for a long time. You chose to deal with it candidly in this book. Now, the first talking point in stories about the book is, "He's come out.''
[+] Enlarge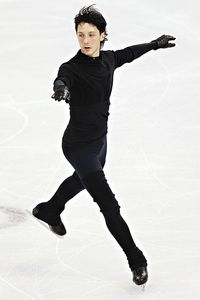 Matthew Stockman/Getty Images"It's of very little importance to me that I was born gay. ... So of course it's a bit disappointing that that's the first and sometimes the only thing people will focus on," says Johnny Weir.
Weir: It's of very little importance to me that I was born gay. It doesn't make me a better athlete, it doesn't make me a stronger person, it doesn't really do anything to enhance my life. It's just something I was born with, the same as green eyes. So of course it's a bit disappointing that that's the first and sometimes the only thing people will focus on. Even if it's just in my head, I live in a generation where it doesn't matter: "Show us who you are individually, what are your strengths, what can you bring to the table?" I'm a two-time Olympic athlete. I'm an author now, I'm a recording artist, I'm a performer, I'm accepted all over the world. I don't throw it in anyone's face that I'm gay. There were lots of gay websites that had an issue with me quote-unquote coming out and doing it "too late," and people are trying to make it into a big news story when really, it's not news at all. I've always been exactly the same.
Ford: You allude to hypocrisy within the sport, that there are judges and officials who are gay but don't want skaters to be out. Is figure skating abiding by "Don't ask, don't tell?"
Weir: Figure skating's reputation is something that's very important to everyone involved in the sport. It's a very small world of people and you want the best representative to kind of cross over and sell it to the rest of the world. It's a very old, traditional sport. Statistically, I'd say there are about as many gay figure skaters as there are gay football players. The majority are straight. There are just those few exceptions and those are the ones who have gotten picked on and followed over the years. I think it's much easier to sell to the masses, a burly strong male athlete that wants a wife and kids and drives trucks and gets dirty. That's maybe more easily marketable. That's a bit sad but that's what the world has come down to. … I wish that the federation and people from skating would learn from the example I set, because I've never been anything but myself, I've never listened to anybody when they told me, "You need to butch it up, you need to not be so balletic, you need not to work with Russians because they make you too pretty." And while I may not be the Olympic champion for many of those reasons, I couldn't be happier with what I've already done in figure skating and hopefully will continue to do. I've got the respect of so many people.
Ford: It's a subjectively judged sport. You knew that going into it. Did you ever wish you were in a sport where you were just judged on how fast you got from Point A to Point B?
Weir: I never ever wanted to change my sport. … Figure skating was my outlet, it was my breath, it was how I could live and transmit everything I was feeling and everything I had worked for and given up and all these sacrifices I'd made throughout the years. It was how I could make them all worth it. That one command performance when the entire audience is standing, you've got goose bumps in the middle of the ice looking at all these people who appreciate what you've done. Vancouver this year was where I felt that more than ever in my career. The scores were booed, the public was outraged at what scores I got. Whether I moved people to throw punches or cry, I did that through my art and what I do. I would never take that experience away to race against a speedometer. Or play on a team.
Ford: With your affinity for all things Russian and the next Winter Olympics being held in Sochi, is it feasible or realistic to think you could compete there?
Weir: It's absolutely feasible for me to think about competing in Sochi. I started skating so late -- I was 12 -- that even though I'm older than a lot of the competitors, my body is younger. So I have that advantage. Do I think I could qualify for the United States to compete in Sochi? I'm not sure, because I know how our federation works and I know that they'll want to promote the younger skaters and they don't always love somebody coming back and trying to steal one of the spots again. I've been kind of under-the-radar exploring many different options on how I could get myself to Sochi, if I could work that hard again, if my mind could function that way again. You give up every aspect of your life aside from figure skating. If I could have that kind of life and discipline again [and] compete in a third Olympics, and to have it in Russia where in many ways I would have sort of a hero's welcome, it might be worth it.
Ford: You were very honest in the book about the junctures in your career where you let yourself down. Any regrets?
Weir: Absolutely no regrets in my life. … Every time that I've fallen or every time I haven't worked hard enough or I missed an opportunity because I was stupid and young, I'm strong enough now to admit that I don't accept that and I want to be stronger than that. I would never take that back because that's all a part of what made me me. There's a lot in the book about, for lack of a better word, me [expletive] myself over and letting things fall through the cracks because I wasn't mentally prepared to take them on. At 12, I was skating. At 16, I was already a junior world champion. I had no learning curve. A lot of people have the luxury of starting at 2, 3, 4 years old, they go to these little competitions, they learn how to compete in front of people. Within five years of my learning to skate, I was an alternate for the Olympic Games. I learned how to compete and skate in front of the entire world and that's a lot of pressure. When you think about things in those terms, it makes it a little easier to understand why I publicly messed up so many times.
Ford: You said about your rival Evan Lysacek that he became an Olympic champion because "he worked very hard, as I did, and played by the rules, as I did not.''
Weir: While in figure skating it was a mistake for me not to play by the rules, not to play nice with everyone I possibly could and to be very clean and very P.C., while that was a mistake, it's not a regret. I have gained so much by being myself and doing things on my own terms, in my own way.
December, 8, 2010
12/08/10
7:13
PM ET
Jojo Starbuck compiled an accomplished pairs skating career, winning national titles and world championship medals and competing in two Winter Olympics. But she admits she had one daydream that never materialized.
"Richard Dwyer was my childhood idol," Starbuck said from her home in New Jersey. "I always wanted to be a Dwyer girl. They floated around the ice looking like angels in their gowns. They were the epitome of glamour."
[+] Enlarge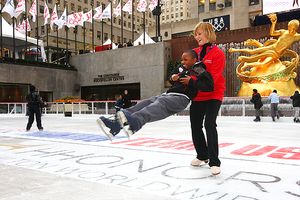 Mike Stobe/Getty ImagesJojo Starbuck, shown in 2009, won national titles and world championship medals and competed in two Winter Olympics as a pairs skater.
Wouldn't you know it, decades after Starbuck swooned over Dwyer -- a former competitive skater known as "Mr. Debonair" during a long career in the Ice Follies and Ice Capades -- she'll get to realize her fantasy. Starbuck, along with former world champion pairs skater Tai Babilonia and Olympic silver medalist Linda Fratianne, will perform alongside Dwyer at a skating gala that will assemble several generations of U.S. figure skating stars Saturday at Boardwalk Hall in Atlantic City, N.J.
The who's-who appearing at The Caesars Tribute: A Salute to the Golden Age of American Figure Skating includes younger celebrities like Olympic champion Evan Lysacek, 2006 silver medalist Sasha Cohen, 2006 world champion Kimmie Meissner and 2002 gold medalist Sarah Hughes. But the cast of performers and honorees also reflects every decade going back to the '50s -- including 1956 Olympic champion Tenley Albright, who later became a surgeon. Peggy Fleming, the 1968 Olympic gold medalist, will be on hand to co-host, and ageless commentator Dick Button will receive an award, as will '92 Olympic champion Kristi Yamaguchi.
"It's a good time of the year to reflect on how much these people have contributed to the sport and how important it is to stay connected," Fleming said.
The season after a Winter Olympics is necessarily a bit of a lull, but this event and the memorial tributes planned in January and February around the 50th anniversary of the plane crash that killed the 1961 world championship team make for two emotional occasions featuring the icons of the sport in this country.
Button, the 81-year-old two-time Olympic champion, still laces up the skates once in a while on his pond in suburban New York but will be in street shoes at the gala. He called the gathering "very rare" and said he appreciates the fact that the past half-century of accomplishment will be celebrated.
Starbuck, who continues to teach skating to children and adults while she raises 15-year-old twin boys, lamented the fact that there aren't as many opportunities these days for skaters to go on to be pure entertainers between competitive seasons or after retirement. She hopes the pendulum swings back when the economy improves.
Fleming is optimistic. "Seeing skating with your own eyes is so different from seeing it on TV or on a computer," she said. "There's an energy and a realness to it, the feeling that you can almost touch these people. I don't think it'll ever go away."
November, 15, 2010
11/15/10
4:21
PM ET
By
ESPN.com news services
Japan's Kanako Murakami won the gold medal at Skate America with a final score of 164.93 to put her in front of American Rachael Flatt (162.86). Japan's Daisuke Takahashi overcame a fall and some shaky landings to win the men's free skate.
In the pairs competition, Aliona Savchenko and Robin Szolkowy of Germany nailed the opening throw of their free skate and skated toward the gold medal from there. And Americans Meryl Davis and Charlie White tangoed their way to the gold medal in the ice dance competition.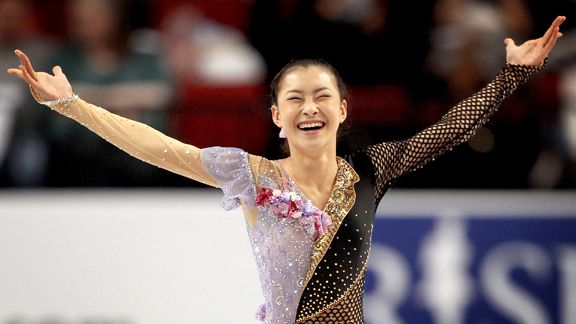 Matthew Stockman/Getty ImagesKanako Murakami earned a trip to the Grand Prix final in Beijing with her first senior Grand Prix title.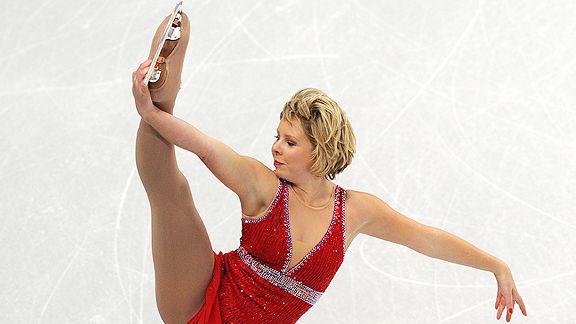 Gabriel Bouys/AFP/Getty ImagesAmerican Rachael Flatt, with a striking red costume, wowed with her flapper-esque routine, nailing all her jumps for a standing ovation from the Rose Garden crowd.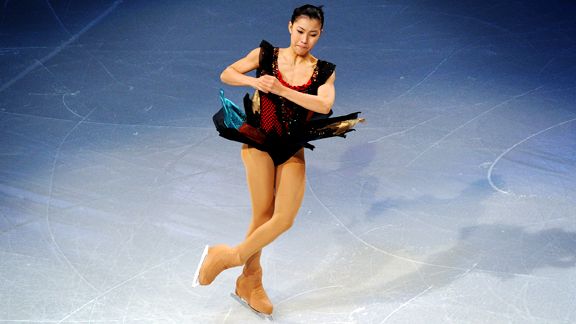 Gabriel Bouys/AFP/Getty Images"I wasn't even expecting to be here. And I didn't expect to be in the final of the Grand Prix, so I'm very shocked and surprised," Kanako Murakami said after winning.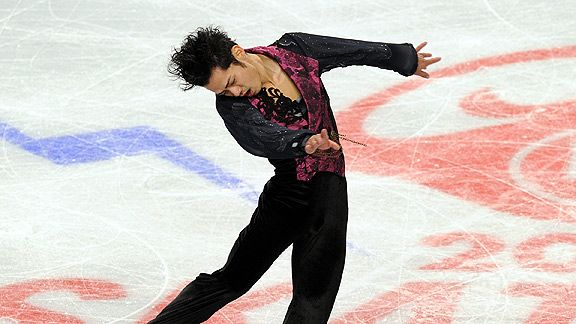 Gabriel Bouys/AFP/Getty ImagesJapan's Daisuke Takahashi, the reigning world champion and bronze medalist in the Vancouver Games, rebounded from his errors with sheer artistry for a final score of 227.07.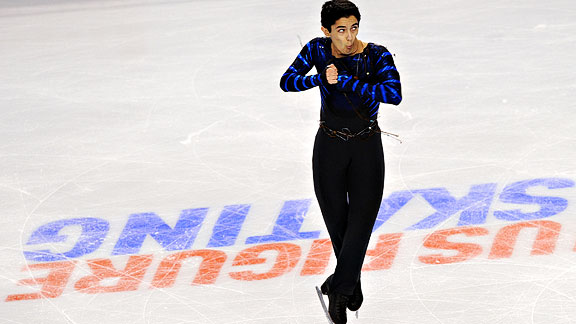 Gabriel Bouys/AFP/Getty ImagesAmerican Armin Mahbanoozadeh landed two triple axels to music from "Avatar" for the bronze.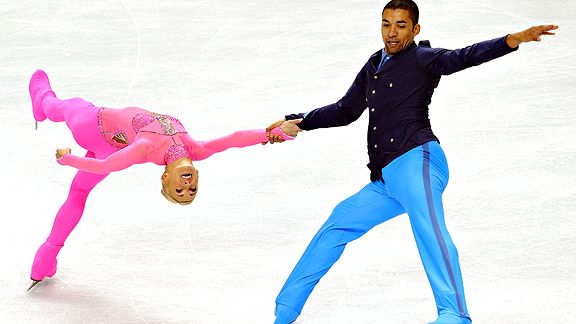 Gabriel Bouys/Getty ImagesGermany's Aliona Savchenko and Robin Szolkowy won the gold medal in the pairs competition.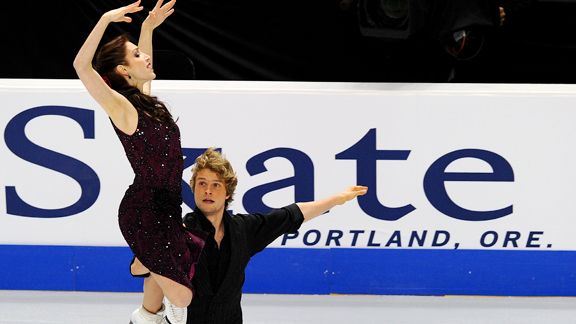 Gabriel Bouys/AFP/Getty ImagesAmericans Meryl Davis and Charlie White, silver medalists at the Vancouver Olympics, both fell during complicated footwork in the free skate but earned a final overall score of 156.68.