Category archive:

Track and Field
February, 8, 2011
02/08/11
4:07
PM ET
Tuning up for April's prestigious marathons in London and Boston, a critical mass of top U.S. distance runners have entered the New York City Half-Marathon on March 20.
The New York Road Runners club, which organizes the race, announced Tuesday a field that includes four past Olympians. Meb Keflezighi, Ryan Hall and Abdi Abdirahman will be among the starters on the men's side and Kara Goucher, 32, of Portland, Ore., will continue her post-maternity comeback.
Hall, 28, of Big Bear Lake, Calif., is the only U.S. man to run a half-marathon in under an hour. He finished 10th in the marathon at the 2008 Beijing Olympics. Keflezighi, 35, of Mammoth Lakes, Calif., was the 2009 New York City Marathon champion and won the silver medal at the 2004 Athens Olympics. Abdirahman, 34, of Tucson, Ariz., is a three-time Olympian.
Roughly 9,000 runners are expected to compete. The course is laid out entirely in Manhattan, starting in Central Park, taking Seventh Avenue through Times Square, cutting over to the West Side Highway via 42nd Street and heading south to Battery Park.
January, 20, 2011
01/20/11
4:47
PM ET
It's become a cliche to laud athletes-turned-new-mothers for losing the baby weight, regaining their competitive momentum and successfully plunging back into their sports. But Olympic distance runner Kara Goucher had a little more to contend with in her return to racing this month.
Goucher finished Sunday's Rock 'n' Roll Arizona Half-Marathon in 74 minutes -- a slower pace than she had intended, but impressive when you consider what happened in the week leading up to the race, as her 4-month-old son, Colt, underwent emergency surgery for a staph infection in a lymph node.
Mother and baby are both doing fine, as they say, after their respective physical ordeals, but Goucher's training went out the window as she kept watch at the hospital. She called it the most stressful week of her life.
"About six miles into the race, the adrenaline was like gone from my body," she told reporters on a Wednesday conference call to discuss her next stop -- the New York City Half-Marathon on March 20. "It just felt like, 'Oh, my gosh, I'm so exhausted and I still have seven miles to run in this race.' At that point, I kind of thought about him and I thought, 'You know, it took me two hours and 25 minutes to push Colt out; I can certainly manage this for half that time.' I just thought, 'Take advantage of this opportunity and get through it.'"
Goucher, 32, trains in Portland, Ore., with coach Alberto Salazar. She gave birth to her son in September, part of a runners' mini-baby boom, and began running a week after Colt was born.
"My mom was visiting, and I said I was going to go out for a walk, but I put on my running clothes because I knew in the back of my head I was going to try to go run," she said. "But the first couple of weeks I was just so tired. Colt didn't know what day or night was at that point. I didn't know anything about babies at that point, so I was just totally overwhelmed. So the first couple of weeks that I was running were just surviving, kind of."
It would be another two months before she settled into a routine of morning and afternoon runs with lifting in between. She nursed until earlier this month.
Goucher will race just one full marathon -- Boston in April -- before she attempts to qualify for the U.S. Olympic team at the marathon trials a year from now. Meanwhile, she'll race on the track and hopes to compete in the 10,000-meter event (one of her two Olympic events, along with the 5,000) at this summer's world championships.
"Honestly, I think it will be a benefit," she said of her maternity leave.
"On a personal note, I was sort of able to reconnect with why I started running in the first place, because I did travel around to a lot of races and stuff. I think that time off, even though I was pregnant and I ran through it, it gave me sort of a rest, and I think in a year from now I'll be, by far, in the greatest shape I've been in my life."
New York was the site of Goucher's marathon debut in 2008, when she finished third there.
November, 6, 2010
11/06/10
3:00
PM ET
Former Olympic swimmer Maddy Crippen will run Sunday's New York City Marathon to honor her late brother Fran, the open-water swimmer who died tragically at a World Cup race in the United Arab Emirates on Oct. 23.
Maddy, 30, entered the race a few months ago at her brother's urging, and raised pledges for the USO. She'll run this marathon -- only her second -- with his spirit in mind.
"He did it two years in a row [2008 and 2009] and he always said it was the greatest sporting event he's ever seen,'' she said Saturday.
Fran, who was one of the top open-water swimmers in the world, finished the New York City Marathon in under three hours last year. "It was so annoying. He was so much better on land than I was,'' Maddy said, laughing. But her fondest recollection is from 2008, when her brother ran in Phillies gear to commemorate his hometown baseball team's World Series win.
"We were waiting for him at Mile 21 or 22, which is usually a low point, and we were worried about how he might be doing,'' she said. "Then this big man in Phillies stuff comes into view, and he comes over and chest-bumps us, which is not easy in a crowd.'"
Maddy, who finished sixth in the 400-meter individual medley at the 2000 Sydney Olympics, runs regularly for fitness, but the events of the past two weeks have kept her from training as much as she might have. "I'm just hoping my background gets me through," she said. "My goal is to finish by the time the Eagles kick off [at 4:15 p.m.]." That gives her ample time -- more than six hours.
Fran's family and friends are working on finalizing the structure of a foundation that has been established in his memory, and will be announcing details later this month, his sister said.
Two separate investigations into the circumstances of the swimmer's death have been launched by U.S. and international swimming authorities. Other swimmers who competed in the event said there were not sufficient safety measures and personnel in place to aid athletes who were trying to cope with extremely hot water conditions.
November, 4, 2010
11/04/10
4:44
PM ET
There's only one more frontier left for distance runner Shalane Flanagan, and, like any intelligent explorer, she knows the map she's drawn in her mind will take her only so far.
"I already have an arsenal of tough talks to give myself, because I know I'm going to need them,'' said Flanagan, the 2008 Olympic bronze medalist in the 10,000-meter event, who will make her much-anticipated marathon debut Sunday in New York City.
[+] Enlarge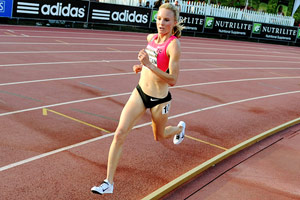 Kirby Lee/US PresswireShalane Flanagan currently holds U.S. indoor records in the 3,000- and 5,000-meter events, as well as the outdoor 10,000.
"I've got so much to learn. There are so many things I probably won't do right, but hopefully I'll get the jitters out.''
Flanagan, 29, can draw some inspiration from recent history. The top three times logged by an American woman racing in her first marathon have been set in New York: Kara Goucher (2 hours, 25 minutes, 53 seconds in 2008); Deena Kastor (2:26:58 in 2001) and Marla Runyan (2:27:10 in 2002). This despite the fact that the course is not fast compared to other crown jewels of the circuit, like London or Chicago, and favors tacticians, which would in turn seem to favor experienced runners.
That's precisely why Flanagan chose this venue -- to "take the clock out of the equation,'' as she put it, and calibrate her own routinely high expectations in a different way. "I want to focus on beating the people ahead of me,'' she said. "It's all about trying to make the podium.''
Several top Americans, including Kastor and Goucher, and three-time winner Paula Radcliffe of Great Britain aren't running in New York, but the field remains deep with competitors from Africa and Europe. If anyone has a shot to challenge out of the box, it could be Flanagan, who currently holds U.S. indoor records in the 3,000- and 5,000-meter events, as well as the outdoor 10,000. Her strong psyche and sunny appearance have made her a burgeoning star and landed her on magazine covers, including the most recent Runner's World.
"Making the transition from the track to the marathon isn't automatic, but it's not unprecedented, either,'' Runner's World editor-in-chief David Willey said. "She has the pedigree. She has the speed and the fortitude.
"She had food poisoning the night before the finals of the 10,000 and was deathly ill. Her coach encouraged her to back out and save her strength for the 5,000, but she went out and won the bronze medal. She's tough -- really a battler.''
Flanagan, a native of Marblehead, Mass., starred at the University of North Carolina and now is based in Portland, Ore., with coach Jerry Schumacher and training partners Tim Nelson of the U.S. and Simon Bairu of Canada, both of whom also are running in New York.
Her parents, since divorced, were elite cross country runners who met at the Boulder, Colo., club founded by American marathon icon Frank Shorter. Flanagan's mother, Cheryl Bridges Treworgy, ran marathons in the early 1970s when the women's event was still the province of pioneers, and her father, Steve Flanagan, also raced the marathon. Shalane Flanagan's husband, former UNC middle-distance runner Steven Edwards, manages her career.
Flanagan prepared for this weekend by running two half-marathons in 2010. After the second one, in June in Philadelphia, she took the train to New York and previewed the course with the help of the New York Road Runners, which owns and organizes the race.
NYRR president and CEO Mary Wittenberg said Flanagan has been earmarked for greatness since her high school days. Like many others, she is keenly interested in how Flanagan will handle decision-making in the latter part of the race, especially if an aggressive contender like Kenya's Mary Keitany were to try to break away from the lead pack.
"She knows that on a good day, she can win this race,'' Wittenberg said of Flanagan. "She also knows that no debutante has won since '94 [Tegla Loroupe of Kenya] … but success for her in this race goes beyond winning.''
Indeed, Flanagan hopes her experience in New York will help her decide whether she should train for the marathon leading into the 2012 Summer Games, stick with the 10,000 or, in what she said is the least likely scenario, go for both. "I'll see where the marathon takes me -- I'll see if I enjoy it,'' Flanagan said.