Category archive:

Olympics
February, 27, 2010
02/27/10
3:56
AM ET
VANCOUVER, British Columbia -- Bode Miller, Chad Hedrick and the men's four-man bobsled team will all be in action Saturday. Here's what we'll be watching:
Alpine skiing: Men's slalom: Three events into these Games, Miller was two medals from becoming the first Alpine skier to medal in all five events since 1988, the first year five events were contested at the Olympics. But after a DNF in giant slalom, those plans changed. Now, with a medal performance in slalom Saturday morning, he can become only the fifth athlete to medal in four events in one Olympics. Miller's teammate Jimmy Cochran, a slalom specialist, also is a medal hope for the U.S., as well as Ted Ligety, a two-time Olympian who looks to live up to a 1972 performance by his aunt, who won gold in slalom in Sapporo. Besides reigning gold and silver medalists Benjamin Raich and Reinfried Herbst of Austria, the greatest challenge Team USA will face is the weather, and themselves.
Cross-country skiing: Women's 30-kilometer mass start: This torturous event -- 18.6 miles, if your math is rusty -- is simply a survival of the fittest. Since the event's debut in 1992, the Italians have won three of five gold medals, and Marianna Longa could continue the tradition. Finn Aino-Kaisa Saarinen, Norwegian Kristin Stoermer Steira and Poland's Justyna Kowalczyk all are talented distance skiers, but the hometown crowd will be behind four-time Olympian and British Columbia native Sara Renner. American Kikkan Randall also will race, but she excels in freestyle skiing, and in this race, athletes are required to use the classical style.
Four-man bobsled, Day 2: American Steven Holcomb and his Night Train crew built a whopping (in bobsled terms) four-tenths of a second lead over Canada's Lyndon Rush in the first two runs of the competition Friday, setting successive track records with each run. Defending champ Andre Lange of Germany is just three-hundredths of a second behind the Canadian sled. But on the track at the Whistler Sliding Centre, no lead is safe. Six sleds failed to make it through Curve 13, ominously dubbed the "50-50 curve" due to the chances of making it through unscathed, and slid down the track upside down. Should Holcomb's group hold on to its lead, it will win the first U.S. gold in four-man bobsledding in 62 years.
Men's curling: Gold- and bronze-medal matches: Unbeaten skip Ken Martin and the Canadian team will face Norway -- flashy, diamond-print pants and all -- for the gold medal Saturday afternoon at Vancouver Olympic Centre. The home team is trying to become the first curling squad to go undefeated at the Games since the sport returned as a medal event in 1998. The Norwegians have lost just one match in Vancouver after Team Canada beat them 7-6 in extra ends Feb. 16, and the rivalry is an old one. Canada won gold in 2006, and Norway won it all in 2002. In the earlier match, Sweden and Switzerland will face off for bronze.
Snowboard: Men's parallel giant slalom: Sure, one country (the U.S.) has dominated halfpipe snowboarding. But in recent years, one family has dominated men's PGS: the Schoches. Phillip and Simon Schoch finished 1-2 in Torino in 2006, and younger brother Phillip won gold in 2002. Both return in the hopes of once again making the Olympic PGS race a family affair. The U.S. team of Tyler Jewell and Chris Klug could jumble those plans. Jewell placed 11th in his first Olympics in 2006 and was 10th at the 2009 World Championships. Klug, the only American to medal in this event (bronze in 2006), is a sentimental favorite. Spreading his story of overcoming a liver transplant to compete in the Olympics is much of his motivation for returning for another Games (aside from also becoming the second medalist, that is).
Long-track speedskating: Men's and women's team pursuit: Despite having earned the most winter medals in U.S. Olympic history, American long-track speedskaters have won just three medals in Vancouver: Shani Davis' gold in the 1,000 meters and silver in the 1,500, and Hedrick's bronze in the 1,000. They have a chance to earn more in the team pursuit Saturday afternoon at the Richmond Olympic Oval. Veteran Hedrick, joined by youngsters Trevor Marsicano, 20, Brian Hansen, 19, and Jonathan Kuck, 19, upset the favored Dutch in qualifying and will face Canada in the final. The women's team consists of two-time Olympic bronze medalist Jen Rodriguez, four-time Olympian Catherine Raney Norman, and newcomers Jilleanne Rookard and Nancy Swider-Peltz Jr. They have advanced to the semifinals, along with Japan, Poland and Germany.
Ice hockey: Men's bronze-medal game: Goaltender Miikka Kiprusoff and the Finns looked stunned after suffering through a one-sided first period Friday in which Team USA scored six goals. Team Finland managed to score just one goal in the 6-1 semifinals rout. Now, Finnish veterans Teemu Selanne and Saku Koivu have one chance to redeem themselves in what likely will be their last Olympics. They play Slovakia in Saturday afternoon's bronze-medal match at Canada Hockey Place. The Slovaks, though, enter the game on a roll: Their third period against Canada was one of the best of the tournament, and they nearly beat the home team in the closing seconds.
February, 26, 2010
02/26/10
1:02
AM ET
VANCOUVER, British Columbia -- Apolo Ohno, Lindsey Vonn, and the men's U.S. and Canadian hockey teams will all be in action Friday. Here's what we'll be watching:
Snowboarding: Women's Parallel Giant Slalom
Since PGS was added to the 1998 Games -­ it was individual giant slalom back then -- European riders have dominated the event. Austrian racers Marion Kreiner and Doris Guenther, the top two women at the 2009 world championship, will be the women to beat Friday afternoon at Cypress Mountain. The U.S. has only had one medalist: Rosey Fletcher, who took bronze at Torino in 2006. But the lone American in this year's field would like to change that stat. Michelle Gorgone finished in the top 10 at four World Cup races in 2009 and returns for her second Olympics with a real shot at placing in the top five. Known for going for broke on every turn of every run, Gorgone hopes to finally cash in before retiring at the end of this season.
Alpine Skiing: Women's Slalom
Once again, the talk heading into women's slalom -­ the final event on the women's Alpine roster -- is about one of Lindsey Vonn's body parts. Vonn broke her right pinkie finger in her first run of the giant slalom Wednesday afternoon, but has decided to race her final event of the 2010 Games. "She's had way worse than that. She'll be fine," U.S. coach Jim Tracy told Reuters on Wednesday. Vonn's teammate Julia Mancuso opted out of the final event, and Sarah Schleper de Gaxiola of Vail is a technical skier who has posted two top-10 finishes in World Cup races this year. But Maria Riesch of Germany and Sandrine Aubert of France are still the women to beat.
Bobsled: Four-Man
At a news conference earlier this week, Steven Holcomb was pranked by his U.S. teammates, who told him he had to take his final eye exam in front of the media. A degenerative eye disease left him nearly blind last year, but an experimental procedure restored his vision to nearly 20/20. As he read the eye chart, Holcomb spelled out "The Night Train Will Win Gold." And after piloting his sled, dubbed the Night Train, to the first U.S. world title in 50 years last March, Holcomb and teammates Steve Mesler, Curt Tomasevicz and Justin Olsen could become the first U.S. athletes to win gold since 1948. John Napier, pilot of the USA 2 sled, also has medal potential. A 1-2 U.S. finish? You'd have to see it to believe it.
Curling: Women's Gold- and Bronze-Medal Matches
Skip Cheryl Bernard and the top-seeded Canadians are exactly where they wanted to be: playing for gold in front of the home crowd. They will face Anette Norberg and the defending gold medalists from Sweden in Friday's final match at the Vancouver Olympic Centre. On Thursday morning, Norberg, 43, competing with the same team she had in Torino, Italy, defeated the Chinese team in the semifinals. It was a rematch of the 2009 world championship final, a match the Chinese won. The Canadians defeated the Swiss in their semifinal in a match that came down to the last stone. China and Switzerland will play for bronze.
Short-Track Speedskating: Men's 500m, Men's 5,000m Relay, Women's 1,000m On Friday evening at Pacific Coliseum, Apolo Ohno will defend his gold medal in the 500 meters while shooting for his eighth overall Olympic medal. Later on, he'll lead the U.S. men in the relay, the final race of the short-track competition, against strong teams from France, China, South Korea and Canada. Sandwiched between the two men's events is the women's 1,000. American Katherine Reutter set an Olympic record in the qualifying round Wednesday afternoon, but will have to contend with 500m gold medalist Wang Meng and 1,500m gold medalist Zhou Yang, both of China.
Ice Hockey: Men's Semifinals, USA vs. Finland, Canada vs. Slovakia
By now, everyone knows Canada blew out the Russians in Wednesday's quarterfinals, rendering superstar Alex Ovechkin virtually useless by putting the sheer size and skill of winger Rick Nash and defenseman Shea Weber in his way. Now, Canada will have to get through Zdeno Chara, Marian Hossa and the rest of the Slovakian team to earn a berth in the gold-medal gamel. The Americans, who squeaked by Switzerland in the quarters, will face Finland, which eliminated the Czechs on Wednesday night at UBC Arena.
February, 25, 2010
02/25/10
4:43
PM ET
WHISTLER, British Columbia -- For an hour after the women's giant slalom finals Thursday morning, Julia Mancuso's family stood at the entrance to the media area here, anxiously awaiting the moment when they finally could celebrate with her.
"We haven't had a proper celebration yet," said Andrea Webber, Mancuso's mom. "This will be the first time we celebrate her two silver medals together."
When Julia arrived, nearly an hour after giving her first postrace interview, Mom placed the tiara she'd been wearing all morning on her daughter's head. Julia's sister April held out a stack of plastic cups. Julia reached into her bag and pulled out a bottle of Celebris champagne. Then, after hanging her two medals around her neck, Mancuso popped the cork, divvied up the champagne among her family and friends, and made a proper toast. "Here's to the Olympics!" Mancuso said, holding up her glass. "Cheers!"
Although Mancuso did not medal in giant slalom, she was the fastest woman down the mountain Thursday and finished eighth overall. And after Wednesday's unfortunate, and now infamous, yellow-flag incident, it was something else for Mancuso and her family to celebrate. Instead of thinking about what could have been, Mancuso was able to concentrate on what was and celebrate an impressive final performance at these Olympics. In that final run, she also was celebrating the memory of a friend.
On Wednesday afternoon, Mancuso learned of the death of her good friend CR Johnson, a well-known and popular freeskier who helped pioneer the sport of halfpipe skiing. Johnson, 26, was known for pushing limits, as well as for his inspiring recovery from a traumatic brain injury he suffered in a skiing accident in 2005. He died Wednesday after a fall while skiing at Squaw Valley, his home mountain. Johnson and Mancuso, who also is from Squaw Valley, Calif., had been friends for years. In 2002 in Salt Lake City, at her first Olympics, Johnson stood with Mancuso's family and cheered her on the day she took silver in the giant slalom. On Thursday, he was with her in spirit.
"Our little sister Sara found out first, and I knew Julia would find out, so I wanted to be the person to tell her," April said. "I called her and said, 'I have horrible news. You should probably sit down.' After I told her, she was in disbelief. Yesterday was a bad day for Julia.
"Everything seemed so unfair. She was upset about what happened in her first run and thinking about it a lot. But then after hearing her good friend had passed away, she realized you have to let it go. It put everything in perspective. Life is so fragile, and although this is upsetting, I mean, it's the Olympics. What happened is nothing compared to losing her friend."
At the finish of her second run, Mancuso told the media, "CR helped me realize how much I love skiing."
On Wednesday night during their call, Mancuso told her sister that she was dedicating her final run to her friend. On Thursday morning, she told the world in a post on her Twitter account.
"This last run is for CR Johnson. Gonna rip it for you!!! CR was in Salt Lake City at my first Olympics, cheering for me. I know you're here now and with everyone when they ski and push their limits. RIP."
Then she lined up at the start and made good on her word.
February, 24, 2010
02/24/10
12:43
AM ET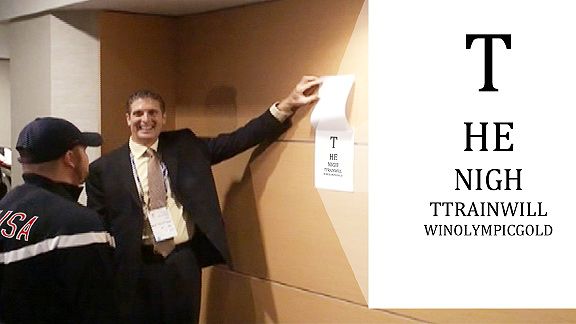 Courtesy of Alyssa RoenigkSteve Holcomb had an Olympics-inspired prank waiting for him.
VANCOUVER, British Columbia -- At the press conference for men's bobsled, Steven Holcomb, captain of USA I men's bobsled, was punked by his teammates. At the end of the conference, his teammates told him he had to take his final eye exam in front of the media. The exam was administered by Dr. Boxer Wachler, the doctor who restored Holcomb's vision last year. When he walked up to read the chart, he thought this was actually legit, and started reading, line by line -- until he realized they'd changed the chart to spell out "The Night Train Will Win Olympic Gold." Night Train is the name of Holcomb's bobsled.
February, 23, 2010
02/23/10
11:32
PM ET
WHISTLER, British Columbia -- When University of Texas quarterback Colt McCoy was in seventh grade, a speaker came to his middle school to talk about living a healthy lifestyle.
Courtesy of Alyssa Roenigk Kikkan Randall and Jessica Mendoza cheered on young athletes Tuesday.
At the time, McCoy was drinking a six-pack of Dr Pepper a day. "Athletes do not drink soda," the speaker said to a room full of student athletes between the ages of 10 and 13. "Soda slows you down." The comment fell on mostly deaf ears. But McCoy felt like it was aimed directly at him. He wanted to be a great quarterback. And quarterbacks are athletes. So the next day, McCoy swore off the stuff. "I was 12, but I knew I wanted to play at the highest level," McCoy told me last fall. Since that day, he has never taken a sip of soda.
What does that story have to do with the Winter Olympics? A lot, actually. For the athletes here in Vancouver, the Olympics is more than just the fulfillment of a lifelong dream and the biggest competition stage of their lives. It is also a platform from which to influence young fans, to talk about the organizations they work with and to sell the messages they hope will be attached to their stories. Examples like McCoy's are proof that when the messages are packaged well, kids are willing to buy them.
And that's why, Monday afternoon, U.S. cross-country skiers Kikkan Randall and Andy Newell were spending their rest day between competition hanging with kids at an event held at the Spyder U.S. Ski team house in Whistler Village. Sponsored by the Century Council, a not-for-profit organization funded by distillers and aimed at eliminating drunk driving and underage drinking, Kid's Day was well worth the time away from training and race prep, Randall said.
"The Olympics is such a great platform for athletes to talk about the causes we care about, so I try to fit in any appearances I can," said Randall, who competes again Thursday in the 4x5km relay. "I love the message we're sending to these kids. Living healthy lifestyles is the key to doing what we do." Randall, who is from Anchorage, also works with a similar organization in her hometown called Healthy Futures, as well as Fast and Female, a group dedicated to helping teach young girls to feel empowered through playing sports.
"My aunt and uncle were Olympic cross-country skiers, and I latched on to them," Randall said. "When I was 5, I decided I wanted to go to the Olympics, and I had their example to follow. It's great to be that person for other kids."
Between stints spent signing autographs and talking with fans, Randall and Newell cheered on the kids while they played an interactive video game as part of the Council's Ask, Listen, Learn campaign, which teaches kids the dangers of alcohol abuse and encourages parents to talk to their children about drinking. USA Softball team captain Jessica Mendoza stopped by to play a few rounds of the game as well.
"All these kids want to be Olympians," Mendoza said. "And the question they ask most is, 'How do I do it?' I can tell them it's by staying away from alcohol and drugs and being healthy and active. This is the perfect time for them to absorb it all in."
And who better to tell them than an Olympian.
"When I was a kid, I met Bill Koch and he signed my skis," Newell says. "He was the only American to win an Olympic medal in cross-country skiing and meeting him made an impression on me. It gave me the motivation to keep skiing, because I could get there one day, too."
Even if it meant making great sacrifices. Like ditching the Dr Pepper.
February, 23, 2010
02/23/10
10:08
PM ET
VANCOUVER, British Columbia -- Wednesday's lineup is all about the ladies. And hockey! But here in Canada, isn't it always about hockey?
Hockey: Men's Quarterfinals
Wednesday's quarterfinal play features a matchup between hockey's biggest superpowers, and hockey's biggest superstars: Canada vs. Russia, or Crosby vs. Ovechkin, depending on how you look at it. It's a game many thought would be the final, but Team USA's Sunday afternoon upset of Team Canada ruined those plans. The Americans, now the top seed, will play Switzerland. The Swiss are not to be taken lightly; they took the host country to a shootout in pool play. If the remaining favorites pull through the qualification round, Sweden will play Slovakia and the Finns will meet the Czechs.
Alpine Skiing: Women's Giant Slalom
Exactly four years ago Wednesday, Julia Mancuso surprised the world when she won gold in this event at Torino and donned a tiara at the medals ceremony. This year, Mancuso is hoping to repeat that performance at the venue where, in 2008, she earned her last World Cup podium. So far, Mancuso already has won two silver medals in three races at these Games and, because she decided not to compete in Friday's slalom race, GS is her final chance to earn an upgrade. Mancuso's U.S. teammate Lindsey Vonn said she felt great after Tuesday's practice runs, but she is not a favorite in this event. Of the five events she is racing, GS is Vonn's weakest. But that only means she has more to prove. Sarah Schleper de Gaxiola, who took two seasons off from racing and had a baby in 2008, enters the race as the highest-ranked U.S. skier in the field.
Women's Bobsled
After multiple crashes in training and competition -- and public comments made by female competitors that the track is too dangerous -- bobsled officials announced Monday that they were making modifications to the track, including the shaving of a minimum of 1 inch of ice from the 50-50 curve and alterations to Turn 13. Team USA's Shauna Rohbock, a medal favorite, was among the track's detractors. All three American sleds have been consistently in the top 10 in the world and are expected to contest for medals. Their toughest competition should come from the Canadians, who have spent more time on this track than any other sliders in the world and say they feel the most comfortable racing on it. Without the fear of crashing to distract them, that mindset should be a huge advantage in Wednesday's finals.
Speedskating: Women's 5,000m
Although the two American women competing in the 5,000 meters -- Jilleanne Rookard and Maria Lamb -- are not medal hopefuls, they are certainly names worth knowing. Rookard lost her mother to cancer two months ago, shortly after finding out she had qualified for the Olympic team, and is racing here in her honor. Lamb, a St. Paul, Minn., native, is one of 20 athletes from Minnesota competing in Vancouver. (The state with the second-most athletes is New York, with 18.) But the spotlight will be shining the brightest on Canadian racer Clara Hughes, 37, the defending gold medalist from Torino who took bronze in the distance in 2002. Hughes has the distinction of being the only athlete to win multiple medals at the summer and winter Olympics. (She took bronze in two cycling events in Atlanta in 1996.) On Wednesday, she has an opportunity to make even more history.
Short-Track Speedskating: Women's 3,000m relay
Anyone who has set foot in Pacific Coliseum for a short-track race knows, aside from the Canadians and Americans, the South Koreans bring the loudest cheering section. That won't change Wednesday, when the South Korean team attempts to win its fifth straight Olympic gold in the women's 3,000m relay. Strong teams from China, Canada and the U.S. hope to stop that streak. Team USA is led by first-time Olympian Katherine Reutter of Champaign, Ill., who hopes to make up for the misstep that cost her a medal in the 1,500 meters. Reutter's teammates -- Allison Baver, who made an amazing comeback from an accident in 2008 that left her with multiple fractures in her right leg, Kimberly Derrick, Alyson Dudek and Lana Gehring -- are all coming off strong World Cup seasons.
February, 21, 2010
02/21/10
8:48
PM ET
VANCOUVER, British Columbia -- On this, George Washington's birthday, the American team has medal hopes in ice dance. The second week of Olympic competition also kicks off with women's hockey semifinals, where the U.S. and Canada look to continue their dominance.
Hockey: Women's Semifinals, USA vs. Sweden and Canada vs. Finland
The women's hockey tournament moves from the small arena at the University of British Columbia to the big arena at Canada Hockey Place for Monday's semifinals. The two 800-pound gorillas in this tournament, Team Canada and Team USA, have thus far outscored their opponents 41-2 and 31-1, respectively, in three games of pool play. It seems they are on a collision course, but in this short tournament, anything can happen. In Torino, Sweden conjured a semifinal shootout victory over the U.S. to earn a spot in the final against Team Canada. Tomorrow, Team USA is hoping for redemption, while Team Canada will try to earn the right to defend its gold on home soil.
Figure Skating: Ice Dance Free Dance
Russian pair Oksana Domnina and Maksim Shabalin led the competition after the compulsory dance. That was no surprise. Teams from Russia or the former Soviet Union have won seven of the nine Olympic gold medals awarded in ice dancing. But for the first time in Olympic history, a trio of North American pairs is threatening the Russian dominance of the sport. Tessa Virtue and Scott Moir of Canada are in first place after Sunday's original dance competition, while U.S. pairs Meryl Davis and Charlie White, and Tanith Belbin and Ben Agosto, sit in second and fourth. With the competition this close, all four teams are likely to pull out all the stops on the final night of competition. But with the competition this close, they have little room for mistakes.
Freestyle Skiing: Men's Aerials Qualification
On Monday, the U.S. team begins its attempt to redeem itself after the first medal-less performance since the event was added to the Olympic lineup in 1994. In Torino, medal hopes Ryan St. Onge and Jeret "Speedy" Peterson failed to land on the podium, but they return in hopes of reclaiming the medals they dropped in Torino. Peterson hopes to finally land his signature trick, the Hurricane, in Olympic competition. He attempted the much-talked-about trick -- a dizzying combination of five spins and three flips -- in his final run in 2006, but failed to land it and was knocked from third to seventh place. This is Peterson's third Olympics and he hopes, for the first time, he does not leave empty-handed.
Ski Jumping: Men's Team Finals
Four years ago in Torino, the Austrian team won its first gold medal in ski jumping. Now, fielding its strongest team yet, it is favored to repeat here in Vancouver. Led by Gregor Schlierenzauer, who won a record 13 World Cup events and the 2009 World Cup title, the Austrian team will be tough to out-jump. Finland, Norway and Japapn also brought strong teams here to Vancouver and could surprise the Austrians. The U.S. has won only one Olympic ski jumping medal -- a bronze in 1924 -- and is one athlete short of the four required to compete in this event.
February, 21, 2010
02/21/10
6:27
PM ET
VANCOUVER, British Columbia -- It's difficult to summon your inner cheerleader when you don't have a horse in the race. So when both U.S. men were knocked out in the round of 32 in the Olympic debut of ski cross, the American cheering section went mute. This was a sport made famous in the Winter X Games. Its sister sport, snowboardcross, has been dominated by American riders Seth Wescott (two-time Olympic gold medalist), Nate Holland (five-time Winter X gold medalist) and Lindsey Jacobellis (winningest SBX athlete of all time). So where were the Americans?
Early in the day, they were hoarding a majority of the prerace chatter. Both Casey Puckett and Daron Rahlves -- heavy medal favorites before Puckett dislocated his shoulder, twice, in January, and Rahlves dislocated his hip 21 days ago -- had made seemingly miraculous recoveries in order to race in the Olympics. After the time-trial qualifiers, Rahlves said his hip felt great. Puckett said he was feeling slow out of the start and still in pain, but that his shoulder was in racing shape. We're here, and we're ready to race, they said. And they were expected to contest for a medal.
"Everyone comes here to win, but there are so many variables that go in to winning a ski cross race," Puckett said after the race. "When people say, 'That's ski cross,' they mean the unpredictability." By the semifinal round, those variables had knocked out Team USA.
Coming around the final banked turn -- dubbed the toilet bowl turn -- Rahlves lost control, flew over the next jump and landed hard on his injured hip. He righted himself and finished the race, but in fourth place. Although his hip appeared to remain intact, Rahlves' day was over. Pucket had a slow start out of the gate and remained in fourth place until he crossed the finish line. "It was a really fun course, but it was hard to pass," Puckett said. "Most of the races seemed to be won by the skier who got the holeshot. And that wasn't me today."
Still, the races did not disappoint. Team Canada sent two skiers to the semifinal and Chris Delbosco, the 2010 Winter X Games champion and the sentimental favorite, raced in the final. After a rough start, Delbosco pulled into third place, but crashed going over the final jump and finished fourth. Michael Schmid of Switzerland won the gold, Andreas Matt of Austria took silver and Audun Groenvold of Norway took bronze. "Delbosco was my pick to win this thing," Puckett said. "He totally went for it and he almost had a medal. It's sad. Chris was a real mess six years ago when I started racing him, but he's really turned the corner. He has been so focused. It's heartbreaking."
But, as they say, that's ski cross.
February, 20, 2010
02/20/10
10:53
PM ET
VANCOUVER, British Columbia -- When I was 11 years old, an 18-year-old center from Boston was drafted No. 8 overall by the Chicago Blackhawks. Jeremy Roenick went on to become one of the most successful and most famous NHL players of all time. And since that day in 1988, I have spent a lot of time explaining the spelling of my last name.
[+] Enlarge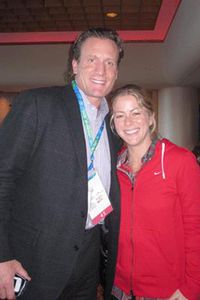 Courtesy Alyssa Roenigk "You know, we look like we are related," Jeremy said to me during our Winter Olympic family reunion.
Like Jeremy, I chose a career in sports. And like him, my success is based largely on name recognition. But because his name is so much more recognized, I have been destined to years of misspelled bylines and arguments at credentialing counters. By the time I was in high school in Cape Coral, Fla., I couldn't introduce myself to someone without them replying, "Oh! Like the hockey player? Are you related?" Perhaps distantly, I would say. It's spelled differently. But pronounced the same. The G is silent. "G?" they would ask, "Where on Earth would you put a G?"
To this day, I still light up with excitement and pride when I arrive to cover a sporting event and my name is spelled correctly on the credential. It happens more frequently each year, but when it does, the credential always comes with a sincere apology for the "mistake."
For years, I have wanted to meet Jeremy and ask him whether I have been as big a part of his life as he has been of mine. But I don't cover hockey, and he doesn't spend a whole lot of time at the events and games I cover. Each time I heard we would be in the same city, I would ask Lindsay Berra, our NHL writer at The Mag and one of my best friends, to set up a meeting. The first feature story Lindsay wrote for the magazine was on J.R., so she was destined to introduce us. But it never worked out.
Until today.
Like me, Jeremy is here in Vancouver covering the Olympics. Since retiring from the NHL last season, he has been working as an analyst for TSN and Fox and is covering the Games for NBC. Between this afternoon's Norway-Switzerland and Latvia-Slovakia games, we met and talked about our family history, life after professional sports and Sunday's Canada-USA hockey game. And I finally had the chance to ask him why he spells his name so funny.
Most of our conversation I will save for a phone call home to my folks, who will be excited to know I am the first Row-Nick of any spelling Jeremy's met, aside from his family. He didn't know the story I grew up hearing about the seven brothers who moved to America from a small town on the German-Czech border and slowly evolved their German name -- Roenig -- into its two Americanized forms. We're both going to search our family trees to see where our branches cross, which most likely happened a great-great-grandparent ago.
And that's sort of too bad. If he had a single cousin for me to marry, I could do away with this spelling problem once and for all.
And now, the hockey portion of our conversation is all yours …
You have an interesting take on the Canada-U.S. rivalry. Can you explain it?
I've always found it funny how Canada has marketed hockey as their game when the Russians dominated for so long. Canada has always had a rivalry with Russia. Until the '80s, the U.S. didn't have a team that could compete. That 1980 team changed the mentality of our generation. We made USA hockey a world power because we started winning in international events. Now Canada has shifted their attention to us, their neighbors. It's a lot easier to have a rivalry with a team that's right next door and plays the same style of game. Now we are at a crossover. Our generation is gone and now we'll see how this new, young group of U.S. players comes along. They dominated the junior ranks and it will be interesting to see if they can continue what we built for them. This will never be America's game, but we will fight trying to get it there.
How important is it for Team Canada to win this game?
Canada has all the pressure on them. From coast to coast, the only sport Canadians want to see a gold medal in is hockey. The patriotism here is incredible. If Canada wins, the fans might be so loud, they'll cause a crack right down the middle of the U.S.-Canada border. But if they lose -- and in the same year they lost the world junior championships, their pride and joy, to the U.S. -- they might switch to baseball as their national pastime.
So how can the Americans beat them? And can they?
They should take a page out of the Swiss team's book, because the Swiss almost beat Canada. They used a lot of energy and good skating. They took away time and space and didn't allow Sidney Crosby or Canada's other big guys to dictate what they wanted to do. They played physical hockey. They frustrated them and had a great goaltending effort. They have to lock it down defensively and Miller has to be the best player in the game. If they win, they are going to do it with their defense and hopefully a lucky goal.
Do you have a prediction?
I think it will be intense, but Canada will win 4-2.