Category archive:

Alpine Skiing
February, 27, 2010
02/27/10
3:56
AM ET
VANCOUVER, British Columbia -- Bode Miller, Chad Hedrick and the men's four-man bobsled team will all be in action Saturday. Here's what we'll be watching:
Alpine skiing: Men's slalom: Three events into these Games, Miller was two medals from becoming the first Alpine skier to medal in all five events since 1988, the first year five events were contested at the Olympics. But after a DNF in giant slalom, those plans changed. Now, with a medal performance in slalom Saturday morning, he can become only the fifth athlete to medal in four events in one Olympics. Miller's teammate Jimmy Cochran, a slalom specialist, also is a medal hope for the U.S., as well as Ted Ligety, a two-time Olympian who looks to live up to a 1972 performance by his aunt, who won gold in slalom in Sapporo. Besides reigning gold and silver medalists Benjamin Raich and Reinfried Herbst of Austria, the greatest challenge Team USA will face is the weather, and themselves.
Cross-country skiing: Women's 30-kilometer mass start: This torturous event -- 18.6 miles, if your math is rusty -- is simply a survival of the fittest. Since the event's debut in 1992, the Italians have won three of five gold medals, and Marianna Longa could continue the tradition. Finn Aino-Kaisa Saarinen, Norwegian Kristin Stoermer Steira and Poland's Justyna Kowalczyk all are talented distance skiers, but the hometown crowd will be behind four-time Olympian and British Columbia native Sara Renner. American Kikkan Randall also will race, but she excels in freestyle skiing, and in this race, athletes are required to use the classical style.
Four-man bobsled, Day 2: American Steven Holcomb and his Night Train crew built a whopping (in bobsled terms) four-tenths of a second lead over Canada's Lyndon Rush in the first two runs of the competition Friday, setting successive track records with each run. Defending champ Andre Lange of Germany is just three-hundredths of a second behind the Canadian sled. But on the track at the Whistler Sliding Centre, no lead is safe. Six sleds failed to make it through Curve 13, ominously dubbed the "50-50 curve" due to the chances of making it through unscathed, and slid down the track upside down. Should Holcomb's group hold on to its lead, it will win the first U.S. gold in four-man bobsledding in 62 years.
Men's curling: Gold- and bronze-medal matches: Unbeaten skip Ken Martin and the Canadian team will face Norway -- flashy, diamond-print pants and all -- for the gold medal Saturday afternoon at Vancouver Olympic Centre. The home team is trying to become the first curling squad to go undefeated at the Games since the sport returned as a medal event in 1998. The Norwegians have lost just one match in Vancouver after Team Canada beat them 7-6 in extra ends Feb. 16, and the rivalry is an old one. Canada won gold in 2006, and Norway won it all in 2002. In the earlier match, Sweden and Switzerland will face off for bronze.
Snowboard: Men's parallel giant slalom: Sure, one country (the U.S.) has dominated halfpipe snowboarding. But in recent years, one family has dominated men's PGS: the Schoches. Phillip and Simon Schoch finished 1-2 in Torino in 2006, and younger brother Phillip won gold in 2002. Both return in the hopes of once again making the Olympic PGS race a family affair. The U.S. team of Tyler Jewell and Chris Klug could jumble those plans. Jewell placed 11th in his first Olympics in 2006 and was 10th at the 2009 World Championships. Klug, the only American to medal in this event (bronze in 2006), is a sentimental favorite. Spreading his story of overcoming a liver transplant to compete in the Olympics is much of his motivation for returning for another Games (aside from also becoming the second medalist, that is).
Long-track speedskating: Men's and women's team pursuit: Despite having earned the most winter medals in U.S. Olympic history, American long-track speedskaters have won just three medals in Vancouver: Shani Davis' gold in the 1,000 meters and silver in the 1,500, and Hedrick's bronze in the 1,000. They have a chance to earn more in the team pursuit Saturday afternoon at the Richmond Olympic Oval. Veteran Hedrick, joined by youngsters Trevor Marsicano, 20, Brian Hansen, 19, and Jonathan Kuck, 19, upset the favored Dutch in qualifying and will face Canada in the final. The women's team consists of two-time Olympic bronze medalist Jen Rodriguez, four-time Olympian Catherine Raney Norman, and newcomers Jilleanne Rookard and Nancy Swider-Peltz Jr. They have advanced to the semifinals, along with Japan, Poland and Germany.
Ice hockey: Men's bronze-medal game: Goaltender Miikka Kiprusoff and the Finns looked stunned after suffering through a one-sided first period Friday in which Team USA scored six goals. Team Finland managed to score just one goal in the 6-1 semifinals rout. Now, Finnish veterans Teemu Selanne and Saku Koivu have one chance to redeem themselves in what likely will be their last Olympics. They play Slovakia in Saturday afternoon's bronze-medal match at Canada Hockey Place. The Slovaks, though, enter the game on a roll: Their third period against Canada was one of the best of the tournament, and they nearly beat the home team in the closing seconds.
February, 26, 2010
02/26/10
1:02
AM ET
VANCOUVER, British Columbia -- Apolo Ohno, Lindsey Vonn, and the men's U.S. and Canadian hockey teams will all be in action Friday. Here's what we'll be watching:
Snowboarding: Women's Parallel Giant Slalom
Since PGS was added to the 1998 Games -­ it was individual giant slalom back then -- European riders have dominated the event. Austrian racers Marion Kreiner and Doris Guenther, the top two women at the 2009 world championship, will be the women to beat Friday afternoon at Cypress Mountain. The U.S. has only had one medalist: Rosey Fletcher, who took bronze at Torino in 2006. But the lone American in this year's field would like to change that stat. Michelle Gorgone finished in the top 10 at four World Cup races in 2009 and returns for her second Olympics with a real shot at placing in the top five. Known for going for broke on every turn of every run, Gorgone hopes to finally cash in before retiring at the end of this season.
Alpine Skiing: Women's Slalom
Once again, the talk heading into women's slalom -­ the final event on the women's Alpine roster -- is about one of Lindsey Vonn's body parts. Vonn broke her right pinkie finger in her first run of the giant slalom Wednesday afternoon, but has decided to race her final event of the 2010 Games. "She's had way worse than that. She'll be fine," U.S. coach Jim Tracy told Reuters on Wednesday. Vonn's teammate Julia Mancuso opted out of the final event, and Sarah Schleper de Gaxiola of Vail is a technical skier who has posted two top-10 finishes in World Cup races this year. But Maria Riesch of Germany and Sandrine Aubert of France are still the women to beat.
Bobsled: Four-Man
At a news conference earlier this week, Steven Holcomb was pranked by his U.S. teammates, who told him he had to take his final eye exam in front of the media. A degenerative eye disease left him nearly blind last year, but an experimental procedure restored his vision to nearly 20/20. As he read the eye chart, Holcomb spelled out "The Night Train Will Win Gold." And after piloting his sled, dubbed the Night Train, to the first U.S. world title in 50 years last March, Holcomb and teammates Steve Mesler, Curt Tomasevicz and Justin Olsen could become the first U.S. athletes to win gold since 1948. John Napier, pilot of the USA 2 sled, also has medal potential. A 1-2 U.S. finish? You'd have to see it to believe it.
Curling: Women's Gold- and Bronze-Medal Matches
Skip Cheryl Bernard and the top-seeded Canadians are exactly where they wanted to be: playing for gold in front of the home crowd. They will face Anette Norberg and the defending gold medalists from Sweden in Friday's final match at the Vancouver Olympic Centre. On Thursday morning, Norberg, 43, competing with the same team she had in Torino, Italy, defeated the Chinese team in the semifinals. It was a rematch of the 2009 world championship final, a match the Chinese won. The Canadians defeated the Swiss in their semifinal in a match that came down to the last stone. China and Switzerland will play for bronze.
Short-Track Speedskating: Men's 500m, Men's 5,000m Relay, Women's 1,000m On Friday evening at Pacific Coliseum, Apolo Ohno will defend his gold medal in the 500 meters while shooting for his eighth overall Olympic medal. Later on, he'll lead the U.S. men in the relay, the final race of the short-track competition, against strong teams from France, China, South Korea and Canada. Sandwiched between the two men's events is the women's 1,000. American Katherine Reutter set an Olympic record in the qualifying round Wednesday afternoon, but will have to contend with 500m gold medalist Wang Meng and 1,500m gold medalist Zhou Yang, both of China.
Ice Hockey: Men's Semifinals, USA vs. Finland, Canada vs. Slovakia
By now, everyone knows Canada blew out the Russians in Wednesday's quarterfinals, rendering superstar Alex Ovechkin virtually useless by putting the sheer size and skill of winger Rick Nash and defenseman Shea Weber in his way. Now, Canada will have to get through Zdeno Chara, Marian Hossa and the rest of the Slovakian team to earn a berth in the gold-medal gamel. The Americans, who squeaked by Switzerland in the quarters, will face Finland, which eliminated the Czechs on Wednesday night at UBC Arena.
February, 25, 2010
02/25/10
4:43
PM ET
WHISTLER, British Columbia -- For an hour after the women's giant slalom finals Thursday morning, Julia Mancuso's family stood at the entrance to the media area here, anxiously awaiting the moment when they finally could celebrate with her.
"We haven't had a proper celebration yet," said Andrea Webber, Mancuso's mom. "This will be the first time we celebrate her two silver medals together."
When Julia arrived, nearly an hour after giving her first postrace interview, Mom placed the tiara she'd been wearing all morning on her daughter's head. Julia's sister April held out a stack of plastic cups. Julia reached into her bag and pulled out a bottle of Celebris champagne. Then, after hanging her two medals around her neck, Mancuso popped the cork, divvied up the champagne among her family and friends, and made a proper toast. "Here's to the Olympics!" Mancuso said, holding up her glass. "Cheers!"
Although Mancuso did not medal in giant slalom, she was the fastest woman down the mountain Thursday and finished eighth overall. And after Wednesday's unfortunate, and now infamous, yellow-flag incident, it was something else for Mancuso and her family to celebrate. Instead of thinking about what could have been, Mancuso was able to concentrate on what was and celebrate an impressive final performance at these Olympics. In that final run, she also was celebrating the memory of a friend.
On Wednesday afternoon, Mancuso learned of the death of her good friend CR Johnson, a well-known and popular freeskier who helped pioneer the sport of halfpipe skiing. Johnson, 26, was known for pushing limits, as well as for his inspiring recovery from a traumatic brain injury he suffered in a skiing accident in 2005. He died Wednesday after a fall while skiing at Squaw Valley, his home mountain. Johnson and Mancuso, who also is from Squaw Valley, Calif., had been friends for years. In 2002 in Salt Lake City, at her first Olympics, Johnson stood with Mancuso's family and cheered her on the day she took silver in the giant slalom. On Thursday, he was with her in spirit.
"Our little sister Sara found out first, and I knew Julia would find out, so I wanted to be the person to tell her," April said. "I called her and said, 'I have horrible news. You should probably sit down.' After I told her, she was in disbelief. Yesterday was a bad day for Julia.
"Everything seemed so unfair. She was upset about what happened in her first run and thinking about it a lot. But then after hearing her good friend had passed away, she realized you have to let it go. It put everything in perspective. Life is so fragile, and although this is upsetting, I mean, it's the Olympics. What happened is nothing compared to losing her friend."
At the finish of her second run, Mancuso told the media, "CR helped me realize how much I love skiing."
On Wednesday night during their call, Mancuso told her sister that she was dedicating her final run to her friend. On Thursday morning, she told the world in a post on her Twitter account.
"This last run is for CR Johnson. Gonna rip it for you!!! CR was in Salt Lake City at my first Olympics, cheering for me. I know you're here now and with everyone when they ski and push their limits. RIP."
Then she lined up at the start and made good on her word.
February, 24, 2010
02/24/10
6:47
PM ET
WHISTLER, British Columbia -- Lindsey Vonn's wipeout didn't just cost the Americans one chance at a medal in the women's giant slalom Wednesday, but quite possibly two.
During the first leg of a weather-torn giant slalom that led to the postponement of the second leg until Thursday, Vonn's wipeout 10 gates from the finish may have contributed to ending Julia Mancuso's medal chances.
Vonn and Mancuso were scheduled to ski 17th and 18th, respectively. After receiving a report from her husband, Thomas Vonn, that the course (already hampered by snow and limited visibility due to a thick fog) was choppy near the bottom, Vonn broke hard out of the gate hoping to take advantage of the faster snow to put time pressure on the day's leader, Elisabeth Goergl of Austria. Vonn did exactly that, slicing down the course in her patented low-crouching power style.
"I thought I had the right direction coming over that last roll, but I hit a bump, got tangled up and went into the net," Vonn said. "That's ski racing for you. I was hoping for something today, but it just wasn't my day."
She was beating Goergl's pace until she clipped the right gate, spun awkwardly into the left gate and turned backward into the side fence. Vonn was down momentarily before being able to ski slowly down the hill. Race officials halted the race with a yellow flag, but not before Mancuso had already begun her run.
As Mancuso raced down the mountain, Vonn was still on the course, forcing the stoppage. Mancuso then had to return to the top of the hill and wait to be rescheduled.
"It's more just emotionally draining. I just spoke to Jules and she's disappointed," said Chemmy Alcott of Great Britain. "She had to go up on the gondola on her own. You're in your zone, you're in your focus, and then it stops and you have to spend 15 minutes on your own contemplating what happened and what you'll do again and it's really tough. That's why she's a bit upset right now."
"I know she's disappointed and I feel terrible, but I crashed," Vonn said. "I don't want to crash myself, let alone hurt my teammate's chances of getting medal, so I feel terrible. I hope she understands. I didn't want that to happen for the both of us, so I hope she has a good second run."
Because of visibility issues, the second run was pushed to 9:30 a.m. PT on Thursday and will be 10 gates shorter. Following a continued delay that lasted nearly two hours, officials chose to postpone the remainder of the afternoon. Goergl leads after one run with a time of 1:15.12 seconds, Taina Barioz of France is second at 1:15.14 and Kathrin Zettel of Austria is third, .26 seconds behind the leader. Mancuso is 18th, 1.30 behind Goergl.
February, 24, 2010
02/24/10
5:07
PM ET
VANCOUVER, British Columbia -- On Thursday, women's figure skating and ice hockey take the stage, as medals will be awarded in both contests. But those aren't the only sports you should check out. Here are our picks for the top events to watch:
Nordic Combined: Men's Individual Long Hill/Individual 10km
The U.S. won its first-ever Nordic combined medal on Valentine's Day, when Johnny Spillane took silver in the men's individual normal hill. The Americans followed with a second silver in the team competition Tuesday. Spillane will be in action again Thursday for the long hill individual event, along with relay teammates Bill Demong and Todd Lodwick. Other medal contenders will be Frenchman Jason Lamy Chappuis, who has a sizable lead in the current World Cup standings, Austrian Felix Gottwald and German Eric Frenzel.
Curling: Semifinals
Thursday will be a big day for Canadian curling. Skip Kevin Martin enters the semifinals having gone a perfect 9-0 in round-robin play, and his team is in first place. The Canadians will face Sweden, which beat Great Britain in a tiebreaker, and Norway will play Switzerland. Cheryl Bernard and the Canadian women's team also finished first after the round-robin, and they will face off against Switzerland. In the other semifinal, the defending gold medalists from Sweden will take on the reigning world champs from China.
Figure Skating: Women's Free Program
Regardless of what happens with the hockey tournament, the story of these games should be Joannie Rochette's performance in the face of overwhelming tragedy; her mother Therese, 55, passed away unexpectedly Sunday morning after arriving in Vancouver to watch her daughter skate. And skate she did. Rochette turned in a performance that was as courageous as it was flawless in the short program Tuesday night, then burst into tears at its conclusion. Heading into the free skate, she sits in third place behind Korea's Kim Yu-Na and Japan's Mao Asada. Americans Rachael Flatt, 17, and Mirai Nagasu, 16, are fifth and sixth.
Freestyle Skiing: Men's Aerials
Defending Olympic champion Han Xiaopeng of China and top-ranked Anton Kushnir of Belarus, who has graced the podium in every World Cup event this season, both failed to qualify for the final in the men's aerials competition, making it anybody's ballgame. China's Jia Zongyang qualified first, followed closely by American Ryan St. Onge. American Jeret "Speedy" Peterson is fifth. If conditions hold, look for Peterson's trademark "Hurricane" in the final. With three flips and five twists, it's the most difficult trick an aerial skier can perform. Canadians Steve Omischl, Warren Shouldice and Kyle Nissen also reached the final, which should ensure a pretty high decibel level at Cypress Mountain on Thursday night.
Ice Hockey: Women's Gold (Canada vs. USA) and Bronze (Sweden vs. Finland) Medal Games
It was inevitable that Team USA and Team Canada would clash for gold in these Olympic Games, after neither was tested in any of the teams' early games or in the semifinals. Now, Team USA faces a tough challenge. It must beat the Canadians, who won the past four of their pre-Olympic meetings, on their home soil in front of a Hockey Canada Place crowd that will undoubtedly be bursting with red. Can the U.S. pull off the upset? The men's team did it Sunday, so why not?
February, 23, 2010
02/23/10
10:08
PM ET
VANCOUVER, British Columbia -- Wednesday's lineup is all about the ladies. And hockey! But here in Canada, isn't it always about hockey?
Hockey: Men's Quarterfinals
Wednesday's quarterfinal play features a matchup between hockey's biggest superpowers, and hockey's biggest superstars: Canada vs. Russia, or Crosby vs. Ovechkin, depending on how you look at it. It's a game many thought would be the final, but Team USA's Sunday afternoon upset of Team Canada ruined those plans. The Americans, now the top seed, will play Switzerland. The Swiss are not to be taken lightly; they took the host country to a shootout in pool play. If the remaining favorites pull through the qualification round, Sweden will play Slovakia and the Finns will meet the Czechs.
Alpine Skiing: Women's Giant Slalom
Exactly four years ago Wednesday, Julia Mancuso surprised the world when she won gold in this event at Torino and donned a tiara at the medals ceremony. This year, Mancuso is hoping to repeat that performance at the venue where, in 2008, she earned her last World Cup podium. So far, Mancuso already has won two silver medals in three races at these Games and, because she decided not to compete in Friday's slalom race, GS is her final chance to earn an upgrade. Mancuso's U.S. teammate Lindsey Vonn said she felt great after Tuesday's practice runs, but she is not a favorite in this event. Of the five events she is racing, GS is Vonn's weakest. But that only means she has more to prove. Sarah Schleper de Gaxiola, who took two seasons off from racing and had a baby in 2008, enters the race as the highest-ranked U.S. skier in the field.
Women's Bobsled
After multiple crashes in training and competition -- and public comments made by female competitors that the track is too dangerous -- bobsled officials announced Monday that they were making modifications to the track, including the shaving of a minimum of 1 inch of ice from the 50-50 curve and alterations to Turn 13. Team USA's Shauna Rohbock, a medal favorite, was among the track's detractors. All three American sleds have been consistently in the top 10 in the world and are expected to contest for medals. Their toughest competition should come from the Canadians, who have spent more time on this track than any other sliders in the world and say they feel the most comfortable racing on it. Without the fear of crashing to distract them, that mindset should be a huge advantage in Wednesday's finals.
Speedskating: Women's 5,000m
Although the two American women competing in the 5,000 meters -- Jilleanne Rookard and Maria Lamb -- are not medal hopefuls, they are certainly names worth knowing. Rookard lost her mother to cancer two months ago, shortly after finding out she had qualified for the Olympic team, and is racing here in her honor. Lamb, a St. Paul, Minn., native, is one of 20 athletes from Minnesota competing in Vancouver. (The state with the second-most athletes is New York, with 18.) But the spotlight will be shining the brightest on Canadian racer Clara Hughes, 37, the defending gold medalist from Torino who took bronze in the distance in 2002. Hughes has the distinction of being the only athlete to win multiple medals at the summer and winter Olympics. (She took bronze in two cycling events in Atlanta in 1996.) On Wednesday, she has an opportunity to make even more history.
Short-Track Speedskating: Women's 3,000m relay
Anyone who has set foot in Pacific Coliseum for a short-track race knows, aside from the Canadians and Americans, the South Koreans bring the loudest cheering section. That won't change Wednesday, when the South Korean team attempts to win its fifth straight Olympic gold in the women's 3,000m relay. Strong teams from China, Canada and the U.S. hope to stop that streak. Team USA is led by first-time Olympian Katherine Reutter of Champaign, Ill., who hopes to make up for the misstep that cost her a medal in the 1,500 meters. Reutter's teammates -- Allison Baver, who made an amazing comeback from an accident in 2008 that left her with multiple fractures in her right leg, Kimberly Derrick, Alyson Dudek and Lana Gehring -- are all coming off strong World Cup seasons.
February, 22, 2010
02/22/10
7:23
PM ET
VANCOUVER, British Columbia -- On Tuesday, Bode Miller has a chance to become the first man to win four Alpine skiing medals in a single Olympics. Day 12 in Vancouver is jam-packed with action. Here are our picks for the top events to watch:
[+] Enlarge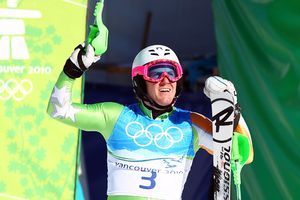 Sandra Behne/Bongarts/Getty ImagesTed Ligety will challenge Bode Miller for gold in the men's giant slalom.
Alpine Skiing: Men's Giant Slalom
The giant slalom, one of Alpine skiing's technical events, will consist of two different gated runs down the Dave Murray course at Whistler Creekside. American Bode Miller will try to become the first man to win four Alpine skiing medals at a single Olympic Games when he skis in Tuesday's race, but it won't be easy. U.S. teammate Ted Ligety is the current leader in the giant slalom World Cup standings and was the overall Cup winner in this discipline last season. Italy's Massimiliano Blardone has reached the podium 19 times in World Cup giant slalom races. Austria's Benjamin Raich is the defending gold medalist. And Austrian Marcel Hirscher and Norway's Kjetil Jansrud are both within 100 points of the overall World Cup lead.
Women's Bobsled, Day 1
Veteran American Shauna Rohbock, the defending silver medalist, begins her bid for gold Tuesday afternoon on a track she calls "stupid fast." Rohbock, though, has had success at the Whistler Sliding Centre; she took gold last season in the only World Cup event held on the Olympic track. Teammate Erin Pac, also a medal contender at these Games, took bronze. The Americans will face tough competition from their German counterparts. Sandra Kiriasis is the defending Olympic champ and has won three of the past five world championships, and Cathleen Martini has won five of seven World Cup races this season.
Figure Skating: Women's Short Program
The women's figure skating event will open under a somber cloud Tuesday night, just two days after the 55-year-old mother of Canadian skater Joannie Rochette passed away unexpectedly in Vancouver. Rochette, though, has vowed to compete, and will be the 26th of the 30 skaters. Olympic favorite Kim Yu-Na of Korea will skate 23rd, one spot after her biggest rival, Mao Asada of Japan. Americans Rachael Flatt and Mirai Nagasu will skate 28th and 11th, respectively.
Freestyle Skiing: Women's Ski Cross
The U.S. does not have a skier competing in the Olympic debut of women's ski cross. But to know which women to watch, fans need look no further than the top finishers at last month's Winter X Games. Gold medalist Ophelie David of France is the most dominant skier in the history of the sport, with six overall World Cup titles and three Winter X golds. Silver medalist Ashleigh McIvor, a native of Whistler, is the reigning world champion. And 20-year-old Canadian Kelsey Serwa, who took bronze at Winter X, finished fifth at the 2009 world championships. Now, all three women hope their success in Colorado translates to this technical Cypress course.
Ice Hockey: Men's Qualification Playoffs
The qualification playoffs have never been so exciting. Team Canada's loss to Team USA Sunday afternoon put it outside the top four teams, the quartet that earned a bye into the quarterfinals. Instead, Canada will play Germany on Tuesday afternoon at Canada Hockey Place, with the winner moving on to the quarters Wednesday. In the other two playoff games at the big rink downtown, Switzerland will play Belarus and Slovakia will play Norway. The final qualification game, between the Czech Republic and Latvia, will take place at UBC's Thunderbird Arena. It's a great chance to see superstar Jaromir Jagr up close; the rink seats just 6,800 people.
Speedskating: Men's 10,000m
If you're Dutch, odds are you're pretty psyched about this race. Distance specialist Sven Kramer, 23, holds the world record in the 10,000, and has since March 2006. He has won three consecutive world championship titles, won the World Cup title at this distance last year and is well on his way to winning another. But fellow Dutchman Bob de Jong is the defending gold medalist and, at 33, is still a threat to younger Kramer. De Jong is also a three-time world champ, and he has earned the nickname "Diesel" for his ability to maintain speed in long races. Plus, he set a personal record in the 10,000 just two months ago.
February, 20, 2010
02/20/10
11:14
PM ET
VANCOUVER, British Columbia -- Sunday's North American hockey showdown between Team Canada and Team USA will grab most of the headlines, but it's not the only game in town. Here are our picks for the top events to watch:
Alpine Skiing: Men's Super Combined
This race, which combines the speed of downhill with the precision of slalom, was originally scheduled for this past Tuesday but was postponed because of snow. Sunny skies are in the forecast for Sunday, as skiers gear up for one run of downhill and one run of slalom at Whistler Creekside. American Bode Miller looks to earn his third medal -- and the U.S. Ski team's eighth -- in the event. He'll see stiff competition from Ivica Kostelic of Croatia, Austria's Benjamin Raich, Switzerland's Carlo Janka and super-G winner Aksel Lund Svindal of Norway. American Ted Ligety, who took home a surprise gold in this event in Torino, is also racing.
Two-Man Bobsled
Four more sleds -- from Canada, Australia, Great Britain and Liechtenstein -- crashed in the opening heats of the men's two-man bobsled on Whistler's ultra-fast track on Saturday night. Germany 1, piloted by defending champion Andre Lange, is in first place heading into the medal races Sunday afternoon, with countryman Thomas Florschuetz just 0.11 of a second behind. Russian Alexsandr Zubkov, American Steven Holcomb and Ivo Rueegg of Switzerland round out a tightly stacked top five. Holcomb, who nearly flipped his sled midway through his first run, is just 0.12 of a second out of medal position.
Figure Skating: Ice Dance Original Dance
Two American teams are within striking distance of a medal going into the second phase of the ice dance competition Sunday afternoon at Pacific Coliseum. Meryl Davis and Charlie White are in third place, while teammates Tanith Belbin and Ben Agosto are fourth. Russia's Oksana Domnina and Maxim Shabalin are in the lead, with Tessa Virtue and Scott Moir of Canada in second. The original dance counts for about 30 percent of each team's overall score, with about 20 percent based on Friday's compulsory dance and about 50 percent on Monday's free skate.
Men's Ski Cross
The fact that U.S. athletes Casey Puckett and Daron Rahlves, the only members of Team USA, are competing Sunday morning is a story in itself. Puckett separated his left shoulder in a World Cup race in January and reinjured himself in a qualifying run at the Winter X Games two weeks later. The next day at Winter X, Rahlves dislocated his right hip for the fourth time in his career. Prior to this injury, Rahlves said the fastest he'd recovered from a hip dislocation was two months. This time, he had 21 days. Coming into the Games, Puckett and Rahlves, both former Olympic alpine skiers over the age of 35, were heavy medal favorites. Surprisingly, they still are.
Men's Ice Hockey: Russia vs. Czech Republic, Canada vs. USA, Sweden vs. Finland
Sunday's tripleheader is the best day of hockey at these Games that won't result in the awarding of a medal. All three tilts are huge rivalries, and they're also rematches of the past three Olympic gold medal games. Canada versus the U.S. and Sweden versus Finland are obvious border wars, while the Russian rivalry with the Czech Republic dates back to the former's occupation of the latter 40 years ago. But forget politics. These games pit skill against skill. Ovechkin vs. Jagr. Brodeur vs. Miller. Forsberg vs. Selanne. Grab your cowbells and hold on to your hats, this is going to be fun.
Speedskating: Women's 1,500m
Canadian fans are expecting nothing less than their first multiple-medal performance in Sunday's race at the Richmond Olympic Oval. Christine Nesbitt, the 1,000-meter gold medalist, is the obvious favorite for gold, but she has a fierce-but-friendly rivalry with countrywoman Kristina Groves in this event. Both have won a pair of 1,500m World Cup races this season. The only other skater to win one is Dutchwoman Ireen Wust, who also took bronze at the 2006 Olympics. She, along with Martina Sablikova of the Czech Republic, will try to spoil Canada's party. However, if the home crowd is as inspiring as it's expected to be, a Canadian sweep is not out of the question. Winnipeg's Brittany Schussler is also a threat.
February, 18, 2010
02/18/10
11:47
PM ET
VANCOUVER, British Columbia -- Bode Miller, Tanith Belbin and Ben Agosto are among the Americans going for gold Friday. Here are our picks for the top events to watch:
[+] Enlarge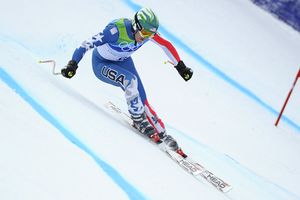 Alain Grosclaude/Getty ImagesBode Miller can add to his medal collection Friday.
Alpine Skiing: Men's Super-G
Super-G combines the speed of downhill with the more technical turns of giant slalom, and it will require racers to steer through 35 gates on the same Dave Murray course as the downhill. It starts slightly lower than the downhill, just above the area known as Toilet Bowl, and descends through the Weasel, the Sewer and Boyd's Chin. The field is wide open. Didier Cuche of Switzerland is the 2009 world champ, and despite his age (36) and broken right thumb, should contend for gold. Austrian Michael Walchhofer leads the current World Cup standings, with Norway's Aksel Lund Svindal and Austrian Benjamin Raich in second and third. Americans Ted Ligety and Bode Miller also have been World Cup champs in this event, and Canadians Manuel Osborne-Paradis and Robbie Dixon can't be ruled out on their home hill.
Ski Jumping: Men's Individual Long Hill, Day 1
Although weather has had an effect on nearly all of the outdoor events at the Vancouver Games, the ski jumping hill at Whistler Olympic Park has been dubbed "perfect." It uses high-tech cooling machinery to ensure the grooves on the run are identical for every athlete and insulated covers and tarps to protect from sun, wind, rain and snow. Switzerland's Simon Ammann, who won the first gold medal of the 2010 Olympics on the normal hill last Friday, is a favorite. He recorded the longest training jump on the long hill, at 143 meters. Austria, though, boasts four of the five best jumpers in the world, who will be looking to redeem themselves after a disappointing performance on the normal hill. Gregor Schlierenzauer was last year's World Cup champ, and Thomas Morgenstern won large hill gold in 2006.
Figure Skating: Ice Dance Compulsory Dance
The U.S. has never been a force to reckon with in ice dance, but this year, two American teams -- Tanith Belbin and Ben Agosto, plus Meryl Davis and Charlie White -- have medal potential. Davis and White are the U.S. champs, and Belbin and Agosto are the defending silver medalists. The return of 2008 world champs Isabelle Delobel and Olivier Schoenfelder of France (they've been absent for 15 months; Delobel had surgery for a shoulder injury and, 4&189; months ago, gave birth to her first child) adds depth to an already deep field that includes defending world champions Oksana Domnina and Maxim Shabalin of Russia and Canada's Tessa Virtue and Scott Moir. Virtue and Moir have medaled at the past two world championships and are Canada's best hope for figure skating gold; they will be the last of the 23 pairs to skate Friday night.
Men's Hockey: Belarus vs. Sweden, Czech Republic vs. Latvia, Finland vs. Germany
Reigning gold and silver medalists Sweden and Finland will be in action again Friday in a packed lineup at Canada Hockey Place. Tune in to get your fill of European superstars Peter Forsberg of Sweden and Jaromir Jagr of the Czech Republic; the two former NHL standouts haven't played in North America in almost two years. Jagr had a goal and an assist in the Czechs' first win, over Slovakia; Forsberg, who has battled foot, back and groin problems, was held pointless against Germany.
Skeleton: Men's and Women's Finals
Medals will be awarded after the skeleton athletes take their third and fourth runs at the Whistler Sliding Centre on Friday evening. So far, the hometown team is looking good. On the women's side, Mellisa Hollingsworth of Eckville, Alberta, the current World Cup leader and gold-medal favorite, is in third place, .39 seconds behind Amy Williams of Great Britian. Kerstin Szymkowiak of Germany is second. Canadian Jon Montgomery of Russell, Manitoba sits in second place, behind World Cup leader Martins Dukurs of Latvia. Russian Alexander Tretyakov is third. American women Noelle Pikus-Pace and Katie Uhlaender are in fifth and ninth place, respectively, while Zach Lund is in eighth place for the men. All of the races are close, and on a fast track like Whistler's, anything can happen. Says Hollingsworth: "A couple tenths is really nothing."
February, 17, 2010
02/17/10
5:51
PM ET
VANCOUVER, British Columbia -- Lindsey Vonn stands alone at the top of the Alpine skiing world today.
Her cheese remedy stands alone, too. Hi-ho the dairy-o.
Last week, Vonn told reporters she had used a soft, fresh Austrian cheese called Topfen to wrap a bruised shin so painful that at one point she thought it might threaten her ability to compete. The cheese is known as quark (which translates to "curd" in German) in many European countries. It has a smooth, dense texture and tastes similar to, although not exactly the same as, French fromage blanc.
It's not clear where Vonn got the quark she applied as a poultice. The cheese is not all that easy to find in North America.
The 25-year-old Vermont Butter and Cheese Creamery in Websterville, Vt., makes an award-winning quark that it sells to chefs, largely for baking, and also markets the cheese through the upscale Whole Foods and Wegman's chains on the East Coast.
"I'm tickled, actually," co-owner Bob Reese said when I told him Vonn had used the cheese topically. He said the nutty, slightly tangy cheese is an ingredient in many Germanic pastries and cheesecakes, but added that people also eat it straight, like yogurt, sometimes mixed with honey, jam or flaxseed oil.
"It's a kitchen chameleon, as it were," Reese said. "It marries well with other ingredients. When I make smoothies for my kids, I use it as a base. There's a whole world of quark recipes out there."
When the U.S. hosted the 1994 soccer World Cup, Reese said his company air-shipped 28 three-pound cases of quark every other day to the German team, which was training near Chicago.
Allison Spurrell, the younger half of the mother-daughter team that owns the Les Amis du Fromage cheese emporium in Vancouver, was amused to hear that the cheese was being used therapeutically, calling it "intriguing."
"It's usually used in baking," said Spurell, who has served as a judge for the Canadian Cheese Grand Prix and earned a certificate in cheese-making technology from the University of Guelph's Department of Food Science.
Les Amis du Fromage supplies quark to local chefs, and Spurell said she had some coming in Wednesday at the request of a hotel chef cooking for members of the Czech Republic Olympic team.
Some aficionados in Vancouver have been known to make the six-hour drive to Gort's Gouda, located in the town of Salmon Arm in southern interior British Columbia, to buy quark. Kathy Wikkerink, who owns the company with her husband, Gary, said they make the cheese weekly and generally sell it in 22-pound buckets for restaurants and bakeries.
Arie Gort, a native of the Amsterdam area, founded the company in 1983. He was the only cheese expert I contacted who had heard of quark being employed as a healing agent. The daughter of a friend of his applied it after developing an infection in her breast while nursing a new baby, he said. The cheese apparently reduced the swelling.
"It's not actually made for this, but I guess it works," Gort said.
Gort's makes its organic quark with milk from grass-fed cows, but people in Holland and Germany also make their own by hanging the cultured curds to drain in cheesecloth, Arie Gort said. The process takes about eight hours.
"I like to mix it with flaxseed oil and spread it on bread," he said. "I think it's even healthier than yogurt."
Vermonter Reese said the company is standing by, should Vonn need more medicine. "Tell her that if she wants some to rub on while she's walking around, we're glad to send her some," he said.