Category archive:

Figure Skating
February, 24, 2010
02/24/10
10:28
PM ET
VANCOUVER, British Columbia -- Take a deep breath. Stretch. Hydrate. Don't forget your multivitamins. If you thought Tuesday night's short program was dramatic, wait until two minutes before 8 o'clock p.m. Pacific Standard Time, when the half-dozen finest figure skaters in the world will load into the gate.
Both teenagers representing the United States will compete in the final group, which is a tribute to their cool under the bright lights of their first Olympics. Colorado Springs-based Rachael Flatt, currently in fifth place, will be first on the ice among that last group. Mirai Nagasu, who's in sixth, drew the last slot. They are in fearsome company.
"This is Yu-Na Kim's to lose, that's for sure," said 1976 gold medalist Dorothy Hamill, who was on hand to see one of the more remarkable nights in figure skating history. Reigning world champion Kim, 19, of South Korea, lived up to every paean said or written about her in the months leading up to the Olympics. Her Bond girl program was as showy and thrilling as any 007 film and garnered a world-record point total.
Much had been made of whether Kim would be able to bear the expectations of her zealous home country, but she carried that burden lightly Tuesday. Her long program, set to a Gershwin concerto, is more traditional but still has that floating quality that sets Kim apart from the field.
On Thursday, Kim will skate before Mao Asada of Japan, giving newly inspired Asada a chance to make a last-minute decision about the benefits of trying not just one, but two triple axels in her program. That distinctive weapon could be her only chance of surpassing Kim -- but if Kim sets the bar too high, Asada might skate to conserve silver rather than aiming at gold.
Following Asada will be Canada's grieving Joannie Rochette, who will try to reprise the gutsy short program performance that came less than three days after her mother's sudden death. Hamill, who attended a practice session for the top women Wednesday, said she cried watching Rochette run through her free skate to Camille Saint-Saens' "Samson and Delilah."
"You could see the music taking her away," Hamill said. "At one point, she closed her eyes and you could almost see her channeling her mother. It was chilling."
Fellow gold medalist Peggy Fleming was still marveling at Rochette's steel on Wednesday morning. "I don't think it's sunk in yet," she said of Rochette's ability to compete. "She doesn't want to go there yet, and this helped her."
There's a considerable gap between Rochette's third-place score and those of Nagasu, Flatt and Miki Ando of Japan, who are bunched within a point of each other in fourth through sixth place. It would take a substantial collapse by one of the top three women to put one of those next three in medal contention.
Don't count the Americans out, however. Nagasu, brutally hard on herself, wants to erase the memory of the unfortunate nosebleed that afflicted her midway through her program and embarrassed her as she took her curtsies. Flatt's triple jumps are generally slam dunks, and she's skilled at tuning out the hype and drama around her and doing her own thing. "I wasn't surprised at how Rachael skated, but I was definitely impressed with her poise," said her coach, Tom Zakrajsek.
Hamill, who has informally mentored Flatt for the past year, said the 17-year-old is still "pinching herself" but has done a good job of not being intimidated. "She doesn't have the expectation that she's going to come in here and blow these women away," said Hamill, who added that Flatt's program is well-tailored to rack up points.
As for Kim, Fleming -- the 1968 Olympic champion -- agrees with Hamill that the young South Korean is the class of this field. "It looks effortless," she said of Kim, whose athleticism would have been unimaginable in Fleming's and Hamill's day. "When it looks easy, it's good."
February, 24, 2010
02/24/10
5:07
PM ET
VANCOUVER, British Columbia -- On Thursday, women's figure skating and ice hockey take the stage, as medals will be awarded in both contests. But those aren't the only sports you should check out. Here are our picks for the top events to watch:
Nordic Combined: Men's Individual Long Hill/Individual 10km
The U.S. won its first-ever Nordic combined medal on Valentine's Day, when Johnny Spillane took silver in the men's individual normal hill. The Americans followed with a second silver in the team competition Tuesday. Spillane will be in action again Thursday for the long hill individual event, along with relay teammates Bill Demong and Todd Lodwick. Other medal contenders will be Frenchman Jason Lamy Chappuis, who has a sizable lead in the current World Cup standings, Austrian Felix Gottwald and German Eric Frenzel.
Curling: Semifinals
Thursday will be a big day for Canadian curling. Skip Kevin Martin enters the semifinals having gone a perfect 9-0 in round-robin play, and his team is in first place. The Canadians will face Sweden, which beat Great Britain in a tiebreaker, and Norway will play Switzerland. Cheryl Bernard and the Canadian women's team also finished first after the round-robin, and they will face off against Switzerland. In the other semifinal, the defending gold medalists from Sweden will take on the reigning world champs from China.
Figure Skating: Women's Free Program
Regardless of what happens with the hockey tournament, the story of these games should be Joannie Rochette's performance in the face of overwhelming tragedy; her mother Therese, 55, passed away unexpectedly Sunday morning after arriving in Vancouver to watch her daughter skate. And skate she did. Rochette turned in a performance that was as courageous as it was flawless in the short program Tuesday night, then burst into tears at its conclusion. Heading into the free skate, she sits in third place behind Korea's Kim Yu-Na and Japan's Mao Asada. Americans Rachael Flatt, 17, and Mirai Nagasu, 16, are fifth and sixth.
Freestyle Skiing: Men's Aerials
Defending Olympic champion Han Xiaopeng of China and top-ranked Anton Kushnir of Belarus, who has graced the podium in every World Cup event this season, both failed to qualify for the final in the men's aerials competition, making it anybody's ballgame. China's Jia Zongyang qualified first, followed closely by American Ryan St. Onge. American Jeret "Speedy" Peterson is fifth. If conditions hold, look for Peterson's trademark "Hurricane" in the final. With three flips and five twists, it's the most difficult trick an aerial skier can perform. Canadians Steve Omischl, Warren Shouldice and Kyle Nissen also reached the final, which should ensure a pretty high decibel level at Cypress Mountain on Thursday night.
Ice Hockey: Women's Gold (Canada vs. USA) and Bronze (Sweden vs. Finland) Medal Games
It was inevitable that Team USA and Team Canada would clash for gold in these Olympic Games, after neither was tested in any of the teams' early games or in the semifinals. Now, Team USA faces a tough challenge. It must beat the Canadians, who won the past four of their pre-Olympic meetings, on their home soil in front of a Hockey Canada Place crowd that will undoubtedly be bursting with red. Can the U.S. pull off the upset? The men's team did it Sunday, so why not?
February, 23, 2010
02/23/10
10:08
PM ET
VANCOUVER, British Columbia -- Wednesday's lineup is all about the ladies. And hockey! But here in Canada, isn't it always about hockey?
Hockey: Men's Quarterfinals
Wednesday's quarterfinal play features a matchup between hockey's biggest superpowers, and hockey's biggest superstars: Canada vs. Russia, or Crosby vs. Ovechkin, depending on how you look at it. It's a game many thought would be the final, but Team USA's Sunday afternoon upset of Team Canada ruined those plans. The Americans, now the top seed, will play Switzerland. The Swiss are not to be taken lightly; they took the host country to a shootout in pool play. If the remaining favorites pull through the qualification round, Sweden will play Slovakia and the Finns will meet the Czechs.
Alpine Skiing: Women's Giant Slalom
Exactly four years ago Wednesday, Julia Mancuso surprised the world when she won gold in this event at Torino and donned a tiara at the medals ceremony. This year, Mancuso is hoping to repeat that performance at the venue where, in 2008, she earned her last World Cup podium. So far, Mancuso already has won two silver medals in three races at these Games and, because she decided not to compete in Friday's slalom race, GS is her final chance to earn an upgrade. Mancuso's U.S. teammate Lindsey Vonn said she felt great after Tuesday's practice runs, but she is not a favorite in this event. Of the five events she is racing, GS is Vonn's weakest. But that only means she has more to prove. Sarah Schleper de Gaxiola, who took two seasons off from racing and had a baby in 2008, enters the race as the highest-ranked U.S. skier in the field.
Women's Bobsled
After multiple crashes in training and competition -- and public comments made by female competitors that the track is too dangerous -- bobsled officials announced Monday that they were making modifications to the track, including the shaving of a minimum of 1 inch of ice from the 50-50 curve and alterations to Turn 13. Team USA's Shauna Rohbock, a medal favorite, was among the track's detractors. All three American sleds have been consistently in the top 10 in the world and are expected to contest for medals. Their toughest competition should come from the Canadians, who have spent more time on this track than any other sliders in the world and say they feel the most comfortable racing on it. Without the fear of crashing to distract them, that mindset should be a huge advantage in Wednesday's finals.
Speedskating: Women's 5,000m
Although the two American women competing in the 5,000 meters -- Jilleanne Rookard and Maria Lamb -- are not medal hopefuls, they are certainly names worth knowing. Rookard lost her mother to cancer two months ago, shortly after finding out she had qualified for the Olympic team, and is racing here in her honor. Lamb, a St. Paul, Minn., native, is one of 20 athletes from Minnesota competing in Vancouver. (The state with the second-most athletes is New York, with 18.) But the spotlight will be shining the brightest on Canadian racer Clara Hughes, 37, the defending gold medalist from Torino who took bronze in the distance in 2002. Hughes has the distinction of being the only athlete to win multiple medals at the summer and winter Olympics. (She took bronze in two cycling events in Atlanta in 1996.) On Wednesday, she has an opportunity to make even more history.
Short-Track Speedskating: Women's 3,000m relay
Anyone who has set foot in Pacific Coliseum for a short-track race knows, aside from the Canadians and Americans, the South Koreans bring the loudest cheering section. That won't change Wednesday, when the South Korean team attempts to win its fifth straight Olympic gold in the women's 3,000m relay. Strong teams from China, Canada and the U.S. hope to stop that streak. Team USA is led by first-time Olympian Katherine Reutter of Champaign, Ill., who hopes to make up for the misstep that cost her a medal in the 1,500 meters. Reutter's teammates -- Allison Baver, who made an amazing comeback from an accident in 2008 that left her with multiple fractures in her right leg, Kimberly Derrick, Alyson Dudek and Lana Gehring -- are all coming off strong World Cup seasons.
February, 23, 2010
02/23/10
5:06
AM ET
VANCOUVER, British Columbia -- If there was any vestige of the Iron Curtain left in figure skating judging and performance, it may have lifted for good Monday as two dynamic, fresh-faced teams from North America took richly deserved gold and silver in Olympic ice dance.
Canada's Tessa Virtue and Scott Moir, the youngest and first North Americans to win the event, formed their own version of the power play in the Pacific Coliseum with a top-shelf performance that combined the discipline's traditional flair and elegance with demanding footwork and breathtaking lifts. The total package demonstrated just how much the standards of the revamped scoring system have forced ice dance to evolve, yet still stay distinct from the more acrobatic pairs event.
Virtue and Moir paused at the foot of the podium to accept perhaps the longest and most heartfelt hugs ever delivered by runners-up: Meryl Davis and Charlie White of the United States, their training partners at the Arctic Figure Skating Club in Canton, Mich., outside Detroit. Among the sea of maple leaf flags was a lone maize-and-blue block-M, a nod to the fact that Davis and White are both enrolled at the University of Michigan.
Davis and White, skating to a medley from "Phantom of the Opera," projected youth and verve in a high-rpm program that required so much effort that White looked completely gassed afterwards.
Since ice dance was added to the Olympics in 1976, the discipline has been questioned for its intrinsic sporting value, justifiably ripped for bizarre costuming, and widely viewed as the playground of corrupt officials. Some teams, most notably the transcendent British tandem of Jayne Torvill and Christopher Dean, overcame those issues with their excellence, but when ice dance figured into the judges' vote-swapping scandal in Salt Lake City in 2002, every fan's most paranoid suspicions were confirmed.
The North American teams that finished 1-2 on Monday went a long way toward dispelling all those prejudices. Their choreography was beautiful and precise, yet their programs also clearly required considerable strength, balance and fearlessness. Most importantly, as Moir said, "You get rewarded for exactly what you do" under the current, more finely calibrated scoring system as opposed to the old 6.0 regime.
"If you don't like your marks, you look at them on a piece of paper and go home and improve on it," Moir added. In the old days, it would have been more tempting to go home and wonder which countries had formed alliances at the judges' table.
"What I think we're seeing is the next generation who have grown up with the new system," said Skate Canada CEO Bill Thompson. "They're able to take all the technical difficulty, meld it into the program, and they're all raising it to a new level. The kids who grew up with the new system are jelling."
Ice dance is never going to be arena football. The final order of the top 12 teams after the free dance was identical to what it had been after the original dance the previous day, and sudden momentum swings will likely remain rare. But at the very top, the skaters have more confidence that they're participating in an actual competition rather than a geopolitical personality contest.
The gold- and silver-winning duos, both in their early 20s, also grew up together. They were paired as children in the same year, 1997. Unlike some legendary dance teams of the past, they aren't romantically linked, but their chemistry is still sensational. Among those in the audience who was glowing with pride: Seth Chafetz, the coach who first put Davis and White -- then a pint-sized kid with chubby cheeks who was taking figure skating lessons to improve his hockey skills -- together at the Detroit Skating Club when they were 9 and 8 years old, respectively.
"Meryl was the only girl small enough, and she was the best skater in the rink," Chafetz said.
White's father, Charlie Sr., said his son lucked into a partner who complements him perfectly both athletically and personally. Davis helps ground the more outgoing White, while White has helped the more reserved Davis deal with the spotlight, he said. And the support they've received from Virtue and Moir -- dubbed the "Canton-adians" by Detroit Free Press sportswriter Jo-Ann Barnas -- shouldn't be discounted, White Sr. said.
"Their friendship is not just made up for the media," he said. "It's genuine."
Ten gold medals have been awarded in Olympic ice dancing. Virtue and Moir were just the third non-Russian team to win one. Although the North American teams have worked together to break Russian hegemony in ice dance, both are coached by the same Russian coaches, Igor Shpilband and Marina Zoueva. In a sense, the competition still reverts to Russians, since the suburban Philadelphia-based husband-and-wife teaching duet of Natalia Linichuk and Gennadi Karponosov -- gold medalists for the former Soviet Union themselves in 1980 -- train the teams who finished third and fourth Monday.
Oksana Domnina and Maxim Shabalin of Russia won the bronze medal, and their training partners, Tanith Belbin and Benjamin Agosto of the United States, finished fourth. Belbin and Agosto, who broke through to win the first ice dance medal for the U.S. in 30 years at the 2006 Torino Games, were coached by Shpilband and Zoueva at that time.
At the conclusion of the evening, Shabalin was asked a question that would have been unthinkable a decade ago: What do the Russian teams have to do to regain their supremacy? He leaned into the microphone and intoned, "I think we have to take all the Russian coaches back to Russia."
February, 22, 2010
02/22/10
7:23
PM ET
VANCOUVER, British Columbia -- On Tuesday, Bode Miller has a chance to become the first man to win four Alpine skiing medals in a single Olympics. Day 12 in Vancouver is jam-packed with action. Here are our picks for the top events to watch:
[+] Enlarge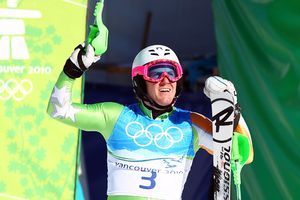 Sandra Behne/Bongarts/Getty ImagesTed Ligety will challenge Bode Miller for gold in the men's giant slalom.
Alpine Skiing: Men's Giant Slalom
The giant slalom, one of Alpine skiing's technical events, will consist of two different gated runs down the Dave Murray course at Whistler Creekside. American Bode Miller will try to become the first man to win four Alpine skiing medals at a single Olympic Games when he skis in Tuesday's race, but it won't be easy. U.S. teammate Ted Ligety is the current leader in the giant slalom World Cup standings and was the overall Cup winner in this discipline last season. Italy's Massimiliano Blardone has reached the podium 19 times in World Cup giant slalom races. Austria's Benjamin Raich is the defending gold medalist. And Austrian Marcel Hirscher and Norway's Kjetil Jansrud are both within 100 points of the overall World Cup lead.
Women's Bobsled, Day 1
Veteran American Shauna Rohbock, the defending silver medalist, begins her bid for gold Tuesday afternoon on a track she calls "stupid fast." Rohbock, though, has had success at the Whistler Sliding Centre; she took gold last season in the only World Cup event held on the Olympic track. Teammate Erin Pac, also a medal contender at these Games, took bronze. The Americans will face tough competition from their German counterparts. Sandra Kiriasis is the defending Olympic champ and has won three of the past five world championships, and Cathleen Martini has won five of seven World Cup races this season.
Figure Skating: Women's Short Program
The women's figure skating event will open under a somber cloud Tuesday night, just two days after the 55-year-old mother of Canadian skater Joannie Rochette passed away unexpectedly in Vancouver. Rochette, though, has vowed to compete, and will be the 26th of the 30 skaters. Olympic favorite Kim Yu-Na of Korea will skate 23rd, one spot after her biggest rival, Mao Asada of Japan. Americans Rachael Flatt and Mirai Nagasu will skate 28th and 11th, respectively.
Freestyle Skiing: Women's Ski Cross
The U.S. does not have a skier competing in the Olympic debut of women's ski cross. But to know which women to watch, fans need look no further than the top finishers at last month's Winter X Games. Gold medalist Ophelie David of France is the most dominant skier in the history of the sport, with six overall World Cup titles and three Winter X golds. Silver medalist Ashleigh McIvor, a native of Whistler, is the reigning world champion. And 20-year-old Canadian Kelsey Serwa, who took bronze at Winter X, finished fifth at the 2009 world championships. Now, all three women hope their success in Colorado translates to this technical Cypress course.
Ice Hockey: Men's Qualification Playoffs
The qualification playoffs have never been so exciting. Team Canada's loss to Team USA Sunday afternoon put it outside the top four teams, the quartet that earned a bye into the quarterfinals. Instead, Canada will play Germany on Tuesday afternoon at Canada Hockey Place, with the winner moving on to the quarters Wednesday. In the other two playoff games at the big rink downtown, Switzerland will play Belarus and Slovakia will play Norway. The final qualification game, between the Czech Republic and Latvia, will take place at UBC's Thunderbird Arena. It's a great chance to see superstar Jaromir Jagr up close; the rink seats just 6,800 people.
Speedskating: Men's 10,000m
If you're Dutch, odds are you're pretty psyched about this race. Distance specialist Sven Kramer, 23, holds the world record in the 10,000, and has since March 2006. He has won three consecutive world championship titles, won the World Cup title at this distance last year and is well on his way to winning another. But fellow Dutchman Bob de Jong is the defending gold medalist and, at 33, is still a threat to younger Kramer. De Jong is also a three-time world champ, and he has earned the nickname "Diesel" for his ability to maintain speed in long races. Plus, he set a personal record in the 10,000 just two months ago.
February, 22, 2010
02/22/10
12:28
AM ET
VANCOUVER, British Columbia -- By any measure, Canadian ice dancers Tessa Virtue and Scott Moir had a lot on their plates Sunday.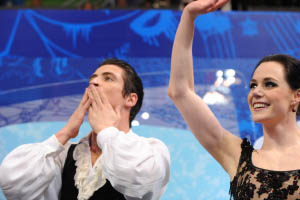 Yuri Kadobnov/AFP/Getty ImagesScott Moir and Tessa Virtue came up with a big performance in front of their home crowd.
The anticipatory pressure of skating before the home crowd shaped up to be considerable. But that was dwarfed by the terrible news received the previous night by their teammate, ladies' medal contender Joannie Rochette, whose mother had died suddenly of a heart attack.
Perhaps it was fortuitous that Virtue and Moir were performing that most passionate of dances, the flamenco, in the original dance component of the competition. They channeled what could have been a surfeit of emotion into an electrifying program that brought the crowd at Pacific Coliseum to its feet and vaulted the home team into first place with a cumulative score of 111.15 points, 2.6 points ahead of the engaging U.S. tandem of Meryl Davis and Charlie White. Both teams train at the same suburban Detroit club and are coached by Igor Shpilband and Marina Zoueva.
Reigning world champions Oksana Domnina and Maxim Shabalin of Russia are in third (106.60 points) and 2006 Olympic silver medalists Tanith Belbin and Ben Agosto of the U.S. are fourth (103.33 points).
"That moment, we'll never forget for the rest of our lives," Moir said. "I don't think a piece of metal around my neck is going to make it any better. We're just going to go out there tomorrow and try to create another moment."
Along with flawless step sequences and spectacular lifts, Virtue and Moir provided a much-needed dose of pleasing aesthetics after weeks of sniping about the Russians' Aboriginal music and costuming. Shabalin said they made slight changes to their bodysuits -- wearing a lighter shade that didn't look quite as much like blackface, altering the faux body paint markings and, somewhat puzzlingly, adding more fabric leaves.
The crowd response when the couple skated onto the ice was tepid, and whether for cosmetic or technical reasons, so was the judges'.
National champs Davis and White are skating in their first Olympics, while Belbin and Agosto say this will be their last. In the old days of predictably glacial movement in the standings, their podium chances would be as good as dead, but that isn't the case now, according to Belbin.
"I think if today's results were any indication of the possibility of movement depending on the skates, it's certainly possible for tomorrow's standings to change as well," Belbin said. "We really feel like we have the material in our free program [set to "Ave Maria"] to make a huge statement that's moving enough to move us in the standings. That's what we're focusing on now and we have complete faith in our potential."
Unless the Russians can recoup in the free dance Monday night, this will all but seal the first time the country has been shut out of figure skating gold medals in 50 years. However, all three North American couples are coached by Russians, so the influence is still there one way or the other.
February, 21, 2010
02/21/10
8:48
PM ET
VANCOUVER, British Columbia -- On this, George Washington's birthday, the American team has medal hopes in ice dance. The second week of Olympic competition also kicks off with women's hockey semifinals, where the U.S. and Canada look to continue their dominance.
Hockey: Women's Semifinals, USA vs. Sweden and Canada vs. Finland
The women's hockey tournament moves from the small arena at the University of British Columbia to the big arena at Canada Hockey Place for Monday's semifinals. The two 800-pound gorillas in this tournament, Team Canada and Team USA, have thus far outscored their opponents 41-2 and 31-1, respectively, in three games of pool play. It seems they are on a collision course, but in this short tournament, anything can happen. In Torino, Sweden conjured a semifinal shootout victory over the U.S. to earn a spot in the final against Team Canada. Tomorrow, Team USA is hoping for redemption, while Team Canada will try to earn the right to defend its gold on home soil.
Figure Skating: Ice Dance Free Dance
Russian pair Oksana Domnina and Maksim Shabalin led the competition after the compulsory dance. That was no surprise. Teams from Russia or the former Soviet Union have won seven of the nine Olympic gold medals awarded in ice dancing. But for the first time in Olympic history, a trio of North American pairs is threatening the Russian dominance of the sport. Tessa Virtue and Scott Moir of Canada are in first place after Sunday's original dance competition, while U.S. pairs Meryl Davis and Charlie White, and Tanith Belbin and Ben Agosto, sit in second and fourth. With the competition this close, all four teams are likely to pull out all the stops on the final night of competition. But with the competition this close, they have little room for mistakes.
Freestyle Skiing: Men's Aerials Qualification
On Monday, the U.S. team begins its attempt to redeem itself after the first medal-less performance since the event was added to the Olympic lineup in 1994. In Torino, medal hopes Ryan St. Onge and Jeret "Speedy" Peterson failed to land on the podium, but they return in hopes of reclaiming the medals they dropped in Torino. Peterson hopes to finally land his signature trick, the Hurricane, in Olympic competition. He attempted the much-talked-about trick -- a dizzying combination of five spins and three flips -- in his final run in 2006, but failed to land it and was knocked from third to seventh place. This is Peterson's third Olympics and he hopes, for the first time, he does not leave empty-handed.
Ski Jumping: Men's Team Finals
Four years ago in Torino, the Austrian team won its first gold medal in ski jumping. Now, fielding its strongest team yet, it is favored to repeat here in Vancouver. Led by Gregor Schlierenzauer, who won a record 13 World Cup events and the 2009 World Cup title, the Austrian team will be tough to out-jump. Finland, Norway and Japapn also brought strong teams here to Vancouver and could surprise the Austrians. The U.S. has won only one Olympic ski jumping medal -- a bronze in 1924 -- and is one athlete short of the four required to compete in this event.
February, 21, 2010
02/21/10
3:24
AM ET
VANCOUVER, British Columbia -- Sunday could be it for the Battle of the Baubles, a.k.a. the second phase of ice dancing competition formally known as original dance.
The International Skating Union, under pressure from Olympic officials to pare ice dance down from three to two events, will most likely merge this portion of the discipline with the compulsory event -- or kill compulsories altogether -- in an altered format before the next Winter Games roll around.
Some will not mourn those changes. The compulsories, in which every team performs identical steps to the same piece of music, are the sport's last throwback to the soporific days of school figures. And the OD, as insiders call it, has produced some over-the-top programs this season -- including the Aboriginal number that has resulted in an overdose of lousy publicity for reigning world champions Oksana Domnina and Maxim Shabalin of Russia.
A few native Australian leaders objected to the program on the grounds of authenticity, while some more casual spectators took one look at the mock-body paint and cloth leaves clinging to the costumes and pulled the bad taste fire alarm.
But those critiques, whether political or aesthetic, won't necessarily be fatal to the Russians' gold-medal chances. They won the European Championships with that arrow in their quiver, and have a small lead on one of the most competitive fields ever after the compulsories. As they awaited their score, they cuddled colorful blankets presented to them by representatives of Canada's Aboriginal people, the First Nations, whom they met with last week. It was unclear who called the summit.
There have been conflicting reports about whether Domnina and Shabalin might have tweaked their costumes. The international couple of mystery and their coaches have remained mum on the subject. That should add another element of suspense to an event that NBC has chosen to include in its live broadcast package -- trumping the United States-Canada hockey game, which will be shown on MSNBC.
In the same way that fashion snark can overshadow Academy Award-nominated films on Oscar night, ice dance is prone to periodic hullabaloos over music and costuming. This season's pre-assigned tempo, the folk dance, lent itself to routines from sublime to silly, but the issues the programs have raised are far from new.
Retired ice dancer Jerod Swallow, now the managing director of the Detroit Skating Club, harkened back to the brother-sister team of Isabelle and Paul Duchesnay, who were born in Canada but competed for France in the late '80s and early '90s.
The infamous "jungle" program the Duchesnays performed in the 1988 Olympics -- choreographed by ice dance icon Christopher Dean, who was later briefly married to Isabelle -- featured long stretches of syncopated percussion and other exotic mood music reminiscent of filler for '70s cop shows. Their costumes were tame compared to Domnina and Shabalin's wild-thing getups and the athleticism in the program was fantastic, but the judges turned up their noses at it and the Duchesnays finished eighth in Calgary. Still, Swallow called the program "brilliant" and a breakthrough moment for the often maligned discipline.
During the 30-year dry spell between 1976, when U.S. ice dancers Colleen O'Connor and James Millns won an Olympic bronze medal, and 2006, when Tanith Belbin and Benjamin Agosto captured silver, Swallow and his partner Elizabeth Punsalan were among the discipline's few lonely standard-bearers in the United States. They are married and have a six-year-old son.
Swallow said it was extremely satisfying to look at ice dancing's new world order, in which three North American teams -- Belbin/Agosto, Meryl Davis and Charlie White, and Canada's Tessa Virtue and Scott Moir -- have a shot at a medal. Thanks in part to recent successes and the popularity of reality dance shows on television, Swallow said there is far more talent in the U.S. junior ranks than there used to be, ensuring a pipeline for future Olympics, although he worries some fundamental skills could be lost if compulsories are eliminated.
The new scoring system has leavened the once notorious geopolitical bias in judging in ice dance -- which was one piece of the scandal involving Russian and French judges at the 2002 Games -- and made it more of a meritocracy than it was when Punsalan and Swallow competed.
But there's still lobbying, to be sure, starting long before teams become world class. Swallow said he thinks that's fine and even necessary as long as it's aboveground.
"There was a lot of perseverance by our athletes and coaches to really support and drive home and sell the point that we are able to compete," Swallow said. "We weren't doing a good enough job of selling it to the world."
The flip side of the more quantitative judging is that teams have less room to be creative, he said. "I would have felt too restricted under this system," Swallow said.
February, 20, 2010
02/20/10
11:14
PM ET
VANCOUVER, British Columbia -- Sunday's North American hockey showdown between Team Canada and Team USA will grab most of the headlines, but it's not the only game in town. Here are our picks for the top events to watch:
Alpine Skiing: Men's Super Combined
This race, which combines the speed of downhill with the precision of slalom, was originally scheduled for this past Tuesday but was postponed because of snow. Sunny skies are in the forecast for Sunday, as skiers gear up for one run of downhill and one run of slalom at Whistler Creekside. American Bode Miller looks to earn his third medal -- and the U.S. Ski team's eighth -- in the event. He'll see stiff competition from Ivica Kostelic of Croatia, Austria's Benjamin Raich, Switzerland's Carlo Janka and super-G winner Aksel Lund Svindal of Norway. American Ted Ligety, who took home a surprise gold in this event in Torino, is also racing.
Two-Man Bobsled
Four more sleds -- from Canada, Australia, Great Britain and Liechtenstein -- crashed in the opening heats of the men's two-man bobsled on Whistler's ultra-fast track on Saturday night. Germany 1, piloted by defending champion Andre Lange, is in first place heading into the medal races Sunday afternoon, with countryman Thomas Florschuetz just 0.11 of a second behind. Russian Alexsandr Zubkov, American Steven Holcomb and Ivo Rueegg of Switzerland round out a tightly stacked top five. Holcomb, who nearly flipped his sled midway through his first run, is just 0.12 of a second out of medal position.
Figure Skating: Ice Dance Original Dance
Two American teams are within striking distance of a medal going into the second phase of the ice dance competition Sunday afternoon at Pacific Coliseum. Meryl Davis and Charlie White are in third place, while teammates Tanith Belbin and Ben Agosto are fourth. Russia's Oksana Domnina and Maxim Shabalin are in the lead, with Tessa Virtue and Scott Moir of Canada in second. The original dance counts for about 30 percent of each team's overall score, with about 20 percent based on Friday's compulsory dance and about 50 percent on Monday's free skate.
Men's Ski Cross
The fact that U.S. athletes Casey Puckett and Daron Rahlves, the only members of Team USA, are competing Sunday morning is a story in itself. Puckett separated his left shoulder in a World Cup race in January and reinjured himself in a qualifying run at the Winter X Games two weeks later. The next day at Winter X, Rahlves dislocated his right hip for the fourth time in his career. Prior to this injury, Rahlves said the fastest he'd recovered from a hip dislocation was two months. This time, he had 21 days. Coming into the Games, Puckett and Rahlves, both former Olympic alpine skiers over the age of 35, were heavy medal favorites. Surprisingly, they still are.
Men's Ice Hockey: Russia vs. Czech Republic, Canada vs. USA, Sweden vs. Finland
Sunday's tripleheader is the best day of hockey at these Games that won't result in the awarding of a medal. All three tilts are huge rivalries, and they're also rematches of the past three Olympic gold medal games. Canada versus the U.S. and Sweden versus Finland are obvious border wars, while the Russian rivalry with the Czech Republic dates back to the former's occupation of the latter 40 years ago. But forget politics. These games pit skill against skill. Ovechkin vs. Jagr. Brodeur vs. Miller. Forsberg vs. Selanne. Grab your cowbells and hold on to your hats, this is going to be fun.
Speedskating: Women's 1,500m
Canadian fans are expecting nothing less than their first multiple-medal performance in Sunday's race at the Richmond Olympic Oval. Christine Nesbitt, the 1,000-meter gold medalist, is the obvious favorite for gold, but she has a fierce-but-friendly rivalry with countrywoman Kristina Groves in this event. Both have won a pair of 1,500m World Cup races this season. The only other skater to win one is Dutchwoman Ireen Wust, who also took bronze at the 2006 Olympics. She, along with Martina Sablikova of the Czech Republic, will try to spoil Canada's party. However, if the home crowd is as inspiring as it's expected to be, a Canadian sweep is not out of the question. Winnipeg's Brittany Schussler is also a threat.
February, 18, 2010
02/18/10
11:47
PM ET
VANCOUVER, British Columbia -- Bode Miller, Tanith Belbin and Ben Agosto are among the Americans going for gold Friday. Here are our picks for the top events to watch:
[+] Enlarge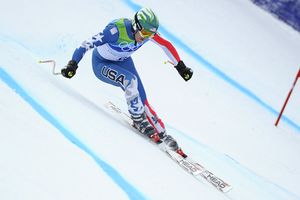 Alain Grosclaude/Getty ImagesBode Miller can add to his medal collection Friday.
Alpine Skiing: Men's Super-G
Super-G combines the speed of downhill with the more technical turns of giant slalom, and it will require racers to steer through 35 gates on the same Dave Murray course as the downhill. It starts slightly lower than the downhill, just above the area known as Toilet Bowl, and descends through the Weasel, the Sewer and Boyd's Chin. The field is wide open. Didier Cuche of Switzerland is the 2009 world champ, and despite his age (36) and broken right thumb, should contend for gold. Austrian Michael Walchhofer leads the current World Cup standings, with Norway's Aksel Lund Svindal and Austrian Benjamin Raich in second and third. Americans Ted Ligety and Bode Miller also have been World Cup champs in this event, and Canadians Manuel Osborne-Paradis and Robbie Dixon can't be ruled out on their home hill.
Ski Jumping: Men's Individual Long Hill, Day 1
Although weather has had an effect on nearly all of the outdoor events at the Vancouver Games, the ski jumping hill at Whistler Olympic Park has been dubbed "perfect." It uses high-tech cooling machinery to ensure the grooves on the run are identical for every athlete and insulated covers and tarps to protect from sun, wind, rain and snow. Switzerland's Simon Ammann, who won the first gold medal of the 2010 Olympics on the normal hill last Friday, is a favorite. He recorded the longest training jump on the long hill, at 143 meters. Austria, though, boasts four of the five best jumpers in the world, who will be looking to redeem themselves after a disappointing performance on the normal hill. Gregor Schlierenzauer was last year's World Cup champ, and Thomas Morgenstern won large hill gold in 2006.
Figure Skating: Ice Dance Compulsory Dance
The U.S. has never been a force to reckon with in ice dance, but this year, two American teams -- Tanith Belbin and Ben Agosto, plus Meryl Davis and Charlie White -- have medal potential. Davis and White are the U.S. champs, and Belbin and Agosto are the defending silver medalists. The return of 2008 world champs Isabelle Delobel and Olivier Schoenfelder of France (they've been absent for 15 months; Delobel had surgery for a shoulder injury and, 4&189; months ago, gave birth to her first child) adds depth to an already deep field that includes defending world champions Oksana Domnina and Maxim Shabalin of Russia and Canada's Tessa Virtue and Scott Moir. Virtue and Moir have medaled at the past two world championships and are Canada's best hope for figure skating gold; they will be the last of the 23 pairs to skate Friday night.
Men's Hockey: Belarus vs. Sweden, Czech Republic vs. Latvia, Finland vs. Germany
Reigning gold and silver medalists Sweden and Finland will be in action again Friday in a packed lineup at Canada Hockey Place. Tune in to get your fill of European superstars Peter Forsberg of Sweden and Jaromir Jagr of the Czech Republic; the two former NHL standouts haven't played in North America in almost two years. Jagr had a goal and an assist in the Czechs' first win, over Slovakia; Forsberg, who has battled foot, back and groin problems, was held pointless against Germany.
Skeleton: Men's and Women's Finals
Medals will be awarded after the skeleton athletes take their third and fourth runs at the Whistler Sliding Centre on Friday evening. So far, the hometown team is looking good. On the women's side, Mellisa Hollingsworth of Eckville, Alberta, the current World Cup leader and gold-medal favorite, is in third place, .39 seconds behind Amy Williams of Great Britian. Kerstin Szymkowiak of Germany is second. Canadian Jon Montgomery of Russell, Manitoba sits in second place, behind World Cup leader Martins Dukurs of Latvia. Russian Alexander Tretyakov is third. American women Noelle Pikus-Pace and Katie Uhlaender are in fifth and ninth place, respectively, while Zach Lund is in eighth place for the men. All of the races are close, and on a fast track like Whistler's, anything can happen. Says Hollingsworth: "A couple tenths is really nothing."