February, 16, 2010
02/16/10
5:30
PM ET
WHISTLER, Bristish Columbia -- The first two heats of the women's luge took place Monday evening, and the result was not only oddities at the top of the leader board but another race that will be decided by the shadow of tragedy.
[+] Enlarge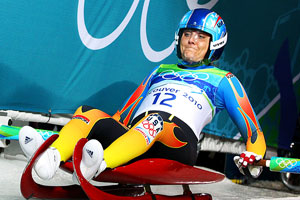 Alexander Hassenstein/Getty ImagesAmerican Julia Cluckey is among those frustrated by the new start.
When the International Olympic Committee chose to move the start of the men's race forward to the women's starting line following the death of Georgian slider Nodar Kumaritashvili, the Canadian and American teams were loudest in their contention that the move gave a tremendous advantage to the Germans, who when it comes to luge need about as much help winning as the New York Yankees do in baseball. The Germans are already the best in the world, and starting at a shorter distance limited the opportunity for athletes to compete with the fast German times. Germans Felix Loch and countryman David Moeller finished 1-2 in the men's final. Rival Armin Zoeggeler of Italy took the bronze medal.
In turn, the decision to shave roughly 250 meters off of the women's track frustrated the sliders who took two of their four runs at the Whistler Sliding Center on Monday, especially Americans Erin Hamlin and Julia Clukey. Hamlin, considered the best chance to break the German stronghold on the podium, finished 15th after two combined runs, Clukey 16th.
Natalie Geisenberger of Germany, the second-ranked slider in the world, called the alteration -- which forced sliders to begin the track at Curve 6 -- a "kinder's start," which is German for a "child's start."
Clukey, who prides herself on her strong starts, said the change took her best weapon to compete with the Germans away from her.
The result is a race that sliders and the staffs in their camps say is decided virtually before it starts. By beginning the race at Curve 6, sliders are forced to navigate a hard left turn almost immediately out of the gate. Should their sleds climb the wall too high to the right, the sled hugs the wall, costing precious time. If the slider overcompensates to avoid inching too high up the right wall, they can bump the sled too close to the left wall, in effect playing a game of bumper pool with the side walls before aligning the sled and beginning the run. The key, said Hamlin, is to navigate a nearly perfect 90-degree angle around the first corner coming out of the gate. Otherwise, the sled on the shorter course cannot make up the time.
"I'm disappointed that I started a second slow. You really can't mess up the start curve, which is obviously very frustrating, so I'll try to come back and have two good runs." Clukey said. "It really took the start element out of the race. I don't want to sit here and complain, but when you train for a full year preparing for something, for a race, for the Olympics, and then you show up and everything has changed and that element is taken out it's frustrating."
The cream nevertheless rises to the top, and after two runs, the Germans were in control. Tatjana Huefner, the best female slider in the world, was in first place with a combined time of 1 minute, 23.241 seconds, followed by Nina Reithmayer of Austria and Geisenberger. Three of the top five spots were held by German sliders, and Huefner's second run time of 41.481 seconds was a track record. The final two runs for the gold medal begin Tuesday afternoon, and the Americans are in a dire position.
After her first run, Hamlin was eighth. The Americans were hoping to enter the final two races Tuesday inside of the top 12. Hamlin's two-run time was 1 minute, 24.054 seconds.
"Not how I had initially hoped. My first run, I got the start curve, so that was a step in the right direction. The rest of the run wasn't the greatest. The second run didn't quite get the start curve so that will kill you. I went into both of them the same way and came out a second slower on the second one, so who knows? We know how to get through. We know what we have to do. It's a matter of an inch difference, to be horrible or to be good."
February, 15, 2010
02/15/10
10:46
PM ET
Tuesday's theme is return and redemption -- and the start of the men's hockey tournament. Our picks for what to watch Tuesday:
[+] Enlarge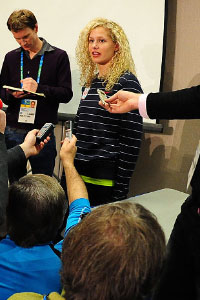 Kyle Terada/US PresswireLindsey Jacobellis is hoping to erase memories of 2006.
Snowboardcross: Women's Final
American Lindsey Jacobellis enters Tuesday's race in the same position she was in four years ago: as the hands-down favorite. But this year, Jacobellis is hoping that by reclaiming the gold medal she left lying on the final jump of the snowboardcross course in Torino, Italy, she can put to rest the story of 2006. "It has been with me for four years. There hasn't been a break," says Jacobellis, the most dominant athlete -- male or female -- in the history of her sport. "But if this is what makes people tune in -- Will she come back and win it all? -- then that is better for our sport down the road." Jacobellis comes to Vancouver, British Columbia, hot off a win -- her third straight -- at the Winter X Games in Aspen, Colo., but she is no sure thing. Maelle Ricker of host team Canada is a medal contender, as are Norwegian teen Helene Olafsen and Sandra Frei of Switzerland. And although she is not expected to contend for a medal, Jacobellis' U.S. teammate Callan Chythlook-Sifsof is a great story herself. A native of Girdwood, Alaska, (pop. 224) Chythlook-Sifsof is the first Inuit Eskimo in U.S. Ski and Snowboard team history.
Men's Hockey: USA vs. Switzerland / Canada vs. Norway
OK, sports fans, the day you've been waiting for has finally arrived. Let the 2010 Winter Olympic hockey games begin! Team Canada plays its first game on home soil, against Norway, at 4:30 p.m. PT. Team USA makes its debut earlier, against Switzerland at noon PT. Norway hasn't qualified for an Olympic tournament since it hosted the Games in Lillehammer in 1994, and defenseman Ole-Kristian Tollefsen is the only NHLer (OK, AHLer now) on the roster. Switzerland's team features D's Mark Streit, Luca Sbisa and Yannick Weber of the Islanders, Ducks and Habs, respectively, as well as Anaheim goalie Jonas Hiller. We won't bore you savvy fans with the details of Team Canada and Team USA's stacked rosters, but we will say this: In such a short tournament, anything can happen.
Figure Skating: Men's Short Program
Call it the return of the king. After winning gold in Torino, Russia's Evgeni Plushenko announced his retirement from the sport. In his absence, the Russians, lords of the Olympic rings in men's figure skating, suffered in international competition. This year, Plushenko returned to the team, looking strong and consistent. Known for having the best quad in the sport, Plushenko, 27, is also the only skater with a quad combo. Only Jeremy Abbott on the U.S. team has the quad, a trick viewed by new-school skaters as unnecessary under a new scoring system that favors transitions and spins over pure athleticism. Americans Johnny Weir, who announced his switch from fox to faux fur for these Olympic Games, and Evan Lysacek also have a spinning chance at landing a medal.
Alpine Skiing: Men's Super Combined
With a bronze in the downhill Monday, American Bode Miller became the first U.S. medal winner in Alpine skiing at these Games. Tuesday, he looks to upgrade the finish on that prize. A virtual fitness test, the super-combi is one of the toughest events on the Alpine program. Unlike the one-downhill, two-slalom format used in Torino, this year's format features one downhill and one slalom run. The times from both runs are added together, and the skier with the fastest combined total is the winner. In 2006, American Ted Ligety won the U.S. ski team's only gold medal in this event, and he is a medal contender here in Vancouver, once again. Still, all eyes will be on Miller, who returns for his third Olympic Games in search of his first gold medal. Benjamin Raich of Austria and Carlo Janka of Switzerland hope to derail that plan.
Luge: Women's Singles
On the same day a memorial was held in downtown Vancouver honoring Georgian luger Nodar Kumaritashvili, the women began their first day of competition on the Whistler track that claimed his life. In response to Kumaritashvili's accident, a 12-foot-tall wooden wall was constructed at Turn 16, padding was added to the exposed steel beams and the women's start was moved down 800 feet to the junior start. Day 1 of competition was led by the German team, which swept the podium in 2002 and 2006. The U.S.'s team's strongest slider is Erin Hamlin, who snapped the German team's 99-race international win streak to win the 2009 world championship and beat four-time Olympian Natalia Yakushenko of Ukraine at a World Cup this season. Hamlin sits in 20th place after one day of competition. Germany's Tatjana Huefner is in first.
February, 14, 2010
02/14/10
11:07
PM ET
All eyes will be on Shani Davis on Monday, as the American speedskater goes for gold in the men's 500 meters event. What else should you be watching? Here are our picks:
Alpine Skiing: Men's Downhill
This event has already been rescheduled a few times due to weather conditions at Whistler Creekside, but looks set to finally begin Monday afternoon at 1:30 p.m. ET. It will be Bode Miller's first of a planned five races here at these Games.
Cross-Country Skiing: Men's 15K
All eyes will be on Norwegian Petter Northug, cross-country skiing's newest superstar. At 24 years old, he already owns eight individual World Cup titles, along with five additional podiums, and he's leading the current World Cup overall standings. It will be up to Czech Lukas Bauer, Swede Marcus Hellner and Italy's Pietro Piller Cottrer to keep Northug from his first Olympic medal. Also racing with a chance to medal is 30-year-old American Kris Freeman, a three-time Olympian who has overcome Type 1 diabetes to become one of the most successful American cross-country skiers in history. In Vancouver, the 15K will be the first of his five events.
Women's Luge
American Erin Hamlin has her work cut out for her at the Whistler Sliding Center on Monday evening. The Remsen, N.Y., native won gold at the 2009 World Championships in Lake Placid in February 2009, nearly two-tenths of a second ahead of Germany's Natalie Geisenberger. A miracle, her teammates called it. Why? Because the Germans had won 99 consecutive World Championship, World Cup and Olympic races dating back to 1997, and no non-German woman had taken World Championship gold since 1993. Now, Germans Geisenberger, Tatjana Huefner and Anke Wischnewski hold the top three spots in the World Cup standings. They'll be eager to start a new winning streak.
Men's Snowboardcross
The sport of snowboardcross was so popular in its Olympic debut in Torino that the IOC added its sister sport, skiercross, to this year's program. Hands down one of the most exciting events in the Olympic lineup, snowboardcross is also one of the most difficult to predict. Anyone who saw the women's final in Torino knows it's not just about being fastest down the hill. To win requires a mix of speed, technical prowess, luck, patience and crash-avoidance skills. This year's race should not disappoint. The Americans field the strongest team, led by 2006 gold medalist Seth Wescott and five-time defending Winter X Games champ Nate Holland. The thrilling Holland-Wescott final at Winter X in January provided a taste of what's to come on Monday. But if anyone is going to stop the U.S. from landing a one-two punch, chances are it will be Austrian Markus Schairer, the reigning World and World Cup champ.
Speedskating: Men's 500M
It seems long distances belong to Dutchman Sven Kramer, middle distances to American Shani Davis. But there is no clear favorite for Monday night's sprint at the Richmond Olympic Oval. The hometown crowd will try to will Jeremy Wotherspoon, of Humboldt, Saskatchewan, to gold in his last Olympic hoorah. Wotherspoon won a silver medal in Nagano, his first Olympics, but has crashed and burned -- sometimes literally -- in each Olympics since. The world-record holder will face tough competition from Koreans Lee Kang-Seok and Lee Kyou-Hyuk, Mika Poutala of Finland and Tucker Fredricks of the United States.
Figure skating: Pairs free skate
We've previously mentioned how China's Shen Xue and Zhao Hongbo had a chance to beat reigning world champs Aliona Savchekno and Robin Szolkowy of Germany in the pairs competition. On Sunday night, the Chinese duo (they are also married) set a new world record with a score of 76.66 in the short program, besting their own mark of 75.36 from January. But Savchenko and Szolkowy were almost as brilliant (75.96), while the Russian team of Yuko Kavaguti and Alexander Smirnov is in a close third (74.16). Heading into tonight's free skate, just 5.38 points separate first from fifth, leaving all three medals up for grabs.
February, 13, 2010
02/13/10
11:49
PM ET
Love is in the air. Too bad love isn't a synonym for cold temperatures and snow. Our take on the top events to watch this Valentine's Day:
Alpine Skiing: Women's Super Combined
What was scheduled to be the first woman's alpine event of the Games -- and the debut of Lindsey Vonn's shin -- has been postponed until Thursday due to weather.
Luge: Men's Singles
In the wake of the tragic death of 21-year-old Georgian luger Nodar Kumaritashvili in a training run Friday morning, Olympic officials announced changes to the track and contest format. Most notably, the men are starting from the lower women's start at a turn called The Wedge. That means slower speeds and changes in racing tactics. In the first day of competition Saturday, athletes were hitting top speeds about 9-15 mph lower than in previous sessions, where top speeds reached 95 mph. American Tony Benshoof crashed in a training run Friday and is competing with three herniated discs in his lower back, yet is the USA's best hope for a medal. Benshoof is a three-time Olympian and finished just off the podium in Torino, losing the bronze by 0.153 of a second to Latvia's Martins Rubenis. Two-time defending champion Armin Zoeggeler of Italy is one of the most decorated lugers in history and the gold-medal favorite once again.
Women's Ice Hockey: USA vs. China
[Due to the high volume of reader feedback concerned with the fact we are omitting men's hockey from our daily previews, an editor's note: The Olympic men's hockey tournament begins Tuesday. The NHL is currently in session until it begins a two-week break to accommodate the Games, Feb. 15-28.]
Two-time defending World Champion Team USA makes its Olympic debut against China on Sunday afternoon at UBC's Thunderbird Arena. Team China qualified for these Games with three straight victories over Norway, the Czech Republic and Japan, and returns to Olympic competition after an eight-year hiatus. With just 166 registered female hockey players in the country to choose from, China will be overmatched against the U.S. (There are 66,000 registered female hockey players in the United States.) But Sunday is Chinese New Year and begins The Year of The Tiger. In Chinese astrology, the tiger is good luck.
Figure Skating: Pairs Short Program
Two-time and reigning world champs Aliona Savchenko and Robin Szolkowy of Germay are the pair to beat. And there's a duo who could do just that. China's Shen Xue and Zhao Hongbo, two-time Olympic bronze medalists, returned after a two-year absence from the sport to dominate the international circuit this past fall. Known for their athleticism and emotion, the pair is skating heads and shoulders above the rest of the field and should head into the long program with a sizable lead. Even more impressive in the youthful sport of figure skating: Shen is 31; Zhao is 36.
Biathlon: Men's 10 km Sprint
The U.S. has never won an Olympic medal in biathlon. Heck, the best American finish thus far was 19th by Lyle Nelson in 1980. On Sunday, those stats should change. The U.S. brings its strongest Olympic team in history to Vancouver, led by Tim Burke of upstate New York. Burke became the first American in history to reach the podium at a World Cup event when he finished third in the sprint event at Ostersund two months ago. He then became the first American in history to race in the yellow bib as the overall leader in the World Cup standings. Teammate Jay Hakkinen of Alaska is competing in his fourth Olympics, Jeremy Teela in his third and Lowell Bailey in his second. With all that experience, the U.S. should be stiff competition for the Norwegians -- favorites here in Vancouver.
February, 12, 2010
02/12/10
7:34
PM ET
WHISTLER, British Columbia -- Bands are playing, skiers are trekking up and back from the slopes, and bars are filled at Whistler Village. Meanwhile, it is a more somber scene a quick gondola ride and short walk up the hill at the Olympic sliding track following the death of Georgian luger Nodar Kumaritashvili during a morning training run.
The final training run was canceled and no athletes or coaches were available at the track. Instead, Canadian police have closed off access to the track for an investigation. A handful of reporters and photographers gathered at the police barrier attempting without success to get a view toward the final turn where Kumaritashvili slid out of control and struck his head on a support beam at about 90 miles an hour.
Officials at the sliding media center by the track said they don't know when there will be any update. The center was supposed to close early this afternoon because of the opening ceremonies, but is being kept open in case there is any announcement.
At the bottom of a big Olympics rings display in Whistler Village, someone put a small vase of flowers with a note that read: "In memory of Nodar Kumaritashvili, may he rest in peace."
February, 12, 2010
02/12/10
1:43
PM ET
A couple of hours after "elder statesman" luge doubles man and five-time Olympian Mark Grimmette was named flag bearer for tonight's opening ceremonies, members of the skeleton and bobsled teams took the podium with one common thread: they are a team of talented rookies.
Of the six women that comprise the women's bobsled team, five are first-time Olympians. Only Shauna Rohbock, who won silver at the 2006 Torino Games, has Olympic experience. Michelle Rzepka, Erin Pac, Elana Myers, Bree Schaaf and Emily Azevedo are basking in the enjoyment of being part of the show.
And two skeleton members -- Noelle Pikus-Pace and Zach Lund -- are here for the first time somewhat by default; Pikus-Pace made the 2006 team, but fate intervened when an errant bobsled went off track and broke her leg. Lund, meanwhile, had earned a berth in 2006, but was disqualified for testing positive for a banned substance (Propecia, the hair regrowth drug) just before the opening ceremonies.
Men's skeleton racer John Daly will also be appearing for the first time.
The U.S. team has plenty of former Olympians, but the energy of the afternoon was generated by the first-timers. The common balance, athletes often say, is to respect the Olympics for the achievement it is while remembering they are simply using the same skills that brought them to this point.
But Azevedo and Schaaf were amazed by another element of the bright lights: all the swag the athletes receive.
"We got a lot of stuff," Azevedo said, marveling at the jewelry and Ralph Lauren apparel waiting for her in her room. "It was big, not that I'm complaining." Azevedo even added that at the airport someone came over and carried her bags! What a welcome dose of humility ...
Each group has its own personality, and rivals. The Night Train crew of USA I likes the idea that its' top ranking intimidates opponents, but off the podium, in quieter moments, they know the German team led by Andre Lange awaits them. Rohbock and Rzepka, who will drive women's USA I (both the U.S. men and women will field three bobsled teams) also relish the idea of being expected to win, while the USA II team of Pac and Myers needs to shock the world. Neither the USA I nor II women, however, have any illusions about the strength of the Canadian team.
"I'm ranked sixth," Pac said. "I know I'm an underdog, but I know I can finish in the top three."
Meanwhile, Katie Uehlander, who finished sixth in 2006 and twice won the women's World Cup in 2007 or 2008 before being hampered by a knee injury she suffered snowmobiling last April, showed off a welcome flash of bravado.
"When I'm on my game," she said, "I think I'm unbeatable."
January, 14, 2010
01/14/10
5:00
PM ET
The U.S. luge team is a fun bunch, full of personalities, rich in talent. It must be a weird thing to represent your country at the highest level of your sport, yet walk around the country anonymously, only to be recognized as stars in Germany, the Netherlands, Italy and the other parts of Europe where luge is a big-time sport.
[+] Enlarge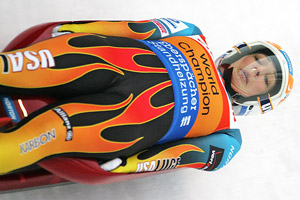 Juergen Schwarz/AFP/Getty ImagesErin Hamlin snapped Germany's 99-match winning streak at last year's world championships.
Only during an Olympic year does your country take you out of the attic, dusting you off and putting you back in a prominent place on the mantel. But that is the life. Each lives with it differently.
In the meantime, American lugers laugh at the perceptions of the sport. The first thing, whether it comes from veterans like Tony Benshoof and Mark Grimmette or a rising star like Erin Hamlin, is they are not adrenaline junkies, a term each is familiar with and accepts somewhat derogatorily. Yes, they fly down a frozen sheet of ice, back-flat, feet-first at speeds up to 90 mph, but that doesn't mean they aren't technicians. They leave the "need for speed" to what they consider to be their less-technical counterparts on the skeleton team, the luge cousin in which participants travel stomach-down, head-first on a sled with no brakes. If you want to step on the thin ice of insult, just call the two disciplines the same (I made sure I didn't).
In addition to dealing with what we'll call an "international incident" -- the United States team was magnanimous in allowing Team Canada to practice liberally on its track for the 2002 Salt Lake City Games; the Canadians, sensing a considerable advantage with the fast, intimidating track in Whistler, British Columbia, have been stingy in reciprocating the favor -- USA Luge is fighting the usual powerhouses.
If you're taking notes (this is my way of saying "take notes") on the women's side, the 23-year-old Hamlin has emerged as a special competitor. During the six World Cup events leading up to Vancouver, the American, like the rest of the world, has been chasing Germany.
She may be peaking at the right time. After finishing seventh and ninth in the first two Cup events in Calgary, Alberta, and Igls, Austria, Hamlin appears to be sliding at her best. Each of her next three events produced a top-five finish, including a bronze last month (one of her runs produced a first-place finish) in Lillehammer, Norway. Hamlin won another bronze in Winterberg, Germany, on Jan. 10.
"My sliding right now is really good. I've been on tracks I haven't always felt comfortable on, but coming in this season, things have gone really well," Hamlin said. "Last week was very unexpected, especially on a German track. It hadn't always been my strongest. Things have been really consistent, which is something that over the years I really always worked on getting to that point. Right now, I feel like I'm there."
Though the Germans are clearly the best sliders in the world -- Tatjana Hufner, Natalie Geisenberger and Anke Wischnewski are ranked first, second and third, respectively -- it was Hamlin, a first time Olympian at the 2006 Torino Games, who won gold last year at the world championships in Lake Placid, N.Y., snapping the Germans' 99-match winning streak.
"As things get closer to the Games, I feel like everything is building in a good direction and I hope that continues," she said. "But being in the top five regularly, in the top 10, and getting on the podium a couple of times is somewhere I'm not completely really used to being yet, but it's definitely not a bad place to be."