Category archive:

Bobsled
February, 27, 2010
02/27/10
3:56
AM ET
VANCOUVER, British Columbia -- Bode Miller, Chad Hedrick and the men's four-man bobsled team will all be in action Saturday. Here's what we'll be watching:
Alpine skiing: Men's slalom: Three events into these Games, Miller was two medals from becoming the first Alpine skier to medal in all five events since 1988, the first year five events were contested at the Olympics. But after a DNF in giant slalom, those plans changed. Now, with a medal performance in slalom Saturday morning, he can become only the fifth athlete to medal in four events in one Olympics. Miller's teammate Jimmy Cochran, a slalom specialist, also is a medal hope for the U.S., as well as Ted Ligety, a two-time Olympian who looks to live up to a 1972 performance by his aunt, who won gold in slalom in Sapporo. Besides reigning gold and silver medalists Benjamin Raich and Reinfried Herbst of Austria, the greatest challenge Team USA will face is the weather, and themselves.
Cross-country skiing: Women's 30-kilometer mass start: This torturous event -- 18.6 miles, if your math is rusty -- is simply a survival of the fittest. Since the event's debut in 1992, the Italians have won three of five gold medals, and Marianna Longa could continue the tradition. Finn Aino-Kaisa Saarinen, Norwegian Kristin Stoermer Steira and Poland's Justyna Kowalczyk all are talented distance skiers, but the hometown crowd will be behind four-time Olympian and British Columbia native Sara Renner. American Kikkan Randall also will race, but she excels in freestyle skiing, and in this race, athletes are required to use the classical style.
Four-man bobsled, Day 2: American Steven Holcomb and his Night Train crew built a whopping (in bobsled terms) four-tenths of a second lead over Canada's Lyndon Rush in the first two runs of the competition Friday, setting successive track records with each run. Defending champ Andre Lange of Germany is just three-hundredths of a second behind the Canadian sled. But on the track at the Whistler Sliding Centre, no lead is safe. Six sleds failed to make it through Curve 13, ominously dubbed the "50-50 curve" due to the chances of making it through unscathed, and slid down the track upside down. Should Holcomb's group hold on to its lead, it will win the first U.S. gold in four-man bobsledding in 62 years.
Men's curling: Gold- and bronze-medal matches: Unbeaten skip Ken Martin and the Canadian team will face Norway -- flashy, diamond-print pants and all -- for the gold medal Saturday afternoon at Vancouver Olympic Centre. The home team is trying to become the first curling squad to go undefeated at the Games since the sport returned as a medal event in 1998. The Norwegians have lost just one match in Vancouver after Team Canada beat them 7-6 in extra ends Feb. 16, and the rivalry is an old one. Canada won gold in 2006, and Norway won it all in 2002. In the earlier match, Sweden and Switzerland will face off for bronze.
Snowboard: Men's parallel giant slalom: Sure, one country (the U.S.) has dominated halfpipe snowboarding. But in recent years, one family has dominated men's PGS: the Schoches. Phillip and Simon Schoch finished 1-2 in Torino in 2006, and younger brother Phillip won gold in 2002. Both return in the hopes of once again making the Olympic PGS race a family affair. The U.S. team of Tyler Jewell and Chris Klug could jumble those plans. Jewell placed 11th in his first Olympics in 2006 and was 10th at the 2009 World Championships. Klug, the only American to medal in this event (bronze in 2006), is a sentimental favorite. Spreading his story of overcoming a liver transplant to compete in the Olympics is much of his motivation for returning for another Games (aside from also becoming the second medalist, that is).
Long-track speedskating: Men's and women's team pursuit: Despite having earned the most winter medals in U.S. Olympic history, American long-track speedskaters have won just three medals in Vancouver: Shani Davis' gold in the 1,000 meters and silver in the 1,500, and Hedrick's bronze in the 1,000. They have a chance to earn more in the team pursuit Saturday afternoon at the Richmond Olympic Oval. Veteran Hedrick, joined by youngsters Trevor Marsicano, 20, Brian Hansen, 19, and Jonathan Kuck, 19, upset the favored Dutch in qualifying and will face Canada in the final. The women's team consists of two-time Olympic bronze medalist Jen Rodriguez, four-time Olympian Catherine Raney Norman, and newcomers Jilleanne Rookard and Nancy Swider-Peltz Jr. They have advanced to the semifinals, along with Japan, Poland and Germany.
Ice hockey: Men's bronze-medal game: Goaltender Miikka Kiprusoff and the Finns looked stunned after suffering through a one-sided first period Friday in which Team USA scored six goals. Team Finland managed to score just one goal in the 6-1 semifinals rout. Now, Finnish veterans Teemu Selanne and Saku Koivu have one chance to redeem themselves in what likely will be their last Olympics. They play Slovakia in Saturday afternoon's bronze-medal match at Canada Hockey Place. The Slovaks, though, enter the game on a roll: Their third period against Canada was one of the best of the tournament, and they nearly beat the home team in the closing seconds.
February, 26, 2010
02/26/10
1:02
AM ET
VANCOUVER, British Columbia -- Apolo Ohno, Lindsey Vonn, and the men's U.S. and Canadian hockey teams will all be in action Friday. Here's what we'll be watching:
Snowboarding: Women's Parallel Giant Slalom
Since PGS was added to the 1998 Games -­ it was individual giant slalom back then -- European riders have dominated the event. Austrian racers Marion Kreiner and Doris Guenther, the top two women at the 2009 world championship, will be the women to beat Friday afternoon at Cypress Mountain. The U.S. has only had one medalist: Rosey Fletcher, who took bronze at Torino in 2006. But the lone American in this year's field would like to change that stat. Michelle Gorgone finished in the top 10 at four World Cup races in 2009 and returns for her second Olympics with a real shot at placing in the top five. Known for going for broke on every turn of every run, Gorgone hopes to finally cash in before retiring at the end of this season.
Alpine Skiing: Women's Slalom
Once again, the talk heading into women's slalom -­ the final event on the women's Alpine roster -- is about one of Lindsey Vonn's body parts. Vonn broke her right pinkie finger in her first run of the giant slalom Wednesday afternoon, but has decided to race her final event of the 2010 Games. "She's had way worse than that. She'll be fine," U.S. coach Jim Tracy told Reuters on Wednesday. Vonn's teammate Julia Mancuso opted out of the final event, and Sarah Schleper de Gaxiola of Vail is a technical skier who has posted two top-10 finishes in World Cup races this year. But Maria Riesch of Germany and Sandrine Aubert of France are still the women to beat.
Bobsled: Four-Man
At a news conference earlier this week, Steven Holcomb was pranked by his U.S. teammates, who told him he had to take his final eye exam in front of the media. A degenerative eye disease left him nearly blind last year, but an experimental procedure restored his vision to nearly 20/20. As he read the eye chart, Holcomb spelled out "The Night Train Will Win Gold." And after piloting his sled, dubbed the Night Train, to the first U.S. world title in 50 years last March, Holcomb and teammates Steve Mesler, Curt Tomasevicz and Justin Olsen could become the first U.S. athletes to win gold since 1948. John Napier, pilot of the USA 2 sled, also has medal potential. A 1-2 U.S. finish? You'd have to see it to believe it.
Curling: Women's Gold- and Bronze-Medal Matches
Skip Cheryl Bernard and the top-seeded Canadians are exactly where they wanted to be: playing for gold in front of the home crowd. They will face Anette Norberg and the defending gold medalists from Sweden in Friday's final match at the Vancouver Olympic Centre. On Thursday morning, Norberg, 43, competing with the same team she had in Torino, Italy, defeated the Chinese team in the semifinals. It was a rematch of the 2009 world championship final, a match the Chinese won. The Canadians defeated the Swiss in their semifinal in a match that came down to the last stone. China and Switzerland will play for bronze.
Short-Track Speedskating: Men's 500m, Men's 5,000m Relay, Women's 1,000m On Friday evening at Pacific Coliseum, Apolo Ohno will defend his gold medal in the 500 meters while shooting for his eighth overall Olympic medal. Later on, he'll lead the U.S. men in the relay, the final race of the short-track competition, against strong teams from France, China, South Korea and Canada. Sandwiched between the two men's events is the women's 1,000. American Katherine Reutter set an Olympic record in the qualifying round Wednesday afternoon, but will have to contend with 500m gold medalist Wang Meng and 1,500m gold medalist Zhou Yang, both of China.
Ice Hockey: Men's Semifinals, USA vs. Finland, Canada vs. Slovakia
By now, everyone knows Canada blew out the Russians in Wednesday's quarterfinals, rendering superstar Alex Ovechkin virtually useless by putting the sheer size and skill of winger Rick Nash and defenseman Shea Weber in his way. Now, Canada will have to get through Zdeno Chara, Marian Hossa and the rest of the Slovakian team to earn a berth in the gold-medal gamel. The Americans, who squeaked by Switzerland in the quarters, will face Finland, which eliminated the Czechs on Wednesday night at UBC Arena.
February, 24, 2010
02/24/10
5:07
PM ET
VANCOUVER, British Columbia -- On Thursday, women's figure skating and ice hockey take the stage, as medals will be awarded in both contests. But those aren't the only sports you should check out. Here are our picks for the top events to watch:
Nordic Combined: Men's Individual Long Hill/Individual 10km
The U.S. won its first-ever Nordic combined medal on Valentine's Day, when Johnny Spillane took silver in the men's individual normal hill. The Americans followed with a second silver in the team competition Tuesday. Spillane will be in action again Thursday for the long hill individual event, along with relay teammates Bill Demong and Todd Lodwick. Other medal contenders will be Frenchman Jason Lamy Chappuis, who has a sizable lead in the current World Cup standings, Austrian Felix Gottwald and German Eric Frenzel.
Curling: Semifinals
Thursday will be a big day for Canadian curling. Skip Kevin Martin enters the semifinals having gone a perfect 9-0 in round-robin play, and his team is in first place. The Canadians will face Sweden, which beat Great Britain in a tiebreaker, and Norway will play Switzerland. Cheryl Bernard and the Canadian women's team also finished first after the round-robin, and they will face off against Switzerland. In the other semifinal, the defending gold medalists from Sweden will take on the reigning world champs from China.
Figure Skating: Women's Free Program
Regardless of what happens with the hockey tournament, the story of these games should be Joannie Rochette's performance in the face of overwhelming tragedy; her mother Therese, 55, passed away unexpectedly Sunday morning after arriving in Vancouver to watch her daughter skate. And skate she did. Rochette turned in a performance that was as courageous as it was flawless in the short program Tuesday night, then burst into tears at its conclusion. Heading into the free skate, she sits in third place behind Korea's Kim Yu-Na and Japan's Mao Asada. Americans Rachael Flatt, 17, and Mirai Nagasu, 16, are fifth and sixth.
Freestyle Skiing: Men's Aerials
Defending Olympic champion Han Xiaopeng of China and top-ranked Anton Kushnir of Belarus, who has graced the podium in every World Cup event this season, both failed to qualify for the final in the men's aerials competition, making it anybody's ballgame. China's Jia Zongyang qualified first, followed closely by American Ryan St. Onge. American Jeret "Speedy" Peterson is fifth. If conditions hold, look for Peterson's trademark "Hurricane" in the final. With three flips and five twists, it's the most difficult trick an aerial skier can perform. Canadians Steve Omischl, Warren Shouldice and Kyle Nissen also reached the final, which should ensure a pretty high decibel level at Cypress Mountain on Thursday night.
Ice Hockey: Women's Gold (Canada vs. USA) and Bronze (Sweden vs. Finland) Medal Games
It was inevitable that Team USA and Team Canada would clash for gold in these Olympic Games, after neither was tested in any of the teams' early games or in the semifinals. Now, Team USA faces a tough challenge. It must beat the Canadians, who won the past four of their pre-Olympic meetings, on their home soil in front of a Hockey Canada Place crowd that will undoubtedly be bursting with red. Can the U.S. pull off the upset? The men's team did it Sunday, so why not?
February, 24, 2010
02/24/10
12:43
AM ET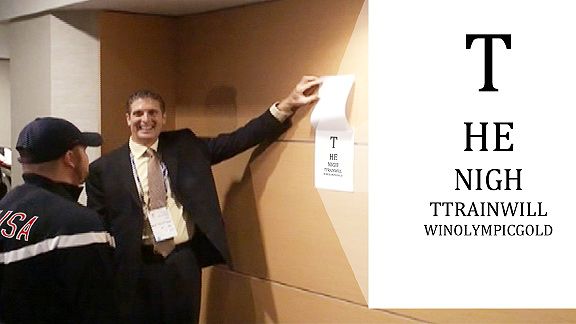 Courtesy of Alyssa RoenigkSteve Holcomb had an Olympics-inspired prank waiting for him.
VANCOUVER, British Columbia -- At the press conference for men's bobsled, Steven Holcomb, captain of USA I men's bobsled, was punked by his teammates. At the end of the conference, his teammates told him he had to take his final eye exam in front of the media. The exam was administered by Dr. Boxer Wachler, the doctor who restored Holcomb's vision last year. When he walked up to read the chart, he thought this was actually legit, and started reading, line by line -- until he realized they'd changed the chart to spell out "The Night Train Will Win Olympic Gold." Night Train is the name of Holcomb's bobsled.
February, 23, 2010
02/23/10
11:46
PM ET
WHISTLER, British Columbia -- With two heats remaining, the United States women's bobsled team was expected to be in medal contention. The USA I team of Shauna Rohbock and Michelle Rzepka were heavy medal favorites to compete with the Canada I team of Kaillie Humphries and Heather Moyse and the Germany I team of Sandra Kiriasis and Christin Senkel.
[+] Enlarge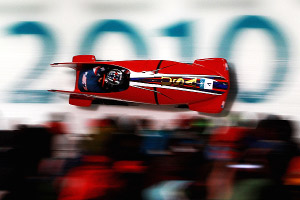 Alexander Hassenstein/Bongarts/Getty ImagesThe USA I team of Shauna Rohbock and Michelle Rzepka was expected to medal, but got off to a rough start Tuesday.
The U.S. is in contention entering Wednesday's medal round, but the surprise is that all three USA sleds are within the top eight, and the top USA sled isn't the Rohbock-Rzepka team, but the USA II tandem of Erin Pac and Elana Meyers, which finished second after two heats with a combined time of 1:46.33 seconds.
"The track itself is pretty smooth. Erin's a great driver and the track was beautiful, one of the best tops she ever had, I knew in order to contend she had to have a good top, and she did it," Meyers said. "The bottom was a little harrowing, but we're used to that. We've been doing it all week."
The final two heats will be run Wednesday, with the team with the fastest combined time of the four runs declared the gold-medal winner.
That Pac and Meyers were the surprises was one thing, but how they reached second place after a wild first run was even more interesting. They pushed sixth, and throughout a bumpy trip in which at one point -- in the 13th turn, the vaunted "50-50 curve" -- the sled hung to the track on only two runners, Pac maintained her speed. The second run was 53.01 seconds, the second-fastest time ever on the track.
"It happened so fast that you have no time to think, and I've done so many mind runs on this track, I've watched so much video, that it just happened to be second nature. Mind over matter and you keep going," Pac said. "When you're in race mode, you don't think. You just let the sled fly as fast as it can. My sled is running really fast right now. I didn't really notice how fast we were going. We were going 53 in practice, but it can still go faster."
Humphries and Moyse led both heats, setting track records on both runs. Team Canada was expected to be a strong medal contender on its home track, and it has delivered.
Another major surprise was the USA III sled of Bree Schaaf and Emily Azevedo, which finished the two heats tied with Rohbock and Rzepka for sixth place. Schaaf, who hails from Bremerton, Wash., and played volleyball at Portland State, boasted the largest cheering section and represents the biggest underdog in the standings, for the third sled a country enters into the Olympics rarely -- if ever -- contends for a medal.
"Everyone comes in to win. We came in to win, so that's still alive. We've got two more runs," Schaaf said. "The name of the game is consistency, so that what's I'm going to figure out. If I can have a clean run, and these runs were not so good, but if we can clean it up tomorrow, it's game on."
If a pattern has emerged thus far for the Americans in sliding sports, it's that they seem to like to do things the hard way. The downside is that once they've dug a hole for themselves, they haven't been able to get out.
In skeleton, both Zach Lund and Noelle Pikus-Pace lost out on medals after being done in by a poor first run. After its first bobsled run Tuesday, the top USA team of Rohbock-Rzepka was in a disappointing seventh place. Rohbock and Rzepka's first run may well have cost them a medal opportunity.
Rohbock said she'd been vexed by negotiating Turns 4 and 5, which have given her trouble, both in practice and on the first run Tuesday. She passed up a chance to continue working on that portion of the track by passing up a practice run in favor of resting to avoid fatigue.
After gaining one spot in her second run, Rohbock -- who won a silver medal in 2006 -- virtually conceded the ability to win the race on her own.
"A really bad 4-5. Then you get into the flat section and it's really hard to make up time," Rohbock said. "It's been a struggle all week. Nobody really has a clue there. And we'll keep trying. I'd have to have two very good runs tomorrow to be able to [medal], and hope that somebody messes up, but with 12 and 13, you never know."
February, 22, 2010
02/22/10
7:23
PM ET
VANCOUVER, British Columbia -- On Tuesday, Bode Miller has a chance to become the first man to win four Alpine skiing medals in a single Olympics. Day 12 in Vancouver is jam-packed with action. Here are our picks for the top events to watch:
[+] Enlarge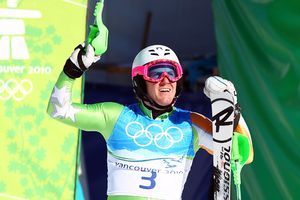 Sandra Behne/Bongarts/Getty ImagesTed Ligety will challenge Bode Miller for gold in the men's giant slalom.
Alpine Skiing: Men's Giant Slalom
The giant slalom, one of Alpine skiing's technical events, will consist of two different gated runs down the Dave Murray course at Whistler Creekside. American Bode Miller will try to become the first man to win four Alpine skiing medals at a single Olympic Games when he skis in Tuesday's race, but it won't be easy. U.S. teammate Ted Ligety is the current leader in the giant slalom World Cup standings and was the overall Cup winner in this discipline last season. Italy's Massimiliano Blardone has reached the podium 19 times in World Cup giant slalom races. Austria's Benjamin Raich is the defending gold medalist. And Austrian Marcel Hirscher and Norway's Kjetil Jansrud are both within 100 points of the overall World Cup lead.
Women's Bobsled, Day 1
Veteran American Shauna Rohbock, the defending silver medalist, begins her bid for gold Tuesday afternoon on a track she calls "stupid fast." Rohbock, though, has had success at the Whistler Sliding Centre; she took gold last season in the only World Cup event held on the Olympic track. Teammate Erin Pac, also a medal contender at these Games, took bronze. The Americans will face tough competition from their German counterparts. Sandra Kiriasis is the defending Olympic champ and has won three of the past five world championships, and Cathleen Martini has won five of seven World Cup races this season.
Figure Skating: Women's Short Program
The women's figure skating event will open under a somber cloud Tuesday night, just two days after the 55-year-old mother of Canadian skater Joannie Rochette passed away unexpectedly in Vancouver. Rochette, though, has vowed to compete, and will be the 26th of the 30 skaters. Olympic favorite Kim Yu-Na of Korea will skate 23rd, one spot after her biggest rival, Mao Asada of Japan. Americans Rachael Flatt and Mirai Nagasu will skate 28th and 11th, respectively.
Freestyle Skiing: Women's Ski Cross
The U.S. does not have a skier competing in the Olympic debut of women's ski cross. But to know which women to watch, fans need look no further than the top finishers at last month's Winter X Games. Gold medalist Ophelie David of France is the most dominant skier in the history of the sport, with six overall World Cup titles and three Winter X golds. Silver medalist Ashleigh McIvor, a native of Whistler, is the reigning world champion. And 20-year-old Canadian Kelsey Serwa, who took bronze at Winter X, finished fifth at the 2009 world championships. Now, all three women hope their success in Colorado translates to this technical Cypress course.
Ice Hockey: Men's Qualification Playoffs
The qualification playoffs have never been so exciting. Team Canada's loss to Team USA Sunday afternoon put it outside the top four teams, the quartet that earned a bye into the quarterfinals. Instead, Canada will play Germany on Tuesday afternoon at Canada Hockey Place, with the winner moving on to the quarters Wednesday. In the other two playoff games at the big rink downtown, Switzerland will play Belarus and Slovakia will play Norway. The final qualification game, between the Czech Republic and Latvia, will take place at UBC's Thunderbird Arena. It's a great chance to see superstar Jaromir Jagr up close; the rink seats just 6,800 people.
Speedskating: Men's 10,000m
If you're Dutch, odds are you're pretty psyched about this race. Distance specialist Sven Kramer, 23, holds the world record in the 10,000, and has since March 2006. He has won three consecutive world championship titles, won the World Cup title at this distance last year and is well on his way to winning another. But fellow Dutchman Bob de Jong is the defending gold medalist and, at 33, is still a threat to younger Kramer. De Jong is also a three-time world champ, and he has earned the nickname "Diesel" for his ability to maintain speed in long races. Plus, he set a personal record in the 10,000 just two months ago.
February, 22, 2010
02/22/10
12:16
AM ET
WHISTLER, British Columbia -- It wasn't a race they were supposed to win -- the expectations will come days from now in the four-man competition -- but the American drought continued in sliding sports when Team USA could muster no better than sixth place in the two-man bobsled competition Sunday evening.
The overwhelming favorite of the race, driver Andre Lange of Germany, delivered a gold medal, and Germany enjoyed a dominating day at the Whistler Sliding Centre. Lange was great, and Germany's second sled of Thomas Florschuetz and Richard Adjei took silver. Alexsandr Zubkov and Alexey Voevoda of the Russian Federation won bronze.
The Steve Holcomb-Curt Tomasevicz USA I sled finished more than a second behind the leader. John Napier and Steven Langton of USA II finished 10th and Mike Kohn and Nick Cunningham finished 12th.
The U.S. men went 0-for-3 in the men's luge, 0-for-3 in women's luge, 0-for-2 in men's doubles luge (there is no women's doubles), 0-for-2 in women's skeleton and 0-for-3 in men's skeleton, and now 0-for-3 in two-man bobsled.
"Go four man," Holcomb said.
To be fair, only in women's bobsled and men's four-man were the Americans overwhelming favorites to medal in the sliding sports. The rest has been a difficult climb. The women begin medal competition on Tuesday, with the Shauna Rohbock-Michelle Rzepka duo of USA I favored to medal. The U.S. will also enter two more sleds in the competition, USA II with Erin Pac and Elana Meyers and the USA III sled of Bree Schaaf and Emily Azevedo.
February, 20, 2010
02/20/10
11:14
PM ET
VANCOUVER, British Columbia -- Sunday's North American hockey showdown between Team Canada and Team USA will grab most of the headlines, but it's not the only game in town. Here are our picks for the top events to watch:
Alpine Skiing: Men's Super Combined
This race, which combines the speed of downhill with the precision of slalom, was originally scheduled for this past Tuesday but was postponed because of snow. Sunny skies are in the forecast for Sunday, as skiers gear up for one run of downhill and one run of slalom at Whistler Creekside. American Bode Miller looks to earn his third medal -- and the U.S. Ski team's eighth -- in the event. He'll see stiff competition from Ivica Kostelic of Croatia, Austria's Benjamin Raich, Switzerland's Carlo Janka and super-G winner Aksel Lund Svindal of Norway. American Ted Ligety, who took home a surprise gold in this event in Torino, is also racing.
Two-Man Bobsled
Four more sleds -- from Canada, Australia, Great Britain and Liechtenstein -- crashed in the opening heats of the men's two-man bobsled on Whistler's ultra-fast track on Saturday night. Germany 1, piloted by defending champion Andre Lange, is in first place heading into the medal races Sunday afternoon, with countryman Thomas Florschuetz just 0.11 of a second behind. Russian Alexsandr Zubkov, American Steven Holcomb and Ivo Rueegg of Switzerland round out a tightly stacked top five. Holcomb, who nearly flipped his sled midway through his first run, is just 0.12 of a second out of medal position.
Figure Skating: Ice Dance Original Dance
Two American teams are within striking distance of a medal going into the second phase of the ice dance competition Sunday afternoon at Pacific Coliseum. Meryl Davis and Charlie White are in third place, while teammates Tanith Belbin and Ben Agosto are fourth. Russia's Oksana Domnina and Maxim Shabalin are in the lead, with Tessa Virtue and Scott Moir of Canada in second. The original dance counts for about 30 percent of each team's overall score, with about 20 percent based on Friday's compulsory dance and about 50 percent on Monday's free skate.
Men's Ski Cross
The fact that U.S. athletes Casey Puckett and Daron Rahlves, the only members of Team USA, are competing Sunday morning is a story in itself. Puckett separated his left shoulder in a World Cup race in January and reinjured himself in a qualifying run at the Winter X Games two weeks later. The next day at Winter X, Rahlves dislocated his right hip for the fourth time in his career. Prior to this injury, Rahlves said the fastest he'd recovered from a hip dislocation was two months. This time, he had 21 days. Coming into the Games, Puckett and Rahlves, both former Olympic alpine skiers over the age of 35, were heavy medal favorites. Surprisingly, they still are.
Men's Ice Hockey: Russia vs. Czech Republic, Canada vs. USA, Sweden vs. Finland
Sunday's tripleheader is the best day of hockey at these Games that won't result in the awarding of a medal. All three tilts are huge rivalries, and they're also rematches of the past three Olympic gold medal games. Canada versus the U.S. and Sweden versus Finland are obvious border wars, while the Russian rivalry with the Czech Republic dates back to the former's occupation of the latter 40 years ago. But forget politics. These games pit skill against skill. Ovechkin vs. Jagr. Brodeur vs. Miller. Forsberg vs. Selanne. Grab your cowbells and hold on to your hats, this is going to be fun.
Speedskating: Women's 1,500m
Canadian fans are expecting nothing less than their first multiple-medal performance in Sunday's race at the Richmond Olympic Oval. Christine Nesbitt, the 1,000-meter gold medalist, is the obvious favorite for gold, but she has a fierce-but-friendly rivalry with countrywoman Kristina Groves in this event. Both have won a pair of 1,500m World Cup races this season. The only other skater to win one is Dutchwoman Ireen Wust, who also took bronze at the 2006 Olympics. She, along with Martina Sablikova of the Czech Republic, will try to spoil Canada's party. However, if the home crowd is as inspiring as it's expected to be, a Canadian sweep is not out of the question. Winnipeg's Brittany Schussler is also a threat.
February, 12, 2010
02/12/10
1:43
PM ET
A couple of hours after "elder statesman" luge doubles man and five-time Olympian Mark Grimmette was named flag bearer for tonight's opening ceremonies, members of the skeleton and bobsled teams took the podium with one common thread: they are a team of talented rookies.
Of the six women that comprise the women's bobsled team, five are first-time Olympians. Only Shauna Rohbock, who won silver at the 2006 Torino Games, has Olympic experience. Michelle Rzepka, Erin Pac, Elana Myers, Bree Schaaf and Emily Azevedo are basking in the enjoyment of being part of the show.
And two skeleton members -- Noelle Pikus-Pace and Zach Lund -- are here for the first time somewhat by default; Pikus-Pace made the 2006 team, but fate intervened when an errant bobsled went off track and broke her leg. Lund, meanwhile, had earned a berth in 2006, but was disqualified for testing positive for a banned substance (Propecia, the hair regrowth drug) just before the opening ceremonies.
Men's skeleton racer John Daly will also be appearing for the first time.
The U.S. team has plenty of former Olympians, but the energy of the afternoon was generated by the first-timers. The common balance, athletes often say, is to respect the Olympics for the achievement it is while remembering they are simply using the same skills that brought them to this point.
But Azevedo and Schaaf were amazed by another element of the bright lights: all the swag the athletes receive.
"We got a lot of stuff," Azevedo said, marveling at the jewelry and Ralph Lauren apparel waiting for her in her room. "It was big, not that I'm complaining." Azevedo even added that at the airport someone came over and carried her bags! What a welcome dose of humility ...
Each group has its own personality, and rivals. The Night Train crew of USA I likes the idea that its' top ranking intimidates opponents, but off the podium, in quieter moments, they know the German team led by Andre Lange awaits them. Rohbock and Rzepka, who will drive women's USA I (both the U.S. men and women will field three bobsled teams) also relish the idea of being expected to win, while the USA II team of Pac and Myers needs to shock the world. Neither the USA I nor II women, however, have any illusions about the strength of the Canadian team.
"I'm ranked sixth," Pac said. "I know I'm an underdog, but I know I can finish in the top three."
Meanwhile, Katie Uehlander, who finished sixth in 2006 and twice won the women's World Cup in 2007 or 2008 before being hampered by a knee injury she suffered snowmobiling last April, showed off a welcome flash of bravado.
"When I'm on my game," she said, "I think I'm unbeatable."
January, 19, 2010
01/19/10
3:38
PM ET
The U.S. men's bobsled and skeleton teams fall under the same governing body, but as they announced the teams each are sending to Vancouver over the weekend, it was with a decidedly different vibe.
The American bobsled team will show up with muscles bulging, walking tall along that razor's edge that comes with being a favorite, while the skeleton team (like its luge counterparts) will be having nightmares about a tough German team.
The Night Train Crew, the four-man bobsled team of Steven Holcomb, Justin Olsen, Steve Mesler and Curt Tomasevicz, struck gold at the nationals and world championships in 2009, and were first in the World Cup standings. In Whistler, where the speed of the track will be a constant reference point as the Olympics near, the American four-man team won silver at the World Cup.
The first thing to remember about the bobsled team is to forget everything you know about the rest of the sliding sports, in which the luge and skeleton athletes are lithe, slim and muscular. The USA bobsled team looks like it was searching for the Minnesota Vikings' practice facility, took a wrong turn and wound up in Vancouver. Either that, or they double as bouncers at the local night club.
Holcomb, the decorated driver who broke out in 2009, should be blocking for Adrian Peterson. He's a block of granite, 5-foot-10, 231 pounds. His team is just as imposing: Justin Olsen (6-2, 235 pounds), Mesler (6-2, 206) and brakeman Tomasevicz (6-1, 220), who is a former Division I football player from Nebraska. Holcomb, Tomasevicz and Mesler competed at the 2006 Torino Games.
The first key in gauging a run is a team's start out of the gate. When the Night Train Crew won gold in Cesena, Italy, last month, it was with an average start of 4.75 seconds. By contrast, when Mike Kohn finished sixth to qualify to drive USA III in St. Moritz, his team's push times averaged 5.2 seconds.
Here's a look at how the men's teams shape up:
USA I: Holcomb (Park City, Utah), Mesler (Buffalo, N.Y.), Olsen (San Antonio, Texas) Tomasevicz (Shelby, Neb.).
USA II: John Napier (Lake Placid, N.Y.), Chuck Berkeley (Clayton, Calif.), Steve Langton (Melrose, Mass.), Chris Fogt (Alpine, Utah).
USA III: Mike Kohn (Myrtle Beach, S.C.), Jamie Moriarty (Winnetka, Ill.), Bill Schuffenhauer (Orem, Utah), Nick Cunningham (Monterey, Calif.).
The American women also qualified three sleds for Vancouver (women's bobsledding is of the two-person variety). Here's a look at the lineups:
USA I: Shauna Rohbock (Park City, Utah) and Michelle Rzepka (Novi, Mich.).
USA II: Erin Pac (Farmington, Conn.) and Elana Meyers (Douglasville, Ga.).
USA III: Bree Schaaf (Bremerton, Wash.) and Emily Azevedo (Chico, Calif.).
Rohbock is a member of the Utah National Guard and the only member of the bobsledding team who spent some training time wondering if she was going to be sent to Vancouver, Iraq or Afghanistan.