Category archive:

Skeleton
February, 19, 2010
02/19/10
1:27
AM ET
WHISTLER, British Columbia -- After a dark beginning, American Zach Lund found a little daylight in his quest for a medal in the men's skeleton competition.
Lund jumped two spots to finish eighth with the final two heats Friday to decide the gold medal. The slider with lowest combined total of the four runs will be the champion.
The leaders controlled both heats, in order, but two sliders, Martins Dukurs of Latvia and Canada's Jon Montgomery, have dusted the field; the gap between second and third is more than half a second.
Alexander Tretyakov of Russia is third.
"It was a big improvement over the first run. I was lucky to be as close as I was after the first run, as bad as it was," Lund said. "I was a tourist on my sled. I was trying to relax as much as I could, and I went too far. I relaxed too much, and the track is fast tonight, the fastest it's ever been."
Before Lund's second run of 52.85 seconds, it had been a disappointing night for the Americans. Lund was best, in just 10th place after the first run, while Eric Bernotas was 14th, John Daly 21st.
Outside of Lund, the second didn't improve much for either. With two heats left, Bernotas is still 14th, while Daly improved three spots to 18th.
The first heat continued an odd, frustrating trip for the Americans. In his final two practice heats, Lund finished third and fourth. During his run, however, he nearly touched the roof on the high side wall coming out of a curve and could not regain control of his sled before losing considerable time. Lund is 0.98 seconds behind Dukurs but is only 0.12 of a second behind Tretyakov -- and a possible bronze.
If the Americans, both men and women, suffered from a familiar pattern, it was struggling with their starts.
"It's fast tonight and adjustments need to be made," Bernotas said. "My start wasn't with me tonight, but my mind was going into the race, and I plan on getting ready the same way tomorrow."
Entering the Olympics, Lund said he feared his starts could cost him. During his final two practice heats, Lund ranked 13th and 9th out of the gates, yet was able to make up the considerable time on the course. His average speed of 87.8 miles per hour was eighth overall.
But on Thursday, he timed out career bests on his starts, which gives him hope.
"If I can move up two spots after every run, I'm there," Lund said. "So why not?"
February, 18, 2010
02/18/10
11:20
PM ET
WHISTLER, British Columbia -- After the first three sliding events led to serious disappointment for the Americans in men's luge, women's luge and men's doubles, the first day of women's skeleton finished with a split decision.
Noelle Pikus-Pace, the former No. 1 in the world, was in fifth place with a two-heat combined time of 1:48.51 seconds, and Katie Uhlaender was ninth, a full second behind Amy Williams of Great Britain, who led the first day with two-run time of 1:47.96. Williams was the only slider to post a time under 54 seconds, which she did on her first run time of 53.83 seconds.
Like her Team USA brethren, Uhlaender struggled at the start and found it nearly impossible to make up the time. She was clearly upset about her performance.
"I'm disappointed, that's for sure," she said. "Last year at the World Cup, I was a few hundredths out of medaling, now, what, three-tenths? I had a lot of trouble with the first curve. I went in late, and it cost me a lot of time and a lot of speed. It doesn't show up on the first split, but it does on the second, so hopefully tomorrow, come out, have fun and see what happens."
Meanwhile, Pikus-Pace seems to be enjoying every moment, treating the Olympics like a farewell victory tour. She had a cheering horde wearing the custom made ski hats she designed.
Pikus-Pace has already said she is retiring to pursue other interests and have another child after the Games, meaning Friday's medal event final will be the last two runs of her career. On the bottom of her sled, she wrote "100s of loved ones, 10 years, 4 runs, 1 sled, 1 dream." She is currently sixteen-hundredths from a bronze medal, a spot currently held by Kerstin Szymkowiak of Germany.
The gold medal will be awarded to the slider with the lowest combined time over the four heats.
"I just blocked it out. I just turned it off, and I couldn't hear anyone the whole way down. I mean, I know they were screaming, I could hear the echoing in my helmet, but until I crossed the finish line and heard the roar of people in the stands, I really didn't pay any attention to it," she said. "This is so much bigger than a world championship race. The runs are obviously the same, the track will stay the same. But the energy of the Olympic games is incredible, and it's helping me."
February, 17, 2010
02/17/10
9:46
PM ET
VANCOUVER, British Columbia -- The highlight of Thursday's Olympic action will be the men's figure skating free program -- but that isn't the only event you should check out. Here are our picks:
Biathlon: Men's 20km Individual
Things did not go as planned for American Tim Burke in Sunday's 10-kilometer sprint; he got caught in a midrace snowstorm, missed three shots and finished 47th. Because the finish in the 10km race decided the start order for Tuesday's pursuit, Burke didn't start until sprint gold medalist Vincent Jay of France had already been on the course for more than three minutes. It was an impossible amount of time to make up, and Burke finished 46th. On Thursday, Burke will look for redemption in the 20km race and try to become the first American to win an Olympic medal in biathlon. He'll have to watch out for Jay, and for Norwegian star Ole Einar Bjoerndalen, who is in search of his 10th Olympic medal.
[+] Enlarge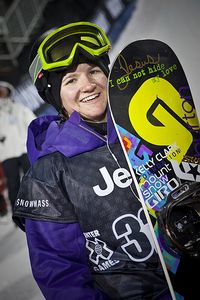 Christian Pondella/Getty ImagesKelly Clark enters the Olympics at the top of her game.
Snowboarding: Women's Halfpipe Finals
In 2006, the American women were a few points from sweeping the podium. This year should be no different. The U.S. team is composed of the same four riders who competed in the Torino Olympics, and this year, they're not content to share the spotlight. Kelly Clark, the 2002 Olympic gold medalist, won nearly every contest she entered in the past year and a half and is riding with unmatched amplitude -- something Olympic judges seem to value above all. At contests when Clark found herself in second place, she usually was taking a backseat to 2006 silver medalist Gretchen Bleiler, who changed her run this season and is peaking when it counts. Bleiler beat her teammates in one of the most progressive contests in women's halfpipe history at the X Games last month. Returning Olympic gold medalist Hannah Teter, Jiayu Liu of Japan and Torah Bright of Australia also all have solid chances of landing on the podium.
Figure Skating: Men's Free Program
The gloves will be dropped Thursday night at the Pacific Coliseum. Although reigning Olympic champion Evgeni Plushenko of Russia landed a perfect quadruple toe-loop and posted a new Olympic record with a score of 90.85 in the free skate Tuesday night, he is just .55 points ahead of American Evan Lysacek in second and .6 points ahead of Japan's Daisuke Takahashi in third. And neither of those men did a quad. Takahashi and Lysacek both scored significantly higher than Plushenko in the component score (the old artistic impression number), picking up the slack from the executed elements column. The free skate will pit athleticism against artistry. Plushenko has never been known for the latter, and Lysacek will not do a quad. In his long program, Takahashi will have both.
Men's Hockey: USA vs. Norway and Canada vs. Switzerland
Women's Hockey: USA vs. Finland
The American and Canadian men's teams will be in action again Thursday at Canada Hockey Place, this time against Norway and Switzerland. It's unlikely either team will be tested. And with the lopsided nature of the scores coming out of the women's tournament, you'd expect the same from the U.S. women against Finland. But don't forget: It was the scrappy Finns who upset the Americans in Torino in 2006, forcing them to settle for the worst finish in their brief Olympic history: a bronze.
Speedskating: Women's 1000m
Two-time Olympian Christine Nesbitt of London, Ontario, is favored for gold in Thursday night's race at the Richmond Olympic Oval. She's the reigning world champ at the distance and has won all four 1,000-meter World Cup races this season. Nesbitt's toughest challengers will be Annette Gerritsen of the Netherlands, Japan's Nao Kodaira and China's Beixing Wang. Ottawa's Kristina Groves is a sleeper in the race; there's no telling how much inspiration she'll draw from the home crowd. Americans Jennifer Rodriguez and Heather Richardson also will compete.
Skeleton: Men's and Women's, Day 1
American skeleton racers Noelle Pikus-Pace and Zach Lund have been waiting a long time for this. Lund was kicked out of Torino on the eve of the 2006 Games for testing positive for a banned substance in his hair-restoration medicine (he was later cleared of any wrongdoing). Pikus-Pace's right leg was literally shattered in the fall of 2005 when she was struck by an out-of-control bobsled in Calgary, Alberta. Both will look to fulfill their Olympic medal dreams Thursday night at the Whistler Sliding Centre. It won't be easy. Pikus-Pace and teammate Katie Uhlaender are ranked sixth and seventh in the world, but all three Torino medalists -- Maya Pedersen of Switzerland, Shelley Rudman of Great Britain and Mellisa Hollingsworth of Canada -- are returning. Lund will have his hands full, too. Martins Dukurs of Latvia won seven World Cup medals this season. Canada's Jon Montgomery has posted lightning-fast training times all week, and countryman Jeff Pain holds the official track record. And Germans Frank Rommel, Sandro Stielicke and Michi Halilovic are all contenders, as well.
February, 12, 2010
02/12/10
1:43
PM ET
A couple of hours after "elder statesman" luge doubles man and five-time Olympian Mark Grimmette was named flag bearer for tonight's opening ceremonies, members of the skeleton and bobsled teams took the podium with one common thread: they are a team of talented rookies.
Of the six women that comprise the women's bobsled team, five are first-time Olympians. Only Shauna Rohbock, who won silver at the 2006 Torino Games, has Olympic experience. Michelle Rzepka, Erin Pac, Elana Myers, Bree Schaaf and Emily Azevedo are basking in the enjoyment of being part of the show.
And two skeleton members -- Noelle Pikus-Pace and Zach Lund -- are here for the first time somewhat by default; Pikus-Pace made the 2006 team, but fate intervened when an errant bobsled went off track and broke her leg. Lund, meanwhile, had earned a berth in 2006, but was disqualified for testing positive for a banned substance (Propecia, the hair regrowth drug) just before the opening ceremonies.
Men's skeleton racer John Daly will also be appearing for the first time.
The U.S. team has plenty of former Olympians, but the energy of the afternoon was generated by the first-timers. The common balance, athletes often say, is to respect the Olympics for the achievement it is while remembering they are simply using the same skills that brought them to this point.
But Azevedo and Schaaf were amazed by another element of the bright lights: all the swag the athletes receive.
"We got a lot of stuff," Azevedo said, marveling at the jewelry and Ralph Lauren apparel waiting for her in her room. "It was big, not that I'm complaining." Azevedo even added that at the airport someone came over and carried her bags! What a welcome dose of humility ...
Each group has its own personality, and rivals. The Night Train crew of USA I likes the idea that its' top ranking intimidates opponents, but off the podium, in quieter moments, they know the German team led by Andre Lange awaits them. Rohbock and Rzepka, who will drive women's USA I (both the U.S. men and women will field three bobsled teams) also relish the idea of being expected to win, while the USA II team of Pac and Myers needs to shock the world. Neither the USA I nor II women, however, have any illusions about the strength of the Canadian team.
"I'm ranked sixth," Pac said. "I know I'm an underdog, but I know I can finish in the top three."
Meanwhile, Katie Uehlander, who finished sixth in 2006 and twice won the women's World Cup in 2007 or 2008 before being hampered by a knee injury she suffered snowmobiling last April, showed off a welcome flash of bravado.
"When I'm on my game," she said, "I think I'm unbeatable."