Category archive:

Short-Track Speedskating
February, 26, 2010
02/26/10
1:02
AM ET
VANCOUVER, British Columbia -- Apolo Ohno, Lindsey Vonn, and the men's U.S. and Canadian hockey teams will all be in action Friday. Here's what we'll be watching:
Snowboarding: Women's Parallel Giant Slalom
Since PGS was added to the 1998 Games -­ it was individual giant slalom back then -- European riders have dominated the event. Austrian racers Marion Kreiner and Doris Guenther, the top two women at the 2009 world championship, will be the women to beat Friday afternoon at Cypress Mountain. The U.S. has only had one medalist: Rosey Fletcher, who took bronze at Torino in 2006. But the lone American in this year's field would like to change that stat. Michelle Gorgone finished in the top 10 at four World Cup races in 2009 and returns for her second Olympics with a real shot at placing in the top five. Known for going for broke on every turn of every run, Gorgone hopes to finally cash in before retiring at the end of this season.
Alpine Skiing: Women's Slalom
Once again, the talk heading into women's slalom -­ the final event on the women's Alpine roster -- is about one of Lindsey Vonn's body parts. Vonn broke her right pinkie finger in her first run of the giant slalom Wednesday afternoon, but has decided to race her final event of the 2010 Games. "She's had way worse than that. She'll be fine," U.S. coach Jim Tracy told Reuters on Wednesday. Vonn's teammate Julia Mancuso opted out of the final event, and Sarah Schleper de Gaxiola of Vail is a technical skier who has posted two top-10 finishes in World Cup races this year. But Maria Riesch of Germany and Sandrine Aubert of France are still the women to beat.
Bobsled: Four-Man
At a news conference earlier this week, Steven Holcomb was pranked by his U.S. teammates, who told him he had to take his final eye exam in front of the media. A degenerative eye disease left him nearly blind last year, but an experimental procedure restored his vision to nearly 20/20. As he read the eye chart, Holcomb spelled out "The Night Train Will Win Gold." And after piloting his sled, dubbed the Night Train, to the first U.S. world title in 50 years last March, Holcomb and teammates Steve Mesler, Curt Tomasevicz and Justin Olsen could become the first U.S. athletes to win gold since 1948. John Napier, pilot of the USA 2 sled, also has medal potential. A 1-2 U.S. finish? You'd have to see it to believe it.
Curling: Women's Gold- and Bronze-Medal Matches
Skip Cheryl Bernard and the top-seeded Canadians are exactly where they wanted to be: playing for gold in front of the home crowd. They will face Anette Norberg and the defending gold medalists from Sweden in Friday's final match at the Vancouver Olympic Centre. On Thursday morning, Norberg, 43, competing with the same team she had in Torino, Italy, defeated the Chinese team in the semifinals. It was a rematch of the 2009 world championship final, a match the Chinese won. The Canadians defeated the Swiss in their semifinal in a match that came down to the last stone. China and Switzerland will play for bronze.
Short-Track Speedskating: Men's 500m, Men's 5,000m Relay, Women's 1,000m On Friday evening at Pacific Coliseum, Apolo Ohno will defend his gold medal in the 500 meters while shooting for his eighth overall Olympic medal. Later on, he'll lead the U.S. men in the relay, the final race of the short-track competition, against strong teams from France, China, South Korea and Canada. Sandwiched between the two men's events is the women's 1,000. American Katherine Reutter set an Olympic record in the qualifying round Wednesday afternoon, but will have to contend with 500m gold medalist Wang Meng and 1,500m gold medalist Zhou Yang, both of China.
Ice Hockey: Men's Semifinals, USA vs. Finland, Canada vs. Slovakia
By now, everyone knows Canada blew out the Russians in Wednesday's quarterfinals, rendering superstar Alex Ovechkin virtually useless by putting the sheer size and skill of winger Rick Nash and defenseman Shea Weber in his way. Now, Canada will have to get through Zdeno Chara, Marian Hossa and the rest of the Slovakian team to earn a berth in the gold-medal gamel. The Americans, who squeaked by Switzerland in the quarters, will face Finland, which eliminated the Czechs on Wednesday night at UBC Arena.
February, 23, 2010
02/23/10
10:08
PM ET
VANCOUVER, British Columbia -- Wednesday's lineup is all about the ladies. And hockey! But here in Canada, isn't it always about hockey?
Hockey: Men's Quarterfinals
Wednesday's quarterfinal play features a matchup between hockey's biggest superpowers, and hockey's biggest superstars: Canada vs. Russia, or Crosby vs. Ovechkin, depending on how you look at it. It's a game many thought would be the final, but Team USA's Sunday afternoon upset of Team Canada ruined those plans. The Americans, now the top seed, will play Switzerland. The Swiss are not to be taken lightly; they took the host country to a shootout in pool play. If the remaining favorites pull through the qualification round, Sweden will play Slovakia and the Finns will meet the Czechs.
Alpine Skiing: Women's Giant Slalom
Exactly four years ago Wednesday, Julia Mancuso surprised the world when she won gold in this event at Torino and donned a tiara at the medals ceremony. This year, Mancuso is hoping to repeat that performance at the venue where, in 2008, she earned her last World Cup podium. So far, Mancuso already has won two silver medals in three races at these Games and, because she decided not to compete in Friday's slalom race, GS is her final chance to earn an upgrade. Mancuso's U.S. teammate Lindsey Vonn said she felt great after Tuesday's practice runs, but she is not a favorite in this event. Of the five events she is racing, GS is Vonn's weakest. But that only means she has more to prove. Sarah Schleper de Gaxiola, who took two seasons off from racing and had a baby in 2008, enters the race as the highest-ranked U.S. skier in the field.
Women's Bobsled
After multiple crashes in training and competition -- and public comments made by female competitors that the track is too dangerous -- bobsled officials announced Monday that they were making modifications to the track, including the shaving of a minimum of 1 inch of ice from the 50-50 curve and alterations to Turn 13. Team USA's Shauna Rohbock, a medal favorite, was among the track's detractors. All three American sleds have been consistently in the top 10 in the world and are expected to contest for medals. Their toughest competition should come from the Canadians, who have spent more time on this track than any other sliders in the world and say they feel the most comfortable racing on it. Without the fear of crashing to distract them, that mindset should be a huge advantage in Wednesday's finals.
Speedskating: Women's 5,000m
Although the two American women competing in the 5,000 meters -- Jilleanne Rookard and Maria Lamb -- are not medal hopefuls, they are certainly names worth knowing. Rookard lost her mother to cancer two months ago, shortly after finding out she had qualified for the Olympic team, and is racing here in her honor. Lamb, a St. Paul, Minn., native, is one of 20 athletes from Minnesota competing in Vancouver. (The state with the second-most athletes is New York, with 18.) But the spotlight will be shining the brightest on Canadian racer Clara Hughes, 37, the defending gold medalist from Torino who took bronze in the distance in 2002. Hughes has the distinction of being the only athlete to win multiple medals at the summer and winter Olympics. (She took bronze in two cycling events in Atlanta in 1996.) On Wednesday, she has an opportunity to make even more history.
Short-Track Speedskating: Women's 3,000m relay
Anyone who has set foot in Pacific Coliseum for a short-track race knows, aside from the Canadians and Americans, the South Koreans bring the loudest cheering section. That won't change Wednesday, when the South Korean team attempts to win its fifth straight Olympic gold in the women's 3,000m relay. Strong teams from China, Canada and the U.S. hope to stop that streak. Team USA is led by first-time Olympian Katherine Reutter of Champaign, Ill., who hopes to make up for the misstep that cost her a medal in the 1,500 meters. Reutter's teammates -- Allison Baver, who made an amazing comeback from an accident in 2008 that left her with multiple fractures in her right leg, Kimberly Derrick, Alyson Dudek and Lana Gehring -- are all coming off strong World Cup seasons.
February, 18, 2010
02/18/10
1:03
AM ET
VANCOUVER, British Columbia -- Everything about short-track speedskating goes by in a blur, so it's no surprise that the Olympic record time in the women's 500-meter event would fall three times in a single night.
[+] Enlarge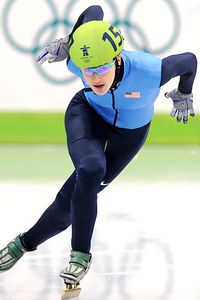 YURI KADOBNOV/AFP/Getty ImagesTeam USA's Katherine Reutter was the first record breaker in the women's 500 meters.
The first skater to break the previous mark Wednesday night was Katherine Reutter of Champaign, Ill., who has focused on the 1,000- and 1,500-meter events but has come on strong in the 500 recently.
Reutter blazed through her quarterfinal heat in 43.834 seconds. Approximately three minutes later, eventual gold medalist Meng Wang of China went .55 faster. And then Wang bested herself in the semifinals, setting the record that will stand for another four years: 42.985 seconds.
"I knew that if I set it, it wouldn't stand for long, but I am forever an Olympic record holder!" the ebullient Reutter said, raising her arms over her head triumphantly. She qualified for the B final and finished seventh overall.
Reutter, 21, said she had a feeling she might be able to do something special in Vancouver last week when she notched a personal best lap time of 8.39 seconds in training. "I thought for the first time, like, 'Holy cow, I may be one of the fastest girls in the world,'" she said.
"I didn't realize until just maybe last Thursday that it's possible for me to go to the A final and get a medal. Maybe if I'd had more time to realize that and prepare, maybe I would have done better -- but since I didn't, I did what I could, and I really think the way I skated is dead-even with the results I got. I don't feel like I got cheated."
In contrast to the Richmond Olympic Oval, where the ice was expected to be slow even before organizers encountered resurfacing problems, conditions at the Pacific Coliseum have been ideal, several short-trackers said. The rink is the venue for both figure skating and short-track speedskating.
"They're doing an amazing job of getting it good for both figure skating and speed skating," Reutter said. "Every U.S. figure skater has told me it's great. They're doing a really great job of changing the conditions."
You may ask, what's the difference? American short-tracker Travis Jayner said figure skaters like to compete on ice that is "a little softer and thicker than we do."
"As a team, we were maybe, not concerned, but wondered what it was going to be like to go from two days of figure skating to two days of long track," he said. "But part of our job at the same time is to be ready for anything. I think our team adapts pretty quickly anyway."
U.S. short-trackers Apolo Ohno and J.R. Celski advanced to the men's 1,000-meter quarterfinal race on Saturday, when semis and the final also will be held. Neither spoke to reporters afterwards. The U.S. men's team also advanced to the final in the 5,000-meter relay event to be held Feb. 26.
February, 17, 2010
02/17/10
9:46
PM ET
VANCOUVER, British Columbia -- The highlight of Thursday's Olympic action will be the men's figure skating free program -- but that isn't the only event you should check out. Here are our picks:
Biathlon: Men's 20km Individual
Things did not go as planned for American Tim Burke in Sunday's 10-kilometer sprint; he got caught in a midrace snowstorm, missed three shots and finished 47th. Because the finish in the 10km race decided the start order for Tuesday's pursuit, Burke didn't start until sprint gold medalist Vincent Jay of France had already been on the course for more than three minutes. It was an impossible amount of time to make up, and Burke finished 46th. On Thursday, Burke will look for redemption in the 20km race and try to become the first American to win an Olympic medal in biathlon. He'll have to watch out for Jay, and for Norwegian star Ole Einar Bjoerndalen, who is in search of his 10th Olympic medal.
[+] Enlarge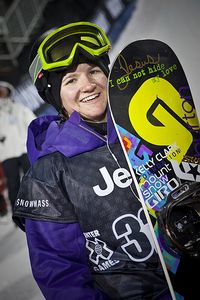 Christian Pondella/Getty ImagesKelly Clark enters the Olympics at the top of her game.
Snowboarding: Women's Halfpipe Finals
In 2006, the American women were a few points from sweeping the podium. This year should be no different. The U.S. team is composed of the same four riders who competed in the Torino Olympics, and this year, they're not content to share the spotlight. Kelly Clark, the 2002 Olympic gold medalist, won nearly every contest she entered in the past year and a half and is riding with unmatched amplitude -- something Olympic judges seem to value above all. At contests when Clark found herself in second place, she usually was taking a backseat to 2006 silver medalist Gretchen Bleiler, who changed her run this season and is peaking when it counts. Bleiler beat her teammates in one of the most progressive contests in women's halfpipe history at the X Games last month. Returning Olympic gold medalist Hannah Teter, Jiayu Liu of Japan and Torah Bright of Australia also all have solid chances of landing on the podium.
Figure Skating: Men's Free Program
The gloves will be dropped Thursday night at the Pacific Coliseum. Although reigning Olympic champion Evgeni Plushenko of Russia landed a perfect quadruple toe-loop and posted a new Olympic record with a score of 90.85 in the free skate Tuesday night, he is just .55 points ahead of American Evan Lysacek in second and .6 points ahead of Japan's Daisuke Takahashi in third. And neither of those men did a quad. Takahashi and Lysacek both scored significantly higher than Plushenko in the component score (the old artistic impression number), picking up the slack from the executed elements column. The free skate will pit athleticism against artistry. Plushenko has never been known for the latter, and Lysacek will not do a quad. In his long program, Takahashi will have both.
Men's Hockey: USA vs. Norway and Canada vs. Switzerland
Women's Hockey: USA vs. Finland
The American and Canadian men's teams will be in action again Thursday at Canada Hockey Place, this time against Norway and Switzerland. It's unlikely either team will be tested. And with the lopsided nature of the scores coming out of the women's tournament, you'd expect the same from the U.S. women against Finland. But don't forget: It was the scrappy Finns who upset the Americans in Torino in 2006, forcing them to settle for the worst finish in their brief Olympic history: a bronze.
Speedskating: Women's 1000m
Two-time Olympian Christine Nesbitt of London, Ontario, is favored for gold in Thursday night's race at the Richmond Olympic Oval. She's the reigning world champ at the distance and has won all four 1,000-meter World Cup races this season. Nesbitt's toughest challengers will be Annette Gerritsen of the Netherlands, Japan's Nao Kodaira and China's Beixing Wang. Ottawa's Kristina Groves is a sleeper in the race; there's no telling how much inspiration she'll draw from the home crowd. Americans Jennifer Rodriguez and Heather Richardson also will compete.
Skeleton: Men's and Women's, Day 1
American skeleton racers Noelle Pikus-Pace and Zach Lund have been waiting a long time for this. Lund was kicked out of Torino on the eve of the 2006 Games for testing positive for a banned substance in his hair-restoration medicine (he was later cleared of any wrongdoing). Pikus-Pace's right leg was literally shattered in the fall of 2005 when she was struck by an out-of-control bobsled in Calgary, Alberta. Both will look to fulfill their Olympic medal dreams Thursday night at the Whistler Sliding Centre. It won't be easy. Pikus-Pace and teammate Katie Uhlaender are ranked sixth and seventh in the world, but all three Torino medalists -- Maya Pedersen of Switzerland, Shelley Rudman of Great Britain and Mellisa Hollingsworth of Canada -- are returning. Lund will have his hands full, too. Martins Dukurs of Latvia won seven World Cup medals this season. Canada's Jon Montgomery has posted lightning-fast training times all week, and countryman Jeff Pain holds the official track record. And Germans Frank Rommel, Sandro Stielicke and Michi Halilovic are all contenders, as well.
February, 16, 2010
02/16/10
10:45
PM ET
The world's most talked-about shin injury will finally be tested Wednesday. What else should you be watching? From Shaun White to Stephen Colbert, here are our picks:
[+] Enlarge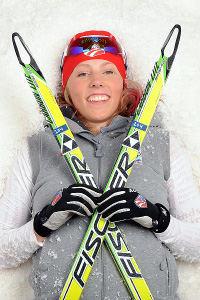 Harry How/Getty ImagesAlaska's Kikkan Randall is looking to end America's cross-country medal drought.
Alpine Skiing: Women's Downhill
Despite her much-discussed shin injury, American Lindsey Vonn is still the favorite in women's downhill on Franz's Run at Whistler Creekside in British Columbia. She was "very sore" after her training run Monday, but still posted the day's top time. "It was by far the bumpiest course I have ever skied," Vonn wrote on her Facebook page. Teammate Julia Mancuso was second, .39 seconds behind, followed by Austria's Elisabeth Goergl. The second women's downhill training run, scheduled for Tuesday morning, was canceled because of bad weather, but with one run in, the event can go off as scheduled. "I'm a fighter," Vonn says. "I just want to get out there and start competing." Vonn also will face stiff competition from Germany's Maria Riesch, who ended Vonn's perfect record in the World Cup this season by beating her in a downhill race in January. Anja Paerson of Sweden is third in the World Cup standings and won three medals at the Torino Olympics, including a bronze.
Cross-Country Skiing: Women's Individual Sprint Classic
No American has ever won gold in cross-country skiing, but in 2007, Alaska's Kikkan Randall became the first American woman in 29 years to win a Nordic World Cup race. In Torino in 2006, Randall finished ninth in the sprint. It was the best-ever Olympic finish by an American woman in the discipline. But in Italy, Randall was permitted to use the much faster freestyle stride with which she has achieved her best results; skiers use a stride similar to a speedskater's, pushing off on the diagonal. In Whistler, the classical technique, which uses a parallel stride, will be required. "It's a big challenge," Randall says. "But the Olympics are all about seeing what you can do." The current World Cup standings are topped by Poland's Justyna Kowalczyk with Slovenia's Petra Majdic; they should both fare well in Wednesday's race.
Short Track Speedskating: 1,000m
Apolo Ohno's silver medal Monday night in the 1,500 meters was his sixth Winter Olympic medal, tying him with Bonnie Blair's record. He gets his first chance to break the record Wednesday night at Pacific Coliseum in the 1,000. The race is shorter and faster, with more contact. Trying to derail Ohno's plans will be South Korean Lee Jung-Su and fellow American J.R. Celski, the gold and bronze medalists in the 1,500. Five months ago at the U.S. Short Track trials, Celski outskated Ohno in the 1,000m time trials before accidentally stabbing his left leg with his right skate, suffering a gruesome cut that required 60 stitches to close. Doctors told him he might never walk again, much less skate. It's tough not to root for a kid who defied those odds.
Snowboarding: Men's Halfpipe
Before arriving in Vancouver, American snowboarder Shaun White, the defending Olympic halfpipe gold medalist, was considered the heavy favorite to repeat. Now, with the weather conditions forcing many riders to bag their most progressive tricks, that could mean an advantage for European and Asian riders used to competing in less-than-pristine pipes. Only thing is, in the case of White vs. the rest of the world, it's not. At practice Monday evening, White landed his signature double McTwist 1260 and appeared the least affected by the conditions. "The best riders shine through in bad weather," White said in an interview with ESPN The Mag this fall; Wednesday will be White's chance. The remaining two spots on the podium are anyone's to grab. Swiss rider Iouri Podladtchikov and Kazuhiro Kokubo of Japan finished 2-3 at the Winter X Games last month, and Americans Scotty Lago, Louie Vito and Greg Bretz all have the talent, and the runs, to medal.
Women's Ice Hockey: Canada vs. Sweden
On a day when Men's Group 2 powerhouses Finland and Sweden will loosen their legs against Belarus and Germany, the Canadian women will face off against Sweden, having outscored their opponents 28-1 in these Olympics thus far. Sweden can't be taken quite as lightly as Slovakia and Switzerland; the Swedes upset the Americans in Torino in 2006, then fell to the Canadians and took silver. Still, it seems as if Team USA and Team Canada are on a crash course to the final, and there's not much any other country can do about it.
Speedskating: Men's 1,000m
American Shani Davis, the defending Olympic champion and world-record holder in the 1,000 meters, was the hands-down favorite for Wednesday night's race, but the surprise win in Monday's 500 by 21-year-old Korean Mo Tae-Bum, and the fact that Davis pulled out of that race after placing 18th in the first of two heats, has raised some questions. Davis, though, says he pulled out to focus on the two races he has a better chance of winning: the 1,000 and the 1,500. He will have extra motivation Wednesday night at the Richmond Olympic Oval; team sponsor and "Colbert Report" host Stephen Colbert will be in Vancouver, as a fully accredited member of the media, to cheer Davis to victory.
February, 14, 2010
02/14/10
11:07
PM ET
All eyes will be on Shani Davis on Monday, as the American speedskater goes for gold in the men's 500 meters event. What else should you be watching? Here are our picks:
Alpine Skiing: Men's Downhill
This event has already been rescheduled a few times due to weather conditions at Whistler Creekside, but looks set to finally begin Monday afternoon at 1:30 p.m. ET. It will be Bode Miller's first of a planned five races here at these Games.
Cross-Country Skiing: Men's 15K
All eyes will be on Norwegian Petter Northug, cross-country skiing's newest superstar. At 24 years old, he already owns eight individual World Cup titles, along with five additional podiums, and he's leading the current World Cup overall standings. It will be up to Czech Lukas Bauer, Swede Marcus Hellner and Italy's Pietro Piller Cottrer to keep Northug from his first Olympic medal. Also racing with a chance to medal is 30-year-old American Kris Freeman, a three-time Olympian who has overcome Type 1 diabetes to become one of the most successful American cross-country skiers in history. In Vancouver, the 15K will be the first of his five events.
Women's Luge
American Erin Hamlin has her work cut out for her at the Whistler Sliding Center on Monday evening. The Remsen, N.Y., native won gold at the 2009 World Championships in Lake Placid in February 2009, nearly two-tenths of a second ahead of Germany's Natalie Geisenberger. A miracle, her teammates called it. Why? Because the Germans had won 99 consecutive World Championship, World Cup and Olympic races dating back to 1997, and no non-German woman had taken World Championship gold since 1993. Now, Germans Geisenberger, Tatjana Huefner and Anke Wischnewski hold the top three spots in the World Cup standings. They'll be eager to start a new winning streak.
Men's Snowboardcross
The sport of snowboardcross was so popular in its Olympic debut in Torino that the IOC added its sister sport, skiercross, to this year's program. Hands down one of the most exciting events in the Olympic lineup, snowboardcross is also one of the most difficult to predict. Anyone who saw the women's final in Torino knows it's not just about being fastest down the hill. To win requires a mix of speed, technical prowess, luck, patience and crash-avoidance skills. This year's race should not disappoint. The Americans field the strongest team, led by 2006 gold medalist Seth Wescott and five-time defending Winter X Games champ Nate Holland. The thrilling Holland-Wescott final at Winter X in January provided a taste of what's to come on Monday. But if anyone is going to stop the U.S. from landing a one-two punch, chances are it will be Austrian Markus Schairer, the reigning World and World Cup champ.
Speedskating: Men's 500M
It seems long distances belong to Dutchman Sven Kramer, middle distances to American Shani Davis. But there is no clear favorite for Monday night's sprint at the Richmond Olympic Oval. The hometown crowd will try to will Jeremy Wotherspoon, of Humboldt, Saskatchewan, to gold in his last Olympic hoorah. Wotherspoon won a silver medal in Nagano, his first Olympics, but has crashed and burned -- sometimes literally -- in each Olympics since. The world-record holder will face tough competition from Koreans Lee Kang-Seok and Lee Kyou-Hyuk, Mika Poutala of Finland and Tucker Fredricks of the United States.
Figure skating: Pairs free skate
We've previously mentioned how China's Shen Xue and Zhao Hongbo had a chance to beat reigning world champs Aliona Savchekno and Robin Szolkowy of Germany in the pairs competition. On Sunday night, the Chinese duo (they are also married) set a new world record with a score of 76.66 in the short program, besting their own mark of 75.36 from January. But Savchenko and Szolkowy were almost as brilliant (75.96), while the Russian team of Yuko Kavaguti and Alexander Smirnov is in a close third (74.16). Heading into tonight's free skate, just 5.38 points separate first from fifth, leaving all three medals up for grabs.
February, 13, 2010
02/13/10
1:02
AM ET
Olympic competition is in full swing Saturday. Here's our take on the top events to watch:
Short-track speedskating: Men's 1,500 meters
American Apolo Anton Ohno, who took gold in 2002 in the 1,500 meters and gold in 2006 in the 500 meters, says he's in the best shape of his life. At 5-foot-8 and 145 lbs, he weighs 10 pounds less than he did in Torino, and 20 pounds less than in Salt Lake. In Vancouver, Ohno is hoping lighter means faster. He's racing all three individual short track events -- the 500, 1,000 and 1,500 -- and is shooting for a hat trick. He'll make his debut Saturday in the 1,500.
Freestyle skiing: Women's moguls
Canadian Jennifer Heil is the reigning Olympic moguls champ, and she's Canada's first chance for a gold medal at the Vancouver Games. It would be Canada's first-ever gold medal on home soil; they went winless at the 1976 Games in Montreal and the 1988 Games in Calgary. Heil, who has won all four World Cup races she's entered this season, is well on her way to a fifth overall title, but she'll face stiff competition from Americans Heather McPhie, Shannon Bahrke and Hannah Kearney at Cypress Mountain on Saturday night.
Long track speedskating: Men's 5,000 meters
American Shani Davis, who is competing in all four individual speedskating events in Vancouver, will make his debut at the Richmond Olympic Oval in the 5,000 meters Saturday afternoon. Dutch distance specialist Sven Kramer, the 2006 silver medalist and three-time world champion in the distance, is favored to win the race. But Davis -- who garnered as much attention in Torino for his feud with teammate Chad Hedrick as he did for winning gold in the 1,000 meters -- is hoping to draw headlines with his on-ice performance in Vancouver.