Secret to team's success could be skating guru
January, 12, 2010
01/12/10
12:28
PM ET
Diane Ness grew up in St. Paul, Minn., where figure skaters like her often shared frozen lakes and ponds with hockey players. Truthfully, if organized girls' hockey had existed back then, she probably would have spent her days in pads rather than practicing tedious school figures.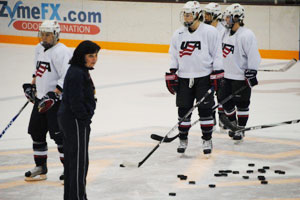 Diane NessDiane Ness works with Minnesota's hockey teams, as well as the 2010 U.S. women's hockey squad.
Ness went to work as a skating coach after an injury ended her career. Thirty-five years later, instead of teaching toe loops and triple Salchows, she's making Olympic hockey players skate in circles -- and putting them through other drills that help even the best athletes improve.
On hockey skates, Ness specified. Put them on those daintier blades and "They would kill themselves," she said.
"I don't coach hockey. I teach skating. But usually, within one hour, I can show them something that makes them a better player."
I observed Ness in action in one of her weekly sessions with the U.S. women's hockey team at their training center in Blaine, Minn., this fall; a dark-haired, animated woman working with a small group of players at center ice. I couldn't figure out who she was, and was surprised when team press liaison Christy Jeffries told me. It struck me as ironic, to say the least, that a former figure skater was involved with a bunch of female hockey players. Some of these same women ran screaming from figure skating lessons when they were kids.
But when I caught up with Ness a few days ago by phone, I discovered that her other clients include the University of Minnesota men's and women's hockey teams and the New Jersey Devils. (Devils captain Zach Parise, named to the 2010 U.S. men's Olympic team, is one of Ness' private students.)
These days, figure skaters focus on jumps, spins and transitions whose values are all quantified in a Byzantine scoring system. The quaint discipline of school figures, where they were judged on carving precise geometric patterns in the ice, was jettisoned from the Olympics more than 20 years ago. But Ness, 57, said mastering those old-time fundamentals can be crucial for hockey players in the business of making swift, explosive maneuvers.
"Edges and balance are what it's all about," Ness said. "You can't take a high-speed corner unless you have a really strong outside edge."
She works on refining quick starts, changes of direction and acceleration to the puck by means of painstaking positioning and repetition. In one exercise, players build up speed around a corner in the neutral zone, bend their front leg at a 90-degree angle, rest their back foot on the front skate and trace the faceoff circle on one foot. "That's usually my first drill, and half of them fall down," she said.
Ness is a mother of three, and her oldest son, Andy, now works alongside her in her Pro Edge Power program. In a sense, Andy started this whole thing, since Diane first started thinking about the overlap between the two sports when she helped coach his youth team. He's now 30, and Ness has been running hockey camps for 22 years.