Weir on skating, clothes, competition
February, 17, 2010
02/17/10
1:38
AM ET
VANCOUVER, British Columbia -- One of the highlights of Tuesday's men's short program was Johnny Weir's press conference. Here's Johnny, in his own words:
[+] Enlarge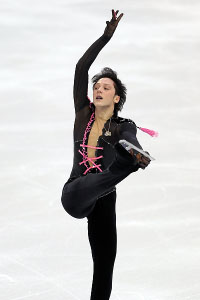 Jamie Squire/Getty ImagesJohnny Weir isn't in the top three, but he is a fan favorite.
On the blue overalls that Italy's Samuel Contesti skated in:
"I thought it was very fashion forward and a very big risk and even riskier than man-cleavage and a pink ruffle."
On what the room he and ice dancer Tanith Belbin share in the athlete's village looks like:
"It's very clean. Last night I was very nervous so I Pledged everything. Some people eat, some people drink, some people smoke -- I Pledge. So I cleaned everything up. I didn't really add so much because I feel the sheer beauty of rooming with Tanith Belbin is quite enough. But she's been the best roommate. She stayed out all day so I could run around naked and watch 'The Real Housewives of Atlanta' and just relax for the competition. And I'm going to do the same for her when her time comes. But we do have Audrey Hepburn on the wall. Lady Gaga is up in the room. And a quote, 'I never meant to be an icon, I just do my own thing.' And I thought that was very good for me and Tanith because we both feel like the old ones on the team. We need to be the icons of the team."
On how he felt:
"I had so much fun today. I smiled. I felt like the audience was really with me. They were in that performance with me. I heard distinct voices from my fan group that has traveled to see me from all over the world. From my family I heard my cousin screaming at me, my aunt. That's a very special feeling when you're on the ice at the Olympics. You can feel very lonely, very alone, very pressure-filled. We're living in a village and it's not always the most comfortable thing. To have that support wherever I go, to have that kind of support makes going on the ice that much better and makes it that much more rewarding when you skate well. Because I can give that back to the fans."
On whether he might be tempted to do a backflip as French skater Surya Bonaly famously did:
"It's funny you ask that. All day today I was thinking, if I don't skate that well in the short program and I go into the long program and get tired, I'm just going to do a backflip like Surya Bonaly. I mean, it's not going to matter what I do. A medal is pretty far out of my grasp even with a clean short program. You never know. Maybe I'll just have the urge to throw on a tutu with glitter in my hair and it will be all good."
On why he received a low mark for his triple flip:
"I tend to do my triple flip on the wrong edge, which is a shame, but I'm old and you can't really teach an old dog new tricks, especially a figure skating technique. But I tried. We tried to hide it on the ice where it's not quite as visible to the judges and technical callers, but it's still not something that's hard to see. That would be why. But as long as it's pretty, I don't really care. And as long as I'm not on my ass."
On how he skated:
"I actually had fun tonight and that's something I haven't been able to say for a long time. I had fun skating. I really showed my heart. I smiled. I can't remember the last time I smiled like that. Tonight was really everything that I hoped it would be. The scores I can't control, so I can't say, 'Dammit, I'm not in the top three today.' I can't do anything about that. My goal for this whole competition was to show people my heart and take them on a journey with me and make them feel they're with me and they can feel me skating.
"I want people to feel me. I want people to think they're going through this with me. Regardless of where they're from, who they're rooting for, I want to feel like they're on the ice with me."