Team USA the underdog on Sunday
February, 20, 2010
02/20/10
6:03
PM ET
VANCOUVER, British Columbia -- Compare rosters, experience and the overwhelming home-ice advantage and there aren't many areas you can point to heading into Sunday's Canada-USA game that favor the Americans. But that's not to suggest the U.S. has no chance. Here are five keys to an American upset -- and five reasons why Canada has the upper hand.
Keys to a Team USA win:
[+] Enlarge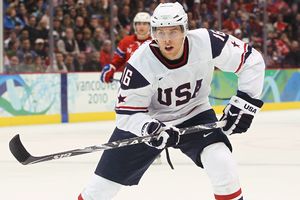 Bruce Bennett/Getty ImagesJoe Pavelski and the Americans will try to keep Team Canada in check.
The boys down the middle
OK, on one hand, the Canadians will roll out centers
Sidney Crosby
,
Ryan Getzlaf
,
Joe Thornton
and either
Jonathan Toews
,
Mike Richards
or
Patrice Bergeron
. The Americans? Well, let's just say the Americans figured to be thin down the middle, and there's a ton of pressure on their top two centers,
Joe Pavelski
and
Paul Stastny
, to deliver big games Sunday. Pavelski, playing with
Ryan Malone
and
Phil Kessel
, has already enjoyed a nice start to this tournament and his line has provided much-needed scoring depth. Stastny's top unit has been slow off the mark, and in fact, head coach Ron Wilson will likely drop
Patrick Kane
from that unit and bring captain
Jamie Langenbrunner
up to play with Stastny and
Zach Parise
. Through the first two games, Stastny has zero points. It figures the Americans will need production from both of those lines if they're to come away with a win.
Special special teams
The American power play has gone 2-for-8, and looked good against Switzerland and not so much against Norway. Power-play opportunities are something the Americans cannot squander against Canada. On the other side of the coin, the Canadian power play has also been slow to get into a groove, going just 3-for-13, but it doesn't take a rocket scientist to realize that if the Americans get into penalty trouble, it is a recipe for disaster. The Americans have been impressively disciplined thus far, taking just four minors through the first two games, and if they can continue that trend while employing a physical forecheck -- a fine line to tread to be sure -- their chances of winning improve dramatically.
Opening night jitters
Having witnessed the incredible atmosphere for Canada's first two games against Norway and Switzerland, we have trouble imagining what it will be like inside Canada Hockey House when the puck drops on this one. Start with deafening and go from there. Those opening moments of Sunday's game, then, figure to be crucial and it is imperative for the Americans to maintain their composure. They will have to resist the urge to run around, to be too physical and take early penalties -- in short, to be overwhelmed. It is our contention that if the Americans can stay within a goal through the first period, this is a game that could go either way. If the Canadians jump all over them early, well, it could be a long, long afternoon for the Yanks.
Miller time
For weeks we've been saying that if Ryan Miller plays as he has all season for the Buffalo Sabres then the Americans are a medal contender. This will be Miller's first real chance to prove himself. Miller's poise and calm demeanor will be crucial for the Americans, especially if the Canadians get an early goal. The youthful Americans will take their cues from Miller. If he shows no panic, even if the Canadians get up early, the Americans will be OK.
The banger boys
Almost from the moment Brian Burke became GM of the U.S. squad, he has talked about the sand and grit he felt was important to competing in this tournament. When the Americans have been at their best through the first two games, it's been when the so-called fourth line, really a four-man unit that includes David Backes, Bobby Ryan, Chris Drury and Ryan Callahan, have been playing on a straight line, crashing and banging and creating offensive opportunities. They must continue to do so against a Canadian blue line that looked out of sync for long periods of time against Switzerland on Thursday. Ryan Malone (2 goals, 1 assist) has been a presence in front of opposing goals and he, too, must continue to use his large frame in front of Martin Brodeur to create scoring chances and draw penalties.
Keys to a Team Canada win:
Dominance down the middle
Sidney Crosby, Ryan Getzlaf, Joe Thornton and Mike Richards/Jonathan Toews vs. Paul Stastny, Joe Pavelski, Ryan Kesler and David Backes/Chris Drury? Puh-lease. Team Canada dwarfs the U.S. both in terms of talent, size and physical strength at the center position and that looms large for Sunday's game. Overall, 15 of Canada's 23 players are 6-foot-2 or taller, while the U.S. has eight. Canada has only three players under 6-foot while the Americans have eight.
Championship experience
Team Canada has more players who have won the big, big games, and Sunday is definitely a big, big game. Canada doubles Team USA's output in Stanley Cup rings, 14 to 7. The Americans have rings from Brian Rafalski (3), Jamie Langenbrunner (2), Drury (1) and Brooks Orpik (1), while Canada counters with Scott Niedermayer (4), Martin Brodeur (3), Chris Pronger (1), Eric Staal (1), Dan Boyle (1), Corey Perry (1), Getzlaf (1), Crosby (1) and Marc-Andre Fleury. And of course, there are 2002 Olympic gold medals hanging in the basements of Pronger, Niedermayer, Brodeur and Jarome Iginla, and none in the Team USA dressing room.
Leadership and character
Team Canada oozes leadership, as is underlined by the nine NHL captains on its roster: Crosby, Rick Nash, Niedermayer, Eric Staal, Mike Richards, Toews, Jarome Iginla, Brenden Morrow and Roberto Luongo. And that's not even counting one of their biggest leaders in Brodeur. Team USA responds with three NHL captains: Drury, Langenbrunner and Dustin Brown. More than anything, this once again stresses just how young the Americans are.
Offensive talent
Team Canada counts eight players among the top 25 NHL scoring leaders: Crosby, Thornton, Patrick Marleau, Dany Heatley, Getzlaf, Corey Perry, Rick Nash, Iginla; Team USA has only two in Patrick Kane and Zach Parise. Goals will simply be harder to come by for the Americans.
Home-ice advantage
Ever hear what 35 million people screaming at once sounded like? You'll find out Sunday. Little brother Canada takes a back seat to big brother USA in everything except for one thing: hockey. You're in Canada's barn Sunday, Team USA, so better bring your earplugs … and your ice packs.