Canada will look to gel in extra game
February, 22, 2010
02/22/10
12:40
AM ET
VANCOUVER, British Columbia -- You'll be hearing lots of spinning coming out of Team Canada's camp over the next 48 hours, and it started right after Sunday's loss to the U.S. that forced the host country into playing an extra game in the qualifying round.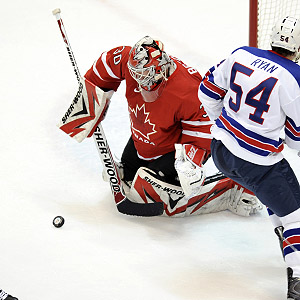 Byron Hetzler/US PresswireTeam USA took advantage of some of Martin Brodeur's tendencies.
"You know what? I hate to say it but I think right now that's what we need is to play more games," said goalie Martin Brodeur. "We have plenty of time in between to recover. There are things we need to work on our game and hopefully that extra game will give us that opportunity."
And if the extra game doesn't help Canada find its A game?
"We have no choice, if not we won't be talking to you," said Brodeur. "We're going to go out there and do everything we need to gel and get our game together and try to be successful. We're here for one thing and it's to be the last one standing. And we're still alive."
Pressure?
Team Canada head coach Mike Babcock felt his team handled the pressure OK on Sunday night. Brodeur insisted his team is also not letting it get to them.
"I don't think so. We don't talk about it much," said Brodeur. "We just try to be in our own little world and do our things and try not to think about it. Again, we're throwing 45 shots at these goalies, they're making stops facing forward, backward, sideways -- eventually if we keep doing these right things offensively, we'll be more successful."
Canadian captain Scott Niedermayer says his team needs to soak in the atmosphere and make that a positive.
"You look around and everyone is just having a blast, which is great," said Niedermayer. "Maybe that's what we need a bit more on the ice, just enjoy it, have fun out there, soak it in and play as hard as we possibly can. We'll get this thing going and have an opportunity to get this thing going."
Miller time
Obviously, there is lots of buzz about
Ryan Miller
's amazing performance Sunday night.
"He's the best I've ever seen him play," said Team USA teammate Ryan Kesler. "He gave us a chance to win."
Preying on Brodeur
Team USA capitalized on a couple of Brodeur puck-playing mistakes, which was something they were hoping to jump on.
"We know he likes to come out to play it and usually it's to his forehand side, so we just tried to put two guys over there and hoped for the best," said Team USA forward Ryan Malone. "I think on [Brian] Rafalski's second goal, he threw the puck up the middle so I mean, I don't know, it was kind of part of the game plan."
Brodeur's New Jersey teammate Zach Parise obviously had a scouting report.
"Everyone knows that he wants to play the puck. I don't think anyone was caught by surprise, and tonight we were able to capitalize on one where he turned it over," said Parise.
"I think everyone knows that's going to happen especially with the trapezoid gone that he's going to want to come out and play the puck and he should, I mean he's really good at it, but when a goalie's like that, that's why you've got to make sure you're going at him, you're not letting him set it up," added Parise.
Ice storm
Loved the moment in the postgame coaches' news conference when U.S. head coach Ron Wilson noted that they would not be taking advantage of the ice time they'd been allotted Monday, an off day for the men's hockey tournament.
"The ice time we were given was 8:30 in the morning, so we're not going to skate," Wilson said, glancing at counterpart Mike Babcock of Canada.
Babcock couldn't suppress a grin, as it was obvious Wilson didn't think the Americans had been given a choice slot.
"I think it was set up that most of the teams that won their group or the highest seed, second place team, would probably take the day off," Wilson said, although he noted that U.S. GM Brian Burke wanted Wilson to keep his guys in the groove by practicing. "Burkie was saying, you have to skate these guys, you have to skate these guys.
"At 8:30 in the morning? He goes, 'I guess not.'"