Discussion
Taking the plunge
Backing Olympians is a big risk for sponsors, so why is Ryan Lochte an exception?
Updated:
August 13, 2012, 8:15 PM ET
By
Matt McCue
| ESPN The Magazine
AS RYAN LOCHTE TELLS IT in his laid-back surfer way, he hasn't felt nervous before a race in almost 20 years. In that memory, he is 8 years old and standing on a pool deck near his home in Rochester, N.Y., before the start of the 100-meter freestyle. Just as the starter barks the command to step onto the platform, Lochte has a sudden urge to pee. As he takes his starting position, the dam bursts.
Eyes hiding behind goggles, he can't see the reaction from the stands, ...

Read full story
ESPN The Magazine: March 19, 2012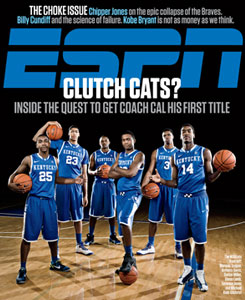 FEATURES IN "THE CHOKE ISSUE"

COLUMNS

MORE FROM THE ISSUE