Jaromir Jagr leads Czech team
Updated:
January 7, 2014, 11:53 AM ET
Associated Press
PRAGUE -- Jaromir Jagr will play in his fifth Olympics, leading the Czech hockey team at the Winter Games in Sochi next month.
The 41-year-old right winger has had a solid season so far for the New Jersey Devils, with 13 goals and 21 assists in 43 games.
Jagr was on the Czech team that won gold at the 1998 Olympics in Nagano, the first games featuring NHL players. He also helped the Czechs win the bronze medal in Turin in 2006.
The 25-man Czech team was announced by coach Alois Hadamczik on Monday in Prague.
"We consider this team the best," Hadamczik said.
Jagr actually isn't the oldest player on the team. Petr Nedved, who won a silver medal at the 1994 Lillehammer Olympics when he played for Canada, was a surprise selection on the team. Nedved is 42 and plays for the provincial team White Tigers Liberec in the Czech league, but Hadamczik said the forward "never disappointed me."
Tomas Plekanec of the Montreal Canadians will be the captain, while Jagr's teammate Patrik Elias, David Krejci of the Boston Bruins and Jakub Voracek of the Philadelphia Flyers are other top Czech forwards.
The Czechs open the tournament Feb. 12 against Sweden and also face Latvia and Switzerland in Group C.

Copyright 2014 by The Associated Press
MEN'S OLYMPIC HOCKEY ROSTERS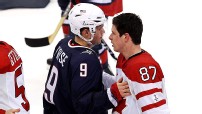 A look at the men's hockey rosters for the top countries competing in the 2014 Sochi Olympics.
ROSTERS
MOST SENT STORIES ON ESPN.COM