Commentary
Claressa Shields is an upset winner
Updated:
February 18, 2012, 11:43 AM ET
By
Jim Caple
| ESPN.com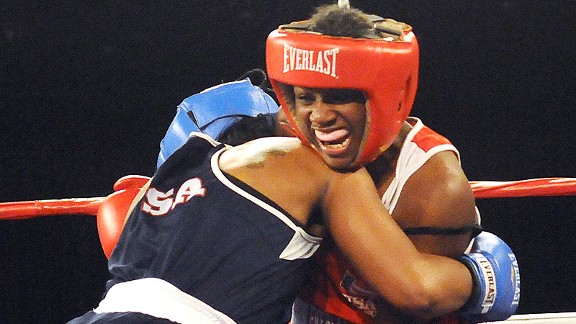 James Snook/US PresswireThough she defeated Tika Hemingway, Claressa Shields was near tears afterward because she hadn't won as easily as she'd wanted to.
SPOKANE, Wash. -- Claressa Shields is 16 and a great boxer and a possible Olympian; but she is also a teenager.
So even though the referee raised her arm in triumph after her victory over Tika Hemingway, sending Shields to Saturday's championship round of the U.S. women's Olympic boxing trials, it didn't matter. As reporters peppered her with questions Thursday night, Shields stood with a glum expression, seemingly on the verge of tears and giving brief, occasionally one-word answers. Asked several times what was wrong -- for crying out loud, she had just advanced to the Olympic trial finals -- the middleweight said there was nothing bothering her; she was just tired.
Parents, have you ever heard that response before?
Underwood advances, narrowly

Queen Underwood had a narrow escape Thursday night when she defeated N'yteeyah Sherman by a single point, 25-24, to advance to Saturday's final at the U.S. women's Olympic boxing trials.
"I know I was a point down going into the last round," Underwood said minutes after the bout while still gasping for breath. "They told me I had to win the last round and I thought I did, so I felt confident but I knew it was going to be close. Sometimes it goes the other way and I'm just thankful I left it all in the ring that last round. I gave my best so either way I would have been proud of myself."
Sherman was clearly not upset by the judges' scoring.
Underwood has been down a couple of times during the trials. "I wouldn't say I'm getting used to it but it's happened," she said. "And that's something I need to work on, not having to come back from behind. As you can see, some of my bigger fights, I have come back from behind. That's my heart, that's my winning spirit. I don't like to lose."
-- Jim Caple
Even with her coach, Jason Crutchfield, telling her to cheer up -- "C'mon! C'mon! This is the Olympic trials! You won! You're fighting in the finals! You get a day off!" -- Shields stared at the floor or at the wall past the reporters, clearly upset. And then Shields finally admitted that, yes, something was wrong. She had won only 23-15 after beating Hemingway 32-18 in a past bout.
"I didn't like the score," Shields said. "Fifteen-23? I could have sworn I was in the corner and he said 29-9 or something like that. I don't know the last time I scored 23. I've never scored 23 in my life." Shields added she usually scores 31 or 32 points, then added that Hemingway "is just gonna act like she gave me a hard fight. I wanted to stop her."
All this resulted in an interesting, amusing scene that was unusual by post-competition interview standards. But, it would have been all too familiar for many parents. While Shields pouted on one side of the small interview area, Crutchfield alternated between repeatedly trying to cheer her up and admonishing her for staying up late on her cellphone and then getting so upset about the words she and Hemingway exchanged leading up to the fight.
"You already beat her," he said to Shields. "You beat her to death the last fight. I wouldn't even worry about that. I wouldn't concern myself with that. But for some reason you're down and you just won the fight. You're in the Olympic trials final! How many people can say that? Two! Out of the 24 people down here, only two other people can say that! I would be jumping up and down!"
Words of encouragement had snapped Shields out of a bad mood after her previous bout Wednesday, but they didn't help Thursday. Nor did the information that Crutchfield planned to get Shields up early to work out, the first of perhaps two workouts Friday.
"You can't get lazy," Crutchfield told Shields. "You can't stay up all night on the phone."
"Why do you keep saying that? I was not up!" Shields said.
"OK, but I'm telling you, you cannot stay up," Crutchfield said. "I don't know what you're doing, I'm not there. But I see something different out there -- Don't you go nowhere! C'mon. Cheer up! You say you love boxing."
Shields has been boxing since she was 11 and is a two-time junior Olympic national champ. She has been dominant in the trials and will be the favorite to win in Saturday's final. Her fierce competitive drive was evident in how upset she was at winning by what she considered too narrow a margin. "I didn't fight my best," she said.
"She's hard on herself," Crutchfield said. "Sometimes she's a little too hard."
Plus, she's very young.
"She's 16 years old, man!" said Crutchfield, who has been training her since she started boxing. "My God! You've got to deal with the boys. You've got to deal with the ups and downs and oh, man, all around. My God, it's been hell for me. It has. I mean, whoa!"
The trials are a double-elimination competition, so Shields might be matched against Hemingway again if the latter wins Friday's match in the losers' round. But Crutchfield had a plan for getting Shields properly prepared for Saturday's final.
Her cellphone will be taken away.
Jim Caple is a senior writer for ESPN.com. He can be reached here. His website is at jimcaple.net.
SPONSORED HEADLINES
MORE OLYMPICS HEADLINES
MOST SENT STORIES ON ESPN.COM