Commentary
Six months to Sochi: Let them play
Updated:
August 7, 2013, 2:12 PM ET
By
Jim Caple
| ESPN.com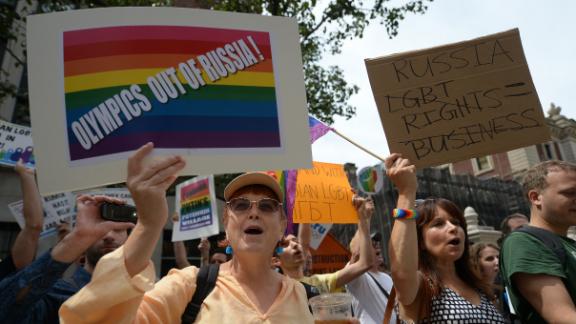 Six Months To Sochi Olympics
With six months to go before the start of the 2014 Sochi Olympics, ESPN.com's Jim Caple discusses the recent anti-gay law controversy in Russia and other major storylines surrounding the Games.
Tags:
Jim Caple
,
Sochi Olympics
,
Lindsey Vonn
,
Lolo Jones
Six Months To Sochi Olympics
The only previous time the Olympics were held on Russian soil, the United States boycotted those 1980 Summer Games to protest the Soviet Union's invasion of Afghanistan. With six months remaining before the opening ceremonies of the 2014 Winter Olympics in Sochi, Russia, some Americans are calling for another Olympic boycott.
Interestingly, these calls are coming from both the left (Tony winner Harvey Fierstein wants to boycott the Olympics due to Russia's new anti-gay laws) and the right (South Carolina Republican Sen. Lindsey Graham wants a boycott because Russia provided asylum to Edward Snowden, who leaked secrets from the National Security Agency). Regardless of their political views, both sides are wrong. The United States should not boycott the Sochi Olympics.
[+] Enlarge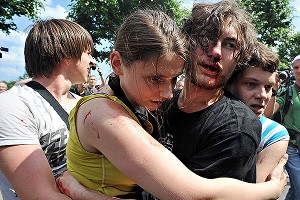 Olga Maltseva/AFP/Getty ImagesGay rights activists have clashed with anti-gay demonstrators in Russia within recent months.
Yes, the new laws banning "homosexual propaganda" violate human rights. Yes, providing asylum to Snowden is considered by some Americans to be aiding a traitor, although a sizable number of Americans applaud Snowden for revealing just how much our government was secretly spying on us. In both cases, I understand the reasoning behind the proposed boycotts. But boycotts are justified only if they can have a positive effect on the country's policy that we oppose. Olympic boycotts never do.
"Every athlete we've worked with says boycotts hurt the athletes more than anyone else," Hudson Taylor said. "It doesn't change policy -- it only hurts the people who worked their whole lives to win a gold medal."
Taylor is the founder and executive director of Athlete Ally, an organization dedicated to making sports more inclusive of everyone regardless of sexual orientation. The stated mission is to encourage "athlete allies" to combat homophobia and the bullying of lesbian, gay, bisexual and transgender (LGBT) athletes.
"The intent of an Olympic boycott is understood, but the outcome doesn't create the necessary change," Taylor said. "There are two major objectives. The first is to ensure that LGBT athletes and their fans and allies are protected from persecution at the Winter Olympics. And the second is to some way improve the situation for LGBT Russians after the Games end. A boycott does neither. It only will further galvanize the situation and make it worse.
"We are advocating that people speak out, not sit out."
Taylor is right. The 1980 U.S. boycott had no impact on the Soviet Union's actions in Afghanistan -- the Soviets stayed there for another nine years and pulled out only when their empire began to collapse. The Soviets' boycott of the 1984 Olympics in Los Angeles -- which was for little reason beyond payback for our 1980 standoff -- had absolutely no effect on us other than to increase our medal haul and raise the decibel level of "U-S-A! U-S-A!" chants at those Games.
Skipping these upcoming Olympics would only alienate and anger the very people in Russia the boycott supporters are trying to influence. It's somewhat like Dan Savage's misguided call to boycott Stolichnaya vodka, which is produced in Latvia, not Russia. The people such a boycott will hurt are not the Russians with anti-gay views but the innocent workers in what was once an oppressed Soviet republic.
The best way to influence Russia on these issues is to send our athletes to Sochi, where they can represent the United States on the world stage. If people are offended by Snowden receiving asylum in Russia, let us counter that by allowing our athletes to receive something more dramatic in Russia: gold medals. If Russian President Vladimir Putin opposes gay rights, let LGBT athletes from every nation go and beat his athletes in competition. Let them show, as Taylor says, that excellence has nothing to do with sexual orientation.
"Look at the 1968 Olympics," Taylor said. "Look at the statement Tommie Smith and John Carlos made and the action they took. That became a symbol seen around the world. The visibility that the Olympics provide gives advocates for the LGBT community a chance to let their voice be heard."
Do not boycott the 2014 Olympics in Sochi. People always make a bigger statement when they show up than when they stay home.
SPONSORED HEADLINES
MORE OLYMPICS HEADLINES
MOST SENT STORIES ON ESPN.COM