Foil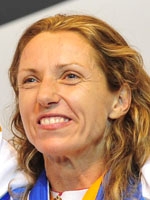 Valentina Vezzali
Date of birth

1974-02-14
Birthplace

Jesi
Height

164 cm
Weight

53.0 kg
Olympic Games (7 medals - 5 gold, 1 silver, 1 bronze)
Individual foil: 1st (2000, 2004, 2008), 2nd (1996)
Team: 1st (1996, 2000), 3rd (2008)
World Championships (21 medals - 13 gold, 4 silver, 3 bronze)
Individual: 1st (1999, 2001, 2003, 2005, 2007, 2011), 2nd (1994, 2006), 3rd (1995, 1998, 2010)
Team: 1st (1995, 1997, 1998, 2001, 2004, 2009, 2010), 2nd (1994, 2006, 2011)
European Championships (16 medals - 10 gold, 4 silver, 2 bronze)
Individual: 1st (1998, 1999, 2001, 2009, 2010), 2nd (2003, 2007, 2011), 3rd (1993)
Team: 1st (1999, 2001, 2009, 2010, 2011), 2nd (2003), 3rd (1998)
World Cup
Overall standings: 1st (1996, 1997, 1999, 2000, 2001, 2002, 2003, 2004, 2007, 2008, 2010) 2nd (1995,1998)
Fencing superstar
History could be in the making as Italian fencer Valentina Vezzali attempts to become the first woman ever to win a fourth straight Olympic title in London.
Having already claimed the foil at Sydney, Athens and Beijing, and let's not forget she won silver at Salt Lake, a fourth gold in London would put her in the exclusive company of Carl Lewis (long jump) in 1984, 1988, 1992 and 1996 and Al Oerter, discus in 1956, 1960, 1964 and 1968.
The Cobra, as she is sometimes called because of her deadly strike, will be 38-years-old at the 2012 Games and is already in possession of a trophy cabinet coming down under the weight of a medal haul that beggars belief.
Even in November 2011, just 8 months ahead of the Games, "Double V" (another of her nicknames), lifted her sixth individual world championships title.
At Beijing, Vezzali joined an elite group of women who had won three straight titles in the Soviet era gymnast Larissa Latynina (floor), and two swimmers, Australia's Dawn Fraser in the 100m freestyle and Hungary's Krisztina Egerszegi (200m backstroke).
Before regaining the world crown in Catania in 2011 she hadn't won it for four years having previously tasted glory in 2001, 2003, 2005 and 2007.
She won her first individual title at the Europeans in 1998, and has been on the podium at almost everything she entered since, be it European, World or Olympic.
Record medal haul
The significant breakthrough Vezzali richly deserved came at the Sydney Games in 2000 where she swept to the individual gold medal and four years later in Athens, she beat compatriot and teammate Giovanna Trillini in her third straight final.
Her historic third Olympic crown at Beijing saw her overcome South Korea's Nam Hyun-hee, while no other fencer has achieved a third straight crown.
A brilliant team fencer, the Italians are a match for anyone and she has been part of two Olympic winning sides and been to ten world finals, winning seven.
Her strengths lie in her intuition and inspiration and she is most at ease when forced to defend - giving her opportunities to launch merciless counter-attacks.
Going into the Games she has an astonishing 44 medals, a record, in world, European and Olympic events. She is a national hero in her homeland of Italy and has had official honors bestowed on her by the government.
Vezzali is married and has a son and has been fencing since the age of six. Quite when she will decide to stop is anyone's guess.
Results
Copyright 2012 Agence France-Presse.