Laser, Finn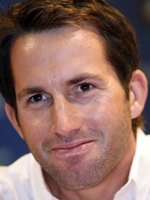 Ben Ainslie
Date of birth

1977-02-05
Birthplace

Macclesfield
Height

185 cm
Weight

92.0 kg
Olympic Games (4 medals - 3 gold, 1 silver)
Laser: 1st (2000), 2nd (1996)
Finn: 1st (2004, 2008)
World Championships (13 medals - 10 gold, 3 bronze)
Laser radial: 1st (1993)
Laser: 1st (1998, 1999), 3rd (1996, 1997, 2000)
Finn: 1st (2002, 2003, 2004, 2005, 2008, 2012)
Match racing: 1st (2010)
European Championships (11 medals - 9 gold, 1 silver, 1 bronze)
Laser radial: 1st (1993)
Laser: 1st (1996, 1998, 1999, 2000), 3rd (1997)
Finn Class: 1st (2002, 2003, 2005, 2008), 2nd (2004)
Other Honours
MBE (honour bestowed by the British monarch)
ISAF World Sailor of the Year (1998, 2002)
British Yachtsman of the Year (1995, 1999, 2000, 2002)
Britain's greatest sailor
At the London Games Ben Ainslie looks set to join legend Paul Elvstroem, the only sailor to have claimed four Olympic gold medals. The difference between the Dane and the Briton is that Elvstroam won all his titles on the Finn while Ainslie won a Laser in 2000 before switching to Finn to claim gold in Athens and Beijing.
He is widely acclaimed as Britain's greatest ever sailor, which for an island is saying something. His current dominance of the Finn class is such that it is hard to see anything stopping him at Weymouth, where the 2012 Olympic sailing events take place.
At 35-years-old he has a staggering gold medal haul of 3 Olympic, 10 world and 9 European titles.
Winning gold in the Laser class at Sydney 2000 at the age of 22, he was already a double world and quadruple European champion in the event, not to mention his Laser silver at the Atlanta Games when he was just 18.
He has since followed up on that by gaining 15 kilos for the 2004 Athens Olympics where he made a successful switch to the larger Finn class and claimed his second Olympic title.
He puts part of his success down to eating Chinese meals before racing, which set him up nicely for his third Olympic title at Beijing.
America's Cup dreams
To keep a Finn upright at over 10 knots an hour requires a heavy-set sailor. No problem.
Ainslie adopted a 4500 calorie per day diet and a rigorous weight training and aerobics fitness plan to attain a weight of 95 kilos rather than his previous 76.
He took up sailing at 8 after his parents gave him his first dinghy, "the Optimist" as a Christmas present, in which he won the junior national championship in 1988.
His versatility, talent and a winning mentality saw him employed as strategist for a New Zealand based team at the 2007 America's Cup in Valencia, where they were eventually runners up.
He has now established his own team BAR (Ben Ainslie Racing) with a view to competing in the Americas Cup on his own terms.
Suffering from chronic back pain Ainslie underwent surgery in January 2012 to be in better shape in time for the Games.
In fact after the Games Ainslie will join American team Oracle, and will go full time with them after the 2013 World Series regatta, to defend the 2013 America's Cup in San Francisco Bay.
But he warmed up for the Olympics in style by winning his tenth world title at Falmouth again in the Finn category, just two months before the showpiece event.
He can now do himself and Britain a big favour with a fourth Olympic title on home waves.
Results
Copyright 2012 Agence France-Presse.