Swimming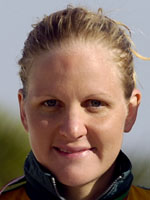 Kirsty Coventry
Date of birth

1983-09-16
Birthplace

Harare
Height

173 cm
Weight

55.0 kg
Discipline

backstroke, medley
World records

4 (200m backstroke - long course; 200m backstroke, 200m medley, 400m medley - short course) - up to 12/04/2008
Olympic Games (3 medals, 1 gold, 1 silver, 1 bronze)
100m backstroke: 2nd (2004)
200m backstroke: 1st (2004)
200m individual medley: 3rd (2004)
World Championships (6 medals - 2 gold, 4 silver)
100m backstroke: 1st (2005)
200m backstroke: 1st (2005), 2nd (2007)
200m individual medley: 2nd (2005, 2007)
400m individual medley: 2nd (2005)
World Short Course Championships (5 medals - 4 gold, 1 bronze)
100m backstroke: 1st (2008)
200m backstroke :1st (2008)
100m medley: 3rd (2008)
200m medley: 1st (2008)
400m individual medley: 1st (2008)
Coventry swims into Olympic and African record books
African Kirsty Coventry has put Zimbabwe on the sports map by giving her nation their first ever Olympic swimming gold and is targeting more at the upcoming Beijing Games.
Coventry also broke the women's 200m backstroke world record in Columbia, Missouri in February 2008 with a time of 2min 06.39sec.
At just 16, she took part at Sydney 2000 and became the first swimmer from Zimbabwe to reach the Olympic semi-finals.
Of course she didn't stop there as the backstroke and medley specialist won her first major title with a gold at the 2002 Commonwealth Games, the 200 individual medley in Manchester. She was 18.
A move to Auburn University in Alabama followed as she combined her studies with swimming in the highly competitive NCAA championships, helping Auburn to consecutive national titles in 2003 and 2004.
Despite her steady progress, few expected her to have such a dramatic influence on the Athens Games in 2004 when she burst onto the international swimming stage.
She had already broken the African record in the semi-finals of the 200m backstroke although she finished second behind Russia's Stanislava Komarova which set the stage for the race for gold.
First Olympic gold for Zimbabwe
A close race was decided down the stretch and with history beckoning, Coventry turned in a last devastating sprint to win Olympic gold just over half a second quicker than Komarova with Japan's Raiko Nakumura taking bronze.
The 100m race was also a barn burner with a high class field including American ace Natalie Coughlin and the emerging French star Laure Manaudou.
As it happened, it would be Coughlin's experience that brought her home just 13 tenths of a second ahead of Coventry with Manaudou just behind in third.
She completed her set of medals with a bronze in the 200m individual medley and returned home a hero.
It would get better one year later at the world championships in Montreal 2005.
This time, Coventry dominated the backstroke races and won both the 100m and 200m comfortably before adding silvers in the 200m and 400m medleys, which earned her the accolade of female swimmer of the meet.
Two years later however she returned from the Melbourne worlds with just a pair of silver medals in the 200m backstroke and the 200m medley.
In April 2008 at the short course worlds she was in rampant mood taking four golds and setting world records in the 200m and 400m medley and the 200m backstroke.
She will again target four medals in the Beijing pool as she tries to add to her Olympic tally when she will be 24-years-old.
Results
Copyright 2012 Agence France-Presse.