Pole Vault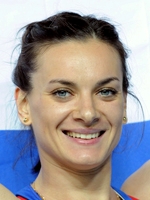 Yelena Isinbayeva
Date of birth

1982-06-03
Birthplace

Volgograd
Height

174 cm
Weight

65.0 kg
World records
Olympic Games (2 medals - 2 gold)
Pole vault: 1st (2004, 2008)
World Championships (3 medals - 2 gold, 1 bronze)
Pole vault: 1st (2005, 2007), 3rd (2003)
European Championships (2 medals - 1 gold, 1 silver)
Pole vault: 1st (2006), 2nd (2002)
World Indoor Championships (5 medals - 4 gold, 1 silver)
Pole vault: 1st (2004, 2006, 2008, 2012), 2nd (2003)
European Indoor Championships (1 medal - 1 gold)
Other Honours
IAAF Athlete of the year (2004, 2005, 2008)
First athlete to clear 5 metres (22/07/2005 at London)
Raising the bar
Pole vault beauty Yelena Isinbayeva is favourite to make it a record three straight titles at London as she looks to wind down her spectacular career with an unprecedented Olympic hat-trick.
Having taken her foot off the gas since 2008 the Russian took her tally of world records to 28 just five months ahead of the Games.
Her indoor leap of 5.01m in Stockholm on Feb. 24, 2012 was her first world record since she extended the outdoor mark to 5.06m back in 2009 at Zurich.
But Isinbayeva crashed out of the 2009 world championships without clearing a jump and a year later she settled for fourth at the world indoor championships in Doha, prompting her to take a sabbatical.
But on her return she could only clear 4.65m at the 2011 world championships, which was only good enough for a lowly sixth place, behind Brazilian winner Fabiana Murer who jumped 4.85m.
Her statistics in 2011 are far from her best and the Russian's top jump of 4.76m was only the fourth highest of the season and some way behind the American Jennifer Suhr who leaped 4.91m.
More encouraging were the world indoor championships in Istanbul March 2012, her first major tournament win since the Games in China where her winning leap was 4.80m.
Golden age
Her arrival on the main stage marked the start of a golden age of the blossoming sport as she did battle with Russian Svetlana Feofanova and 2000 Olympic champion Stacey Dragila at the top of their art.
In 2002, she won a merciless struggle with Feofanova before losing out and settling for silver in the final of the 2003 European championships behind Germany's Yvonne Buschbaum in Munich.
But six weeks ahead of the 2003 world championships in Paris, she established a new world record of 4.82m, therefore making her favourite for the world gold but could only manage third behind winner Feofanova and Germany's Annika Becker.
Unbeaten between 2004 and August 2009, she still holds the marks for the top 11 jumps ever outdoors.
She is also closing in on the incredible mark of 35 world records set by retired Ukrainian legend Serguei Bubka, who's former coach Vitali Petrov guided her over the 'mythical 5m mark' at London's Crystal Palace in July 2005.
In August 2005 she claimed her first world championships gold with ease, following that with a European gold in 2006
Ahead of the 2007 world championships at Osaka she declared herself unbeatable, a claim born out as she cruised to a second world title with just three jumps and a gold medal for 4.80m.
On top of that in the build-up to Beijing, she laid down another warning to her rivals that she was the girl to beat by breaking the world record yet again at the Golden League meeting in Rome when she cleared 5.03m.
At Beijing, Isinbayeva was as cool and fresh as she could have hoped for and set a new world record of 5.05m when claiming the gold and now London 2012 represents a greater challenge than all previous ones because off the lay off and her loss of consistency.
She does however seem to be hitting the heights just at the right moment with that latest world record in the build-up to what will be an enthralling battle in the English capital.
Results
Copyright 2012 Agence France-Presse.