Road Bicycle Racing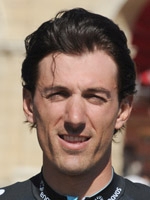 Fabian Cancellara
Date of birth

1981-03-18
Birthplace

Wohlen bei Bern
Height

186 cm
Weight

80.0 kg
Professional debut

2001
Teams

Mapei (2001-2002), Fassa Bortolo (2003-2005), CSC (2006-2008), Saxo Bank (2009-2010), Leopard (2011), RadioSchack (2012)
2012 Season
Tirreno-Adriatico (1 stage win), Strade Bianche
Tour de France
7 stage wins (1 in 2004, 2 in 2007, 1 in 2008 - Stefan Schumacher, winner of the 20th stage, disqualified for doping, 1 in 2009, 2 in 2010)
Tour of Spain
2 stage wins (2009)
World Championships (6 medals: 4 gold, 2 bronze)
Time-trial : 1st (2006, 2007, 2009, 2010), 3rd (2005, 2011)
Olympic Games (2 medals - 1 gold, 1 silver)
Road Race : 2nd (2008)
Time-Trial: 1st (2008)
Classics (World Cup)
Milan-Sanremo (2008), Paris-Roubaix (2006, 2010)
Other victories
Tour of Flanders (2010), E3 GP (2010, 2011), Tour of Oman (2010), Swiss road race championship (2009, 2011), Tour of Switzerland (2009), Tirreno-Adriatico (2008), Eroica (2008), Tour of Denmark (2006), Erik Breukink GP (2002), Eddy Merckx GP (2002), Swiss time-trial Championship (2002, 2004, 2005, 2006, 2007, 2008), Tour of Rhodes (2001, 2002)
The Swiss time-machine
Fabian Cancellara is the master of the time-trial in which he owns a record four world titles and is also the defending Olympic champion going into the 2012 London Games.
Known as 'Spartacus' by his peers because of his unrelenting style in races against the clock and some of cycling's toughest one-day classics, he was born in Bern in 1981 and turned professional in 2001 after twice winning the junior world time-trial title in 1998 and 1999.
He wore the colours of the Mapei team in 2001 and 2002 before joining Italian outfit Fassa Bortolo (2003-2005), where he was lead-in man for former sprint king Alessandro Petacchi.
In 2006, he made the switch to Danish team CSC with whom he won the hellish Paris-Roubaix. Two years later, Cancellara was still racking up wins, taking the Milan-San Remo and the Tirreno-Adriatico.
Winner of his second Paris-Roubaix classic in 2010 this time riding for the Saxo Bank team. He also won the Tour of Flanders one week earlier for another victory and was so far ahead of the field that he was even suspected of using a motorised bike.
"The motor is in my body," he retorted.
A good one day racer, Cancellara remains the king of the time-trial with four world titles (2006, 2007, 2009, 2010), four victories in the Tour de France prologue (2004, 2007...in London, 2009, 2010) and he has also worn the fabled yellow tunic as race leader for a total of 21 days between 2004 and 2010.
And that is just to mention his most notable victories during a career in which he is also chasing the world record over one hour.
Spartacus at the Games
"I am like a Swiss clock," he once joked. I know how to race against the clock and like all Swiss, I have a hard head, very hard".
He has an Italian mother and Swiss-German father and discovered cycling at the age of 13 after falling in love with an old family bike that he found in the garage.
"It completely changed my life. I suddenly realised that I had been closed off in a restraining box and that nature had suddenly opened my eyes to new aspirations. So I threw myself and my body into road racing. The scenic Swiss mountain roads are the most beautiful in the world".
Eight years ago at the Athens Games, he finished 10th, a distant 2min 10secs behind American winner Tyler Hamilton, who later tested positive for doping.
But Cancellara had an outright field day in Beijing 2008, racing to both gold in the time-trial and silver in the road race (promoted from bronze after Davide Rebellin failed a dope test).
Now at 31-years-old, the Swiss master believes he can successfully defend his time-trial crown in London but he can expect a stiff challenge from the likes of young German ace Tony Martin who disposed Cancellara of his world title in 2011 at Copenhagen where he had to settle for bronze.
Results
Copyright 2012 Agence France-Presse.