60m Hurdles, 110m Hurdles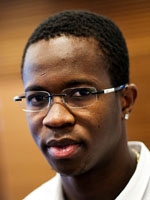 Dayron Robles
Date of birth

1986-11-19
Birthplace

Guantanamo
Height

190 cm
Weight

80.0 kg
World record

1 (110m hurdles) - up to 12/06/2008
Olympic Games (1 medal - 1 gold)
World Indoor Championships (2 medals - 1 gold - 1 silver)
60m hurdles: 1st (2010), 2nd (2006)
Showdown
World record holder and reigning Olympic 110m hurdles champion Dayron Robles would look a great bet to retain his title in London were it not for a niggling series of injuries that have held the Cuban in check.
At 21, Robles set a new world record of 12.87sec at Ostrava, just a hundredth of a second faster than 2004 Olympic champion China's Liu Xiang, setting pulses racing for a clash of the titans at the 2008 Beijing Games.
Liu's status as a national hero in China raised the profile of the Olympic final, from which he dramatically withdrew at the last minute, leaving the Cuban, sporting oversized gold jewelry, to cruise to victory by a wide margin.
Humble start
Robles was born in November 1986 at Guantanamo and benefited from training with 2000 Olympic champion Anier Garcia while his own uncle, Eulogio Robles, was a major figure in Cuban hurdling back in the 1970's.
As a youngster, Dayron first took to athletics at age 10 where his first adventures saw him favour the high jump, but by 13 his course was firmly fixed on the ten hurdles that make up this sprint event.
Years of hard training finally bore fruit at the 2004 world youth championships where he took a silver medal and confirmed his talent on the big stage.
A year later Robles was competing against the senior men, and made it as far as the semi-finals of the 2005 world championships in Helsinki.
Flat-footed
Robles is actually flat-footed, and needs specially fashioned insoles in his shoes to compensate, and this apparently makes him prone to injury.
Shortly after his 2008 Olympic success he hurt an ankle. Then in early 2009 he suffered a left thigh strain that persisted through to the Berlin world championships and forced him to pull out at the semi-final stage.
Yet the sheer power and grace of Robles hurdling style saw him win the 60m indoor world title at Doha 2010 despite going there on the back of a six-month lay off.
But the shoe problem was soon to strike again, this time provoking a groin strain. Other minor complaints bedeviled him all the way through to the Daegu world championships in 2011.
Robles sheer turn of pace after the last hurdle saw him cross the line first in the final, only for an infringement on that final hurdle against Liu, saw him disqualified. The decision handed gold to dreadlocked American Jason Richardson.
So London looks set to stage another real showdown, hopefully one where Robles will be given a sterner test then four years ago.
Results
Copyright 2012 Agence France-Presse.