Road, Track And Cyclo-cross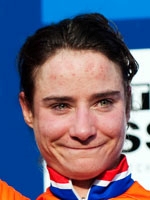 Marianne Vos
Date of birth

1987-05-13
Birthplace

's-Hertogenbosch
Height

168 cm
Weight

57.0 kg
Olympic Games (1 medal - 1 gold)
World Road Racing Championships (6 medals - 1 gold, 5 silver)
Road race: 1st (2006), 2nd (2007, 2008, 2009, 2010, 2011)
World Track Cycling Championships (2 medals - 2 gold)
Scratch: 1st (2011)
Points race : 1st (2008)
World Cyclo-cross Championships (5 medals - 5 gold)
1st (2006, 2009, 2010, 2011, 2012)
Other victories

World Cup (2007, 2009, 2010), Alfredo Binda Trophy (2009, 2010)
Multi-talented Voss chases more Olympic glory
Road racing, track cycling or cyclo-cross, Dutch superwoman Marianne Vos goes to the London Games at the age of 25 targetting more glory to add to what has already been a staggering career.
The first world road race champion (2006), track champion (points in 2008, scratch in 2011) and cyclo-cross winner (5 world titles), she has the chance to add to her Olympic points gold medal won in Beijing when she will be one of the hot favourites at the London Velodrome when the riders hit the track.
This time out, she will hope to put behind her the disappointment of finishing sixth in the Olympic road race in China and 14th in the individual time-trial, two events in which she has realistic ambitions of picking up a medal in the English capital.
She also wants to correct her record of five straight silver medals in the world championship road race since she won her solitary world crown in the discipline back in 2006.
In her favour is the fact that the 2012 event takes place in her native country of the Netherlands.
Her true rise to the top of the sport was during the 2008 season when she decided to compete at the cyclo-cross championships on a whim, and then walked away with the gold medal.
Remarkably, Vos had not even planned to compete at the Manchester track world championships because she was bang in the middle of preparing for the upcoming road cycling season.
"I didn't even want to come here. I'm right in the middle of training in Spain for the road season," said Vos at the time. "But now I have won this jersey, I am certainly not going to complain."
A rider with few rivals
Heavily involved in humanitarian aid for children in Sri Lanka, her record in cyclo-cross is equally impressive with five world titles (2006, 2009, 2010, 2011, 2012) and a unique list of honours in road racing.
The Dutch ace won the Tour of Italy (2011), the Fleche Wallone (2007, 2008, 2009, 2011), the Alfredo Binda Trophy (2009, 2010) and a stack of Dutch titles for one of the most unique achievements in all of sport.
She was born in 's-Hertogenbosch in May 1987 and was keen on a range of sports from a very early age taking the lead from her older brother and going on to European championship and world junior title as a youngster.
A solid all-rounder, she has also tried her hand at speed skating and roller blading before switching to cyclo-cross at 14.
Now an accomplished global star, the London Olympics provides her with another fabulous opportunity to write a fresh chapter in what has already been a golden book of titles.
Results
Copyright 2012 Agence France-Presse.