Chris Hoy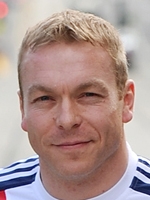 Chris Hoy
Date of birth

1976-03-23
Birthplace

Edimbourg (Scotland)
Height

186 cm
Weight

92.0 kg
World records
Olympic Games (5 medals - 4 gold, 1 silver)
Keirin: 1st (2008)
Sprint: 1st (2008)
Team sprint: 1st (2008), 2nd (2000)
Kilometer: 1st (2004)
World Championships (25 medals - 11 gold, 8 silver, 6 bronze)
Sprint: 1st (2008), 2nd (2010, 2011), 3rd (2012)
Team sprint: 1st (2002, 2005), 2nd (1999, 2000, 2006, 2007, 2008, 2011), 3rd (2001, 2003, 2004, 2010)
Kilometer: 1st (2002, 2004, 2006, 2007), 3e (2005)
Keirin: 1st (2007, 2008, 2010, 2012)
The Flying Scotsman
The thundering thighs of Sir Chris Hoy have powered the Scotsman to the unique feat of being the first track cyclist to have won four Olympic gold medals and world titles in all four sprint events while his 23 world medals make him a global colossus.
Now 36, the London Olympics will be his swansong and the knighthood bestowed on him by Queen Elizabeth II in 2009 reflects what he has achieved in a truly glittering career.
His build-up to the Games has been mediocre by his ultra-high standards and he was beaten by compatriot Jason Kenny in the sprint semi-finals of the 2011 world championships and second in the kierin.
Three gold medals at the Beijing Games is a record and although he is capable of challenging in the sprint and kierin races, arguably his best chance for another gold in London is as part of the defending champion British sprint team.
He is also the first man to win all four sprint titles at the world championships and completed his set of team sprint, kierin, the kilometre race and individual sprint titles with the latter finally won in 2008 at Manchester.
His tally of 23 world medals, including 10 gold is also a record that will take some beating.
Brit Grit
Hoy began competitive cycling at just seven-years-old and was once Scottish champion. He was also a British junior rowing silver medallist in the coxless pairs and a handy rugby union schools player.
By the time he turned 18, he was a member of the renowned Edinburgh track club and a member of Britain's national squad two years later in 1996.
A veritable flood of medals has followed. The first was a silver in the 1999 world team pursuit, followed by an Olympic silver at Sydney 2000 in the same event.
He went to the Athens Games in 2004 as world kilometre champion and added the Olympic crown in a world record time.
Hoy moved over to keirin in 2007, where he immediately won a world gold, and sprint in 2008 where he surpassed his expectations of a top-four finish by snatching the world title.
Then came the Beijing Games and his finest hour as his speed and power propelled Hoy to three gold medals and ultimately the prize of Sportsman of the year in Great Britain, just ahead of his knighthood.
He will be an ambassador for the London Games and another tribute to the Scotsman is that the venue set to host the track cycling competition for the 2014 Commonwealth Games in Glasgow is named the Sir Chris Hoy velodrome.
But first there is the little affair of the Olympics where Hoy will hope to crown a career that will already go down in history as one of the greatest ever.
Results
Track Cycling - Men's Keirin Cycling - Track
1
Men's Keirin, Final 1-6
10.306
Men's Keirin, 2nd Round
1
Men's Keirin, 2nd Round, Heat 1
10.354
Men's Keirin
1
Men's Keirin, 1st Round
Q
1
Men's Keirin, 1st Round, Heat 1
10.177
Track Cycling - Men's Team Sprint Cycling - Track
1
Men's Team Sprint, Final 1-2
42.600, Olympic Record, World Record
1
Men's Team Sprint, 1st Round, Heat 4
42.747
1
Men's Team Sprint, 1st Round
42.747
1
Men's Team Sprint, Qualification, Heat 5
43.065, Olympic Record
Men's Team Sprint
42.600
1
Men's Team Sprint, Qualification
43.065
Copyright 2012 Agence France-Presse.