Commentary
U.S. shuts down Canadian stars
Heavy-blanket defense from Catchings, McCoughtry is key in quarterfinal win
Quick-hit thoughts about Team USA's 91-48 quarterfinal victory over Canada on Tuesday:
What happened: The Canadians' game plan of eating up chunks of time on the clock and slowing down games with a deliberate offense really is smart given their personnel. It just didn't make any difference against the Americans, who were more than ready to put the clamps on Canada's top scoring threats.
When Kim Smith and Shona Thorburn were teammates at Utah, they came within one game of the 2006 Final Four, losing to eventual NCAA champ Maryland in the Elite Eight. They've played in the WNBA and professionally overseas, so they're very experienced with going against high-level defense.
[+] Enlarge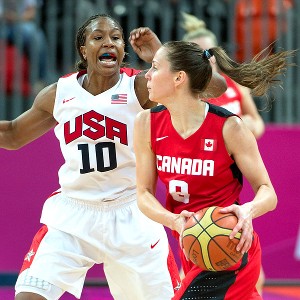 Harry E. Walker/Getty ImagesOnly two Canadian players scored in double figures against Tamika Catchings and the U.S. defense.
But when you have the likes of Tamika Catchings and Angel McCoughtry keying on you, it's hard to even see daylight. Smith finished with 13 points, never getting to the foul line. Thorburn had more turnovers (three) than points (two).
Nebraska alum Chelsea Aubry (10 points) was the only Canadian player besides Smith to score in double figures. Canada stuck to its Princeton offense strategy, but even a group of the Ivy League's biggest brains wouldn't be able to solve the problem of trying to beat Team USA.
But Canada can feel good about making the Olympic field, getting out of pool play, and the gradual growth of its national team after many years of neglect. The hoops players can look to the likes of their ice hockey and soccer teams as continuing inspiration for the overall improvement of Canadian women's athletic programs.
Meanwhile, Team USA appears as focused as ever, and that's exactly what coach Geno Auriemma wants from his team now.
What it means: Team USA moves on to the semifinals and continues to play terrific team ball that emphasizes not giving away possessions. Even once they have their seemingly inevitable big leads, the Americans work to maximize their opportunities. They had 29 assists to 10 turnovers in this game, making their assist-to-turnover ratio for the tournament 147 to 87.
Play of the game: There was that lovely Lynx linkup late in the game: point guard Lindsay Whalen lofting a lob pass to the acrobatic Maya Moore, who glided through the air and made a tough shot look easy. Fans back in Minnesota look forward to more of that when the WNBA season restarts after the Olympics.
Player of the game: Candace Parker has come off the bench for three games, and she has responded the way Auriemma hoped she would. Against Canada, she had 12 points, 7 rebounds and 3 assists. Her rebounding could be particularly important in the semifinals for Team USA.
By the numbers: These are games where it can be easy to forget and/or take for granted Team USA's point guards, Sue Bird and Whalen. But certainly their teammates don't do that. Bird and Whalen combined for seven assists and no turnovers against Canada. … Along with her heavy-blanket defense, Catchings had nine points and six rebounds. … It was a quiet game inside for Tina Charles (two points in just less than 12 minutes on court), but Sylvia Fowles was very productive on the low block with 12 points in 8½ minutes of play. … Diana Taurasi continues to have the hot hand as a tone setter for Team USA; she had a game-high 15 points.
espnW.com
Mechelle Voepel joined ESPN.com in 1996 and covers women's college hoops, the WNBA, the LPGA, and additional collegiate sports for espnW.
W @ The Games

Julie Foudy

Bloody Brilliant Blog!

Can we just call London, The Women's Games?
Truly inspired

Jenny Fletcher is reminded of what's really important.
Jackie MacMullan

So, what now?

What's next for Games' biggest female stars?
MOST SENT STORIES ON ESPN.COM