U.S. spots decided at diving trials
Updated:
June 22, 2012, 3:54 AM ET
Associated Press
FEDERAL WAY, Wash. -- Abby Johnston and Kelci Bryant are going to the London Olympics.
Just barely.
They earned the first two spots on the U.S. diving team with a narrow victory in the 3-meter springboard synchro final Thursday night, giving Johnston her first trip to the Olympics and Bryant her second.
"I'm in shock," said Johnston, a Duke student whose previous biggest meet was last year's world championships in Shanghai. "I couldn't stop looking at the scoreboard to make sure that it's real."
[+] Enlarge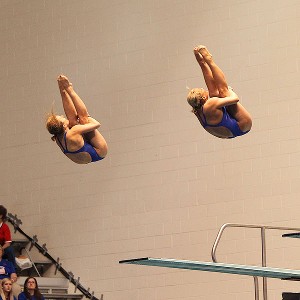 Otto Greule Jr/Getty ImagesAbby Johnston (L) and Kelci Bryant complete their final dive during the 2012 U.S. Olympic Team Trials.
Johnston and Bryant totaled 956.40 points in the final, with scores having carried over from the semifinal and preliminary rounds earlier in the week. Kassidy Cook and 2008 Olympian Christina Loukas finished second with 955.98 despite outscoring the winners in every round of the final. Only the winning team goes to the games.
"This is going to help us going into London, being in that high-pressure situation," Bryant said.
On the men's side, Nick McCrory and David Boudia also cruised to the 10-meter platform synchro title and spots on the Olympic team, totaling 1,387.66 points in the final. Toby Stanley and Steele Johnson finished second at 1,207.08.
Johnston and Bryant survived the tight final in which they never led by more than six points. Just two points separated them from Cook and Loukas over the final three dives.
Amanda Burke and Summer Allman finished third at 806.10.
Cook and Loukas included a tougher dive in their list than Johnston and Bryant. They totaled 67.89 points for a forward 3½ somersault pike, which carries a 3.1 degree of difficulty. Johnston and Bryant's highest DD was 3.0.
Cook and Loukas dived just in front of Johnston and Bryant. They scored 78.30 on their final dive, earning mostly 8.0s for execution and 9.0s for synchronization on a forward 2½ somersault with 1 twist pike. That gave Cook and Loukas the lead by 76.98 points.
Johnston didn't listen to the scores for Cook and Loukas before she and Bryant climbed the ladders to the boards.
"I totally looked at the scoreboard," Bryant admitted. "Then I heard their scores and I was like, `Well, here it goes.' Then I just told myself not to think."
Johnston and Bryant walked onto the boards needing to pull off their backward 2½ somersault to win.
"I knew we had to do a good dive or we wouldn't be going to London, and that just added to the magic of it all," Johnston said.
They did it.
Johnston and Bryant scored 77.40, receiving 8.0s for execution and 9.0s for synchronization, and clinching trips to London by 0.42 points.
Cook was left in tears on the deck.
"We're devastated," Loukas said in a statement to USA Diving. "Kass and I fought to the end and I'm happy we could put the pressure on them. They handled it well and they deserve to go."
Deidre Freeman and Veronica Rydze were fourth and Carrie Dragland and Bianca Alvarez were fifth in the eight-team final.
McCrory and Boudia completed a wire-to-wire victory after having led the semifinal and preliminary rounds. McCrory, a Duke student, and Boudia, who attends Purdue, did the two toughest dives of the final, with none of the other seven teams attempting anything close to their degree of difficulty.
"We got really high hopes for London," said McCrory, who will go head-to-head with Boudia in Saturday's individual platform final.
They earned three perfect 10s in the six-dive final, including two on their third dive, an inward 3½ somersault that got one perfect mark for execution and another for synchronization.
Knowing they already had the Olympics in the bag, Boudia said it was still a challenge.
"You got to control your mind," he said.
McCrory and Boudia did a forward 4½ somersaults that carried a 3.7 degree of difficulty and finished with a back 2½ somersaults with 2½ twists worth 3.6 DD.
Stanley and Johnson knew they couldn't challenge the more experienced McCrory and Boudia, who dove together at last year's world championships in Shanghai.
"Our name is out there now," Stanley said. "They'll be looking for us in 2016."
After the final, Boudia continued a tradition of passing his ring with the five Olympic rings to McCrory, a first-time Olympian. Boudia will get another one from the U.S. Olympic Committee for making his second games.
"I finally reached my lifetime goal," McCrory said.
Boudia spoke like the confident veteran he is, having finished fifth on synchro platform and 10th on individual platform four years ago in Beijing.
"This is just step one of our goals," he said. "We have a lot of hard work to do in the next four or five weeks."
Stanley and Johnson were second at 1,207.08, but only the winning synchro teams earn berths in next month's London Games.
"I knew 2012 would be really hard because they're just such amazing divers," Johnson said. "But we'll train hard the next four years and we'll hopefully become an international factor."
Johnson and his other partner, Dashiell Enos, finished third at 1,170.12. Enos finished fifth with his other partner Mark Murdock. Divers were allowed to compete with different partners in an attempt to increase their chances of making the Olympic team.

Copyright 2012 by The Associated Press
SPONSORED HEADLINES
MORE OLYMPICS HEADLINES
MOST SENT STORIES ON ESPN.COM