Commentary
Gold standard set for gymnasts
SAN JOSE, Calif. -- There were no surprises on the U.S. Olympic gymnastics team, named Sunday night after two days of trials competition. Even national team coordinator Martha Karolyi, head of the selection committee that decided the five members, said she has had this team in mind for "at least a couple of months."
Karolyi also said it was her ideal lineup, and though she didn't want to declare it a gold-medal team, the five women -- Gabby Douglas, Jordyn Wieber, Aly Raisman, McKayla Maroney and Kyla Ross -- were not afraid to talk about winning Olympic gold.
[+] Enlarge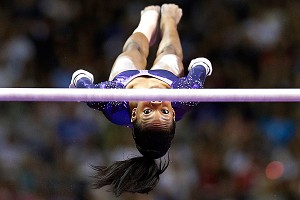 AP Photo/Jae C. HongGabby Douglas recovered from a couple slips on bars to claim the only guaranteed spot on the Olympic team.
Each gymnast said it was the priority for the Games, with Wieber summing it up succinctly: "If we keep working hard in the gym, this team has so much potential and we can definitely come out with the team gold."
Team USA is the favorite to win, for sure. Here's what makes the team so good:
Experience. The U.S. is the reigning world champion -- and won gold in a blowout at worlds, by four points over Russia. The only Olympic team member not on that team was Ross, a two-time junior national champ who wasn't age-eligible last year. The rest of the gymnasts have been there before, and have that winning memory to rely on in London.
Competitive grit. It goes hand in hand with experience, but this team is made up of gymnasts with a very strong mental game. Wieber is well known for her focus and ability to hit under pressure, and Raisman and Ross have been consistent in competition all year. Douglas has been steadily improving in this department as well. She had a minor error each night on bars, but fought through both times. In the past, she might have fallen off the equipment.
After the competition, Karolyi said she was pleased with how few mistakes had been made.
"With this arena, with the noise, it's just like the Olympic Games. Anyone who can handle this will be able to handle what's happening there. And they did."
Douglas and Wieber. Wieber was the 2011 all-around world champion, and yet Douglas beat her Sunday, by a razor-thin margin. It's safe to say Wieber and Douglas are two of the top all-arounders in the world. They'll be immensely valuable during team finals, and then will battle each other for the individual all-around gold. Karolyi loves the rivalry, calling it a "win-win situation" and saying they'll push each other to be the best every day until London.
Vault. The U.S. is by far the strongest vaulting country in the world -- so good, in fact, that Karolyi left 2010 vault world champion Alicia Sacramone off the team because she had enough high-scoring vaulters already. McKayla Maroney is widely regarded as a lock to win the event. She said after the team announcement, "The vault gold medal is why [the selection committee] picked me for the team. It's definitely my goal, and I need to do that for them."
Even beyond Maroney, every other member of the team can throw the Amanar, the hardest vault being done in women's competition right now.
The few weaknesses:
Bars. The only event in which the Americans are relatively thin is the uneven bars. The team is led by Douglas, whom Karolyi feels is the best in the world on that event, with Ross and Wieber rounding out the bar lineup. Though Wieber usually names bars as her weakest event, Karolyi said she feels that Wieber has improved significantly in recent meets.
"I am pleased with Jordyn's bar routines -- they keep getting better and better," Karolyi said Sunday.
With only three strong bar workers, the team has planned ahead, naming Anna Li, a fantastic bar specialist, as one of the alternates, and Elizabeth Price, an up-and-comer who earned just .05 less than Wieber on Sunday, as another alternate.
The jinx. The U.S. team won worlds in 2003 and 2007 before earning team silver at the Olympics one year later. In both Athens and Beijing, the Americans had several last-minute injuries that contributed to the silver medal performances. If the athletes can stay healthy, this may be the year the Americans finally follow up world gold with Olympic gold.
Editor, espnW.com
Amy Van Deusen is an editor at espnW. A former Division I collegiate gymnast, Van Deusen was also a contributor for International Gymnast magazine and is the editor of About.com Gymnastics.
SPONSORED HEADLINES
MORE OLYMPICS HEADLINES
MOST SENT STORIES ON ESPN.COM
W @ The Games

Julie Foudy

Bloody Brilliant Blog!

Can we just call London, The Women's Games?
Truly inspired

Jenny Fletcher is reminded of what's really important.
Jackie MacMullan

So, what now?

What's next for Games' biggest female stars?