Commentary
No tarnish on Coughlin's bronze
LONDON -- Teri McKeever had to make the call, and it wasn't easy.
The U.S women's 4 x 100-meter relay team qualified for Saturday night's final with a lineup that included 11-time Olympic medalist Natalie Coughlin, who has been trained by McKeever for 12 years at the University of California, first as a collegiate swimmer, then as a club athlete.
But the event -- as the candid McKeever told reporters a few days ago -- wasn't a strong one for the Americans, and if they were going to medal, there was no room for sentiment in selecting the final four.
[+] Enlarge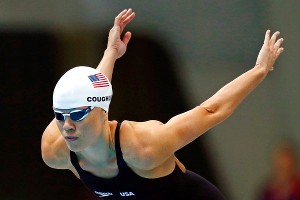 Rob Schumacher/USA TODAY SportsNatalie Coughlin gets ready for her leg of the 4x100 freestyle relay during Saturday's preliminaries.
"You have to look at the relay exchanges, and the two fastest were Lia [Neal] and Allison [Schmitt]," McKeever said after the U.S. women won bronze behind Australia and the Netherlands. "We took that into consideration.''
Coughlin's illustrious experience was weighed, too, and there is no escaping the subtext that she is a widely admired team leader.
"We all gave our opinions, there was much discussion, and it was not unanimous,'' McKeever said. As tough as it was on a personal level, "As head coach, I think I made the right decision.''
Coughlin spoke to reporters briefly after the final and was her usual composed, low-key self.
"I was a little bit disappointed because I tend to get better as the meet progresses,'' she said. "I don't envy the coaches, what they had to go through this morning. They really weighed the decision. I think they made a good one. I'm very, very happy for the four girls that swam tonight. They did an amazing job.
"I really have no idea what to think of it so far,'' she said of the medal, which will be shared by six women -- Coughlin and Amanda Weir, who swam in the morning preliminary heat, in addition to evening finalists Missy Franklin, Jessica Hardy, Neal and Schmitt.
"I'll have to let that one sit and I'll have to take it all in. I'm very proud of it."
[+] Enlarge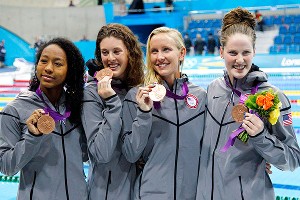 Rob Schumacher/US PresswireThe American 4x100 freestyle relay team (left to right), Lia Neal, Allison Schmitt, Jessica Hardy and Missy Franklin, pose with their bronze medals.
Relay medals are awarded to all swimmers in the event regardless of whether they raced in preliminary heats or finals or both, and thus Coughlin earned her 12th medal -- tying her with Dara Torres and Jenny Thompson for most decorated U.S. female Olympian.
In a symbolic crossing of paths, what could be Coughlin's last Olympic medal is also the first for 17-year-old wunderkind Franklin.
Franklin led off Saturday night.
"It's really weird having a first race be a final,'' Franklin said. "I'm not used to that. But it was so exciting and so much fun.''
She split a 53.52, a start McKeever said was key.
"We had to get out there and get in front to be competitive,'' the coach said. "The future is now. Let's do it.''
The 29-year-old Coughlin, who will devote the rest of this Olympics to her role as co-captain, hasn't shut the door on continuing to compete.
"Everyone assumed I was going to be done, but I've never said that,'' she said earlier this week. "The hardest part is the day-to-day training, and that's always been my favorite part, so I might as well do it as my job. I'll continue to work out.''
Olympics
Bonnie D. Ford covers Olympic sports for ESPN.com.
SPONSORED HEADLINES
MORE OLYMPICS HEADLINES
MOST SENT STORIES ON ESPN.COM
W @ The Games

Julie Foudy

Bloody Brilliant Blog!

Can we just call London, The Women's Games?
Truly inspired

Jenny Fletcher is reminded of what's really important.
Jackie MacMullan

So, what now?

What's next for Games' biggest female stars?