Commentary
U.S. women are unstoppable
Updated:
August 1, 2012, 9:19 PM ET
By
Julie Foudy
| espnW
LONDON -- With a 1-0 win over North Korea on Tuesday night, the U.S. women's soccer team took the full nine points in group play and next faces New Zealand in the quarterfinals. And right now, I do not see a team in this tournament that can stop the U.S. from winning gold in London.
Yes, not even Team Great Britain, which is riding such a wave of support here right now. The women played in front of more than 70,000 fans at Wembley on Tuesday night and beat Brazil 1-0 to remain undefeated at the Olympics. And even though the team has yet to concede a goal and is playing with a nation (or four nations) behind it, I still think Team GB is a few players shy of being an Olympic champion. Don't get me wrong, I like the team a lot and will always revere Kelly Smith as one of the greatest ever to play, but knocking off the United States in the semifinals would be a large task.
[+] Enlarge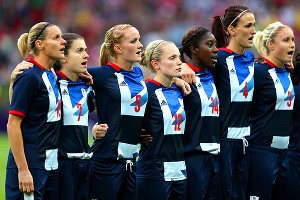 Julian Finney/Getty ImagesKelly Smith, far left, has her Great Britain team in the quarterfinals without giving up a goal, but the U.S. should be too much even for the home team.
Another team in line waiting to dethrone the two-time defending Olympic champion U.S. team is, of course, Brazil. And yes, the Brazilians have Marta and Cristiane, but they just don't have enough on the defensive end (nor on the organizational side) to pull it off. What they do have is a seething desire to make things "right" for Marta, a five-time world player of the year who has yet to win an Olympics or World Cup.
The Japanese have World Cup MVP Homare Sawa and star midfielder Aya Miyama, but I just don't think they have the physical presence to repeat as world champions. Unless they are saving their swagger for a knockout round, similar to the Women's World Cup of last summer (where they unleashed a lifetime supply of swagger), Japan is not going to be able to pull off another knockout-stage run.
The Swedes are good, yes, but again, there are just too many gaps in my opinion. The team that best matches up against the U.S. is sitting at home watching this all unfold on German television. In fact, the Germans are still wondering how they let a World Cup slip away in the quarterfinal phase last summer. And with it, the chance at Olympic glory.
Thank goodness life sometimes gives us early lessons that inflict little damage. Hence I think it only appropriate that the U.S. women say, "Merci, France."
Those lessons allow you to learn, grow, move on and not have permanent nightmares about the experience (read: 2000 Olympics).
In its opening Olympic match, the U.S. team's four-goal reaction to France's early two-goal lead wasn't so much a confidence booster (the U.S. already knows it has a strong team), but it was simply a timely reaffirmation. A reaffirmation that when things go a bit wobbly (must say with a British accent for full effect), as will happen in big tournaments, the team has the ability to not just survive, but thrive, in those precious moments.
Because in the end, wobbly is what makes sports wonderful.
Contributor, espnW.com
During her stellar 17 years on the U.S. national soccer team, Julie Foudy won two World Cups and three Olympic medals (two gold, one silver). Foudy captained the national team for 13 years. A 2007 inductee into the U.S. National Soccer Hall of Fame, Foudy now works as an analyst for ABC/ESPN. She is also director of the Julie Foudy Sports Leadership Academies, a motivational speaker, and proud mother of Isabel and Declan.
SPONSORED HEADLINES
MORE OLYMPICS HEADLINES
MOST SENT STORIES ON ESPN.COM
W @ The Games

Julie Foudy

Bloody Brilliant Blog!

Can we just call London, The Women's Games?
Truly inspired

Jenny Fletcher is reminded of what's really important.
Jackie MacMullan

So, what now?

What's next for Games' biggest female stars?