Commentary
Bloody Brilliant Blog, Part II
Updated:
August 5, 2012, 11:44 AM ET
By
Julie Foudy
| espnW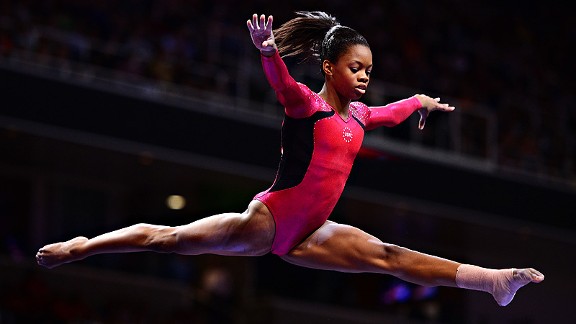 Kyle Terada/US PresswireHere's Gabby, but imagine Ms. Foudy leeeeaping into the Tube!
LONDON -- It is time for more of my observations from the Olympics in Part II of My Self-Professed Bloody Brilliant Blog (and you know you want to read Part I again!):
6. Tube-catching
Catching Underground trains should be an Olympic sport because I may come out of retirement for this one. I have mastered the
Mind The Gap
jump, Gabby Douglas-style, fearlessly floating between two rapidly closing Tube doors. Full disclosure: I have lost items of clothing in the process of getting devoured by those
vicious
doors), but half-naked Tube riding is all the rage.
7. Camera shy versus jogging shy
I've discovered that Britons will dance in front of the camera, use silly American accents in front of the camera and willingly assist you with anything you need, but
will not
say hello while jogging. If you say hello, a blank, completely perplexed look will ensue. Surely, they are thinking, "Why in the world is that bloody friendly American saying
good morning
to me?" I actually started a tally on my run Saturday: I went 2.5-for-20 -- out of 20 attempts, I received two angry hellos and one grunt (the half point).
8. Um, hello ...
Olympic tickets are about as hard to come by here as a good doughnut. Both of which I am not happy about.
9. Pin me?!
I've tried desperately to get into this whole pin-trading rage at the Olympics. I never quite got it as an Olympian, but now, I initiated a pin-trade competition with my friend Summer Sanders (a four-time Olympic medalist in swimming and self-professed pin-head) to see if I could suddenly be converted. I'm happy to report I am not buying a foam-covered fish tackle box for my pins (Summer actually admitted she has one, bless her), nor did the addiction spread to my powder-pink pin vest (thankfully). Sorry, Summer (and all the other pin addicts out there).
10. The search continues ...
I am also sad to report that my story on
the
Perfect Pub seems to be taking longer than expected. So, with journalistic pride, I courageously march on, making sure no pub is left unturned in this hard-hitting journalistic masterpiece.
It is during these moments that I thank my parents for convincing me not to become a doctor.
Contributor, espnW.com
During her stellar 17 years on the U.S. national soccer team, Julie Foudy won two World Cups and three Olympic medals (two gold, one silver). Foudy captained the national team for 13 years. A 2007 inductee into the U.S. National Soccer Hall of Fame, Foudy now works as an analyst for ABC/ESPN. She is also director of the Julie Foudy Sports Leadership Academies, a motivational speaker, and proud mother of Isabel and Declan.
SPONSORED HEADLINES
MORE OLYMPICS HEADLINES
MOST SENT STORIES ON ESPN.COM
W @ The Games

Julie Foudy

Bloody Brilliant Blog!

Can we just call London, The Women's Games?
Truly inspired

Jenny Fletcher is reminded of what's really important.
Jackie MacMullan

So, what now?

What's next for Games' biggest female stars?