Commentary
Team USA wins fifth straight gold
Quick-hit thoughts about Team USA's 86-50 gold-medal victory over France on Saturday:
What happened: Just like an early-round upset in the NCAA tournament sometimes creates a very anticlimactic matchup in a later round, France's overtime victory against Australia in pool play ended up making for a snoozer of an Olympic gold-medal game in women's basketball.
[+] Enlarge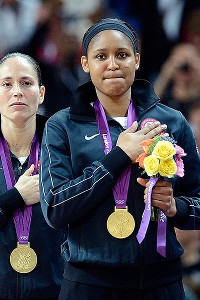 Richard Mackson/USA TODAY/SportsSue Bird and Maya Moore helped the U.S. women win their 41st consecutive Olympics game.
The only team that gave Team USA a legitimate scare was Australia -- and the Aussies still lost their semifinal contest 86-73 to the Americans on Thursday. Against the French on Saturday, the Americans scored the same amount of points as they did in the semifinal, but were even more punishing on defense. (You also can say the Aussies had a couple more high-level weapons to counter the U.S. women than France did.)
If Australia had won Group B and made it to the Olympic final, there might not have been quite the air of inevitability that there was as Team USA faced France, a nation that had never before medaled in Olympic women's basketball.
But would that have made any difference in the end result of the United States' winning a fifth consecutive gold medal? No. The Aussies gave it their best shot in the semis against the Americans, and actually led at halftime. But once the U.S. women took control of that game in the third quarter, there was no looking back.
It didn't take that long for the Americans to be in full control versus the French. Observers looking for flaws might not always find the American's offense to run as a unit quite as spectacularly as its individual parts suggest it can. But that's not much to quibble over when the Americans play defense as they did throughout this tournament.
At their best -- which they were for much of the Olympics -- the Americans executed defensively in such a way that foes probably felt as if they were playing underwater. Lanes to the basket were cut off, the best scorers were blanketed by rotating top-notch defenders, and a series of quick-striking "thieves" patrolled the passing lanes. Sue Bird said it best: The Americans knew if they played as well as they could, a fifth consecutive gold would be firmly in their grasp. As it turned out, they never let anyone else even come close to touching it.
What it means: The Americans show no signs of surrendering their perch atop the women's basketball world. By the next Summer Games, Team USA's last Olympic loss (the '92 Barcelona Games semifinals) will be almost a quarter-century in the rearview mirror.
Golden Girls
The U.S. women dominated the competition in London. The women have 29 gold medals to the men's 17. Here is a breakdown:
| Team USA | Medals |
| --- | --- |
| Total | 104 |
| Women | 58 |
| Men | 45 |
Team captains Bird, Diana Taurasi and Tamika Catchings all won their third gold medal. The trio surely hopes to return for the 2016 Rio Games, when Catchings will be 37, Bird 35 and Taurasi 34. But even if one (or more) is unable to do that, there's not any shortage of returning up-and-coming talent.
Consider that the Americans won this gold without the likes of center Lisa Leslie, who retired in 2009, and one of the top current WNBA players, Cappie Pondexter, a 2008 Olympian who wasn't on this year's squad. As much as both have contributed to USA Basketball over the years -- especially four-time gold medalist Leslie -- they were not missed in terms of results this year.
Young players such as WNBA rookie of the year front-runner Nneka Ogwumike and college stars such as Baylor's Brittney Griner and Odyssey Sims, Notre Dame's Skylar Diggins, Delaware's Elena Delle Donne and Stanford's Chiney Ogwumike could be in the running to join the cast for the 2016 Summer Games. The task for the rest of the world doesn't get any easier, neither in the 2014 world championship in Turkey nor the Rio Olympics.
Play of the game: Considering the victory margin, clearly no one play made a great deal of difference. That said, Candace Parker's defensive rebound and then drive to the basket for a pretty, finger-roll layup symbolized how difficult France's challenge was. How do you stop that?
[+] Enlarge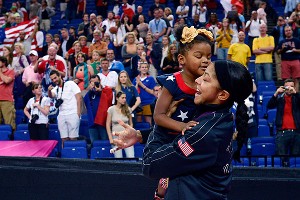 Richard Mackson/USA TODAY/SportsCandace Parker was Team USA's most dominant player Saturday, leading the team in points (21) and rebounds (11).
Player of the game: If you are grading hard, Parker had some ups and downs in the Olympic tournament. But her "ups" were really up and her downs were of little consequence. Nobody looked more ready to floor it against the French than she did -- and all her many skills were on display Saturday. Parker finished with team highs in points (21 on 10-of-14 shooting) and rebounds (11). This is the player the Los Angeles Sparks will love to have over the second half of the WNBA season.
By the numbers: All of the American players scored; the only one besides Parker in double figures was Bird with 11. … The Americans shot 48 percent from the field (31-of-64). The French shot 30 percent (16-of-53). … Even with center Sylvia Fowles not at 100 percent with a foot injury, the Americans still dominated inside, with 46 points in the paint to France's 20. … French point guard Celine Dumerc definitely felt the weight of Team USA's defense, finishing with eight points (2-of-10 shooting from the field and 4-of-4 from the line). She missed all five of her 3-point attempts. … There's no rest for the weary. Team USA will celebrate its gold, but all of the Americans are headed back for the second half of the WNBA season, which gets under way Thursday. Longtime friends and teammates Bird and Taurasi return to being foes again, as Seattle-Phoenix is one of three games that night. Will Taurasi, who missed most of the first half of the WNBA slate with an injury, be back at close-to-full strength for the Mercury, who are currently five games behind the fourth-place Storm in the Western Conference?
espnW.com
Mechelle Voepel joined ESPN.com in 1996 and covers women's college hoops, the WNBA and additional collegiate sports for espnW. Born in Los Angeles, she grew up 40 miles north of St. Louis and is a lifelong Cardinals fan still basking in amazement over their 2011 World Series title.
SPONSORED HEADLINES
MORE OLYMPICS HEADLINES
MOST SENT STORIES ON ESPN.COM
W @ The Games

Julie Foudy

Bloody Brilliant Blog!

Can we just call London, The Women's Games?
Truly inspired

Jenny Fletcher is reminded of what's really important.
Jackie MacMullan

So, what now?

What's next for Games' biggest female stars?