Commentary
Grades: United States versus Canada
Updated:
July 1, 2012, 3:05 AM ET
By
Arch Bell
| Special to ESPN.com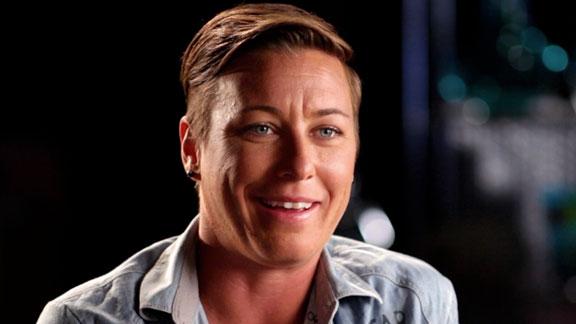 In the Game with Robin Roberts: Abby Wambach
Robin Roberts sits down and gets 'in the game' with soccer star Abby Wambach.
In the Game with Robin Roberts: Abby Wambach
The United States women's national team will head to London for the Olympic Games riding a five-match winning streak after slipping past Canada 2-1 on a steamy Saturday afternoon at Rio Tinto Stadium in Salt Lake City, Utah.
An own goal in the 13th minute put the Americans ahead 1-0 when Megan Rapinoe's dangerous ball into the area was mistakenly poked past goalkeeper Erin McLeod by Canadian defender Carmelina Moscato. An advantageous Canada team equalized in the 56th minute when Melissa Tancredi gathered in a perfect pass from Christine Sinclair and slammed a shot pass U.S. goalkeeper Hope Solo into the roof of the net. However, in the 84th minute, substitute Amy Rodriguez gave the U.S. the victory thanks to Abby Wambach's back-heel pass that pinballed off a Canadian defender and landed right at the feet of Rodriguez.
Despite the victory, a few questions remain for coach Pia Sundhage's team heading into their Olympic opener on July 25th versus France.
Sundhage raised some eyebrows by calling her starting lineup, aligned in a 4-4-2, her "strongest," even with stalwarts Carli Lloyd and Heather O'Reilly sitting on the bench at the opening whistle. A midfield consisting of Tobin Heath, Shannon Boxx, Lauren Cheney and Megan Rapinoe saw most of the attack drift toward the right wing, where Rapinoe was stationed in the first half. Rapinoe was dazzling in the initial 45 minutes, zipping past the Canadians. The only thing lacking was a finishing touch by Abby Wambach, who was unable to convert any of her chances.
[+] Enlarge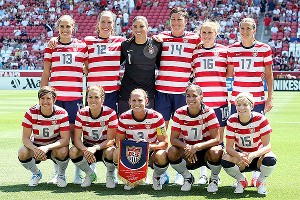 AP Photo/Colin E BraleyThe U.S. women's team will open its Olympic tournament on July 25 against France.
Alex Morgan's red-hot goal-scoring streak was put on hold, but only by the mere fact that she had a shot stopped off the line by Canada's Lauren Sesselmann in the second minute of first-half stoppage time. Morgan had to leave the match with a twisted knee early in the second half and was replaced by Rodriguez. In an effort to replicate what could be an Olympic-like situation in which a late goal may be needed, Sundhage brought on forward Sydney Leroux for defender O'Hara in the 76th minute and moved to a 3-4-3 alignment. Eight minutes later, Sundhage's tactic would pay off with the Rodriguez goal.
Player ratings (on scale of 1-10, 10 being best)
G Hope Solo (6): Terrific save late in the first half after Sinclair shot deflected off leg of Amy LePeilbet. Could do nothing to stop Tancredi goal. Otherwise, relatively untested in match.
D Kelley O'Hara (6): Used her midfielding acumen to push forward from the left back position. Reckless tackle on Sesselmann earned a yellow. Showed shooting ability with dangerous dipping effort in 44th that tested McLeod.
D Rachel Buehler (7): Great job marking Sinclair. Cut down numerous passes into area and had a key block of Sinclair shot in 75th minute.
D Christie Rampone (7): In her 260th appearance for the USWNT, the captain was steady and solid in her 45 minutes of work.
D Amy LePeilbet (6): Like the rest of the U.S. back four in the first half, not a lot of work to do on the defensive end. Gave some support on right side to Morgan and Rapinoe.
M Megan Rapinoe (9): What more can you say about Rapinoe, who was superb from start to finish. Her dangerous cross into the area led to the own goal and her 84th minute ball into Wambach eventually led to Rodriguez's game winner. Was a delight to watch.
M Shannon Boxx (6.5): Played only the first half but showed off her passing skills, including a cross-field pass to O'Hara in the 44th minute.
M Lauren Cheney (6.5): Combined well early with her attackers, but then was a little too quiet after the Canadian equalizer. Did a solid job helping kill off game after U.S. took lead.
M Tobin Heath (5.5): Some positive early moments, but then largely quiet the rest of the first half. Left wing spot is still up for grabs.
F Alex Morgan (6): Combined well with Rapinoe on right side and used her speed to create danger. Almost scored off a fantastic individual effort. Departed early in second half after twisting knee, which appears to be minor.
F Abby Wambach (7): Missed scoring on three excellent chances, all provided by Rapinoe, but still managed to leave her mark on game by continuously crashing the goal. Wonderful back-heel to Rodriguez led to game winner.
(Substitute) D Heather Mitts (5): Entered for LePeilbet at halftime. She was beaten on left side by Tancredi for the lone Canadian goal.
(Substitute) M Amy Rodriguez (6.5): Entered in the 50th minute and replaced the injured Morgan. Scored the game-winning goal but did miss on a golden opportunity earlier in the half on a ball from Wambach.
(Substitute) M Carli Lloyd (5.5): Entered for Boxx at halftime. Served in a good ball to Wambach in the 71st that was saved ... but a relatively quiet game.
(Substitute) M Heather O'Reilly (6): Entered for Heath at halftime. Played with some purpose early on but was largely kept at bay in second half.
(Substitute) D Becky Sauerbrunn (4.5): Entered for Rampone at halftime. Her giveaway led to the Canadian goal and had a few too many turnovers from playing in the back.
(Substitute) F Sydney Leroux (6.5): Entered in 76th for O'Hara. The 22-year-old provided great energy off the bench. Did a great job off a dangerous shot in first minute of second-half stoppage time.
Arch Bell is a freelance writer for ESPN.com. He can be reached on Twitter at @ArchBell.
SPONSORED HEADLINES
MORE OLYMPICS HEADLINES
MOST SENT STORIES ON ESPN.COM