Commentary
Grades: United States versus France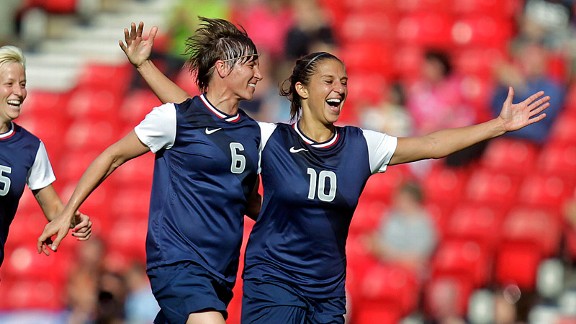 Graham Stuart/AFP/Getty ImagesCarli Lloyd came off the bench to help the U.S. midfield find its rhythm in a 4-2 win.
Carli Lloyd started this Olympic tournament precisely like she finished the last one.
Coming on in place of injured teammate Shannon Boxx in the 17th minute, Lloyd helped the U.S. women find their offensive rhythm, and then delivered the game winner in the 56th minute when her searing strike beat French goalkeeper Sarah Bouhaddi to send the Americans on their way to a 4-2 victory.
The match was yet another tribute to the U.S. team's extraordinary mentality. The Americans found themselves down 2-0 after just 14 minutes. But goals from Abby Wambach and Alex Morgan pulled the United States level before halftime, and after Lloyd put the Americans ahead, Morgan added a second goal in the 66th minute to cement a vital victory that puts them in firm control of Group G.
As for Lloyd, her long-range strike was reminiscent of the winner she scored against Brazil in the Olympic final four years ago. And it was one that scarcely seemed possible when the game began. The U.S. midfielder had lost her starting job just prior to the Olympics, but insisted before the tournament she was ready to play whatever role was needed. Lloyd proved true to her word, winning plenty of loose balls in midfield, and helping the United States gain more possession after an uneven start, before scoring her critical goal.
The Americans started the match aggressively, attempting to press France in its own half, while playing very direct in a bid to find Morgan and Wambach. But Les Bleus absorbed the pressure well, and then struck twice within a two-minute span starting in the 12th minute.
GaŽtane Thiney pounced on a headed clearance by Amy LePeilbet, and with the U.S. back line hesitating, she hit a pile driver that goalkeeper Hope Solo's touch couldn't save. France found the net again shortly afterward. A French corner was only half-cleared to Louisa Necib, her shot was blocked by LePeilbet and when neither Megan Rapinoe nor Rachel Buehler could clear the ball, Marie-Laure Delie rifled a shot past Solo.
It didn't take long for the United States to respond. In the 18th minute, Rapinoe sent a corner kick to the far post and Wambach's tight-angled header floated over everyone into the far corner to make the score 2-1.
[+] Enlarge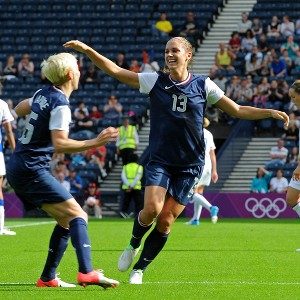 Matt Kryger/USA TODAY SportsMegan Rapinoe, left, finished with three assists, while Alex Morgan tallied two goals against France.
In the meantime, the Americans suffered what appeared to be significant blow when holding midfielder Shannon Boxx was forced to leave the match with a hamstring injury. She was replaced by Lloyd, and the Americans' fortunes continued to turn around as they equalized in the 31st minute. It was a goal straight out of the Route One playbook. Solo's long free kick evaded Wambach, but then bounced straight to Morgan lurking behind the France defense, and she lofted her shot over a stranded Bouhaddi to level the score at two.
France refused to crumble, and created several chances in the latter part of the half. Delie should have done better with a clear look at goal after evading Christie Rampone in the 37th minute, but fired her shot over the bar. A slick buildup one minute later put Thiney through on goal, but Solo was off her line quickly to pressure, and forced a poor touch by the French attacker that went out for a goal kick.
The U.S. women finished the half a bit stronger, with Morgan having a penalty appeal denied following what looked a good tackle from defender Ophelie Meilleroux. Lauren Cheney then hit a fierce shot right at Bouhaddi after good work from Lloyd and Tobin Heath.
The United States carried that momentum into the second half, as the team's play on the flanks improved dramatically through Rapinoe and Heath. Wambach had a shot cleared off the line in the 50th minute, but the Americans kept up the pressure. Rapinoe received the ball in space, and aware of an approaching double-team by the French defense, she deftly played the ball to Lloyd, whose blast to the far corner easily beat Bouhaddi for a 3-2 U.S. edge.
The Americans doubled their advantage in the 66th minute, and again it was stellar play on the flanks that set it up. Rapinoe's cross-field pass found Heath wide open on the left. Her low cross just eluded Wambach but fell to a wide-open Morgan at the far post for the easiest of tap-ins.
France did what it could to climb back in the game, and the United States didn't exactly help itself by pushing too many players forward. On one occasion, France countered straight off a U.S. corner, only for Elodie Thomis' poor touch and some nice closing speed by Rampone to nullify the threat.
That said, overall the United States was good value for its victory. There are some concerns on defense, and the team's late-game management will have to be addressed. The loss of Boxx also cuts into the team's depth. But the Americans have now safely navigated past what is viewed by many as their toughest group opponent, and will head into Saturday's game against Colombia (noon ET) with loads of confidence.
Player ratings (on scale of 1-10, 10 being best)
G Hope Solo (6): Might feel she could have done more to keep Thiney's goal out, but it was a blast. Did well to pressure Thiney into a poor touch in a one-on-one situation.
D Kelley O'Hara (5.5): Got forward to good effect, but there was little end product. Struggled to cope with Thomis' speed early on, but looked more assured in the second half.
D Rachel Buehler (6.5): Tough in the tackle, and hit some dangerous long passes. Lost Delie on one occasion, but solid overall.
D Christie Rampone (4): Was made to pay for her decision to back off Thiney on the first goal, and struggled to cope with Delie. Not her best game by any means, although she used her pace to thwart a late Delie breakaway.
D Amy LePeilbet (7): The best U.S. defender on the day. Had some critical clearances and protected her side well.
M Tobin Heath (5.5): Caught in possession far too often in the first half, but turned things around in the second, both from central and wide positions.
M Shannon Boxx (5): Aggressive in the tackle early on, although she was outmuscled in the box on the second goal. Was then forced to leave the game with a hamstring injury.
M Lauren Cheney (4.5): Far too quiet for much of the first half, save for one shot late. Was a bit better in the second half, as she had more success linking her passes, but had less than her usual impact.
M Megan Rapinoe (6.5): Nice assist on Wambach's goal, but overall found it tough to find a rhythm in the opening 45 minutes. Was far more effective in the second half, and finished the day with three assists.
F Abby Wambach (7): Her goal got the United States back in it, and her physical presence troubled France throughout. Also helped out the team defending corners.
F Alex Morgan (7.5): Was a constant threat with her speed, and took her first goal well. The second was easy, but give Morgan credit for being in the right place at the right time.
(Substitute) M Carli Lloyd (8): Came in for Boxx and was very effective, winning tackles and helping to establish a semblance of rhythm. Chose her moments to get forward well for the most part, with the goal the prime example, although she needed to sit in a bit more late.
(Substitute) M Amy Rodriguez (5): Came on for Morgan in the 75th minute, and filled in both up top and in midfield. Had little impact in either position.
(Substitute) F Sydney Leroux (NR): Late cameo, entering in 84th for Rapinoe.
Jeff Carlisle covers MLS and the U.S. national team for ESPN.com. He is also the author of "Soccer's Most Wanted II: The Top 10 Book of More Glorious Goals, Superb Saves and Fantastic Free-Kicks." He can be reached at eljefe1@yahoo.com.
Soccer
Jeff Carlisle covers MLS and the U.S. national team for ESPNsoccernet.
MOST SENT STORIES ON ESPN.COM