Commentary
U.S. women focused, unfazed
Despite early two-goal deficit, Americans rally to beat France 4-2 in Olympic opener
GLASGOW, Scotland -- It's been a slow burn.
For the past 11 months, the venom has seeped into their bloodstreams, releasing a slow-moving poison brought on by the sting of a shootout loss to Japan in the 2011 World Cup final. That painful memory has both haunted and fueled the 18 members of the U.S. Olympic women's soccer team. Even 22-year-old Sydney Leroux, the lone woman on the Olympic roster who wasn't a part of that 2011 World Cup squad, remembers the bite of watching from home and wondering if she could have made a difference.
To a woman, these players say the only salve for those stings is a win in the gold-medal match at Wembley Stadium on Aug. 6. The Americans took their first step toward accomplishing that goal on Wednesday night, rallying from a two-goal deficit to beat France 4-2 at Hampden Park Stadium.
"Nobody can stop us," forward Abby Wambach said shortly after the Olympic opener. "Nothing can stop us. We just came back from two goals down in the Olympics. That's why this team has been so great over the past year. No matter what predicament we get into, we find a way to get ourselves out of it. This team has something to prove."
[+] Enlarge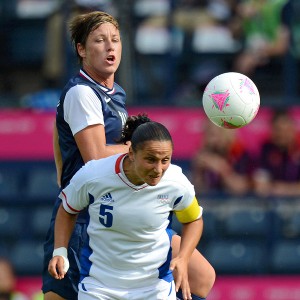 Matt Kryger/USA TODAY SportsAbby Wambach scored the U.S. women's first goal Wednesday on a header in the 19th minute.
The U.S. women remain focused, but it was their composure that carried Wednesday's comeback. Fifteen minutes into the first half, Wambach and her teammates were trailing 0-2. Journalists on press row scrambled to find record of the last time this squad had fallen behind by so much so quickly, or given up two goals in a game in a major tournament (that 2011 World Cup loss to Japan). No one could remember a similar predicament, or recall watching the team pull itself out of a similar scenario.
"I wasn't stressed, though," Wambach said afterward. "That's something different for us. Sometimes we've gone down a goal or two and haven't been able to come back. This time, we didn't stress out. We just needed one goal to give us that momentum, that shift. As soon as we scored one, I knew we would get another quickly."
It didn't take long for Wambach's prediction -- perhaps it's more fitting to call it a self-fulfilling prophecy -- to come true. In the 19th minute, she headed in a goal to cut France's lead in half. That score seemed to blanket her teammates in a sense of calm and confidence -- and light a fire underneath the seats of U.S. fans who hadn't made much noise. From that moment on, cheers of "USA! USA!" filled the stadium any time the Americans were on the attack or the French women held on to the ball for any length of time.
Then, in her first Olympic start, Alex Morgan's goal in the 32nd minute pulled the U.S. women even with France. Morgan would score once more in the second half, as would Carli Lloyd, who came off the bench in the 17th minute when midfielder Shannon Boxx left the game with a hamstring injury. France would not score again.
"It was incredible," U.S. goalkeeper Hope Solo said. "Our team, we were ice cold. We weren't even fazed to be down two goals. That comes from our preparation. We knew France was good. We knew we were better."
Given all the attention heaped on the U.S. women, it's sometimes easy to forget they finished in second place at the 2011 World Cup. They are the defending Olympic champions. But since that loss last July, the U.S. women have made their 2012 Olympic campaign less about defending their 2008 gold medal than about erasing the memory of 2011 and showing the world how far they've come in the past year.
In Wambach's case, the loss to Japan penetrates much deeper than it does for many of her teammates. For her, there is no gold medal to defend; there was no 2008 Olympics. In the final tune-up match two weeks before the Beijing Olympics, Wambach suffered a broken left tibia and fibula. Instead of grinding out wins with her squad, she was holed up at her family's lake house, watching the Games on TV.
That summer, Wambach's leg was in a cast, but it was her spirit that felt broken. She remembers listening in on a phone call during the locker room celebration after the gold-medal game against Brazil -- the same team the United States was playing when she suffered her broken leg -- and crying tears that weren't only tears of joy. That memory, too, stings. And the salve is the same: a gold medal in what very well might be her final Olympics.
Wambach hasn't said she will retire after the Games, but it is unlikely she or teammate Christie Rampone, who is competing in a record fourth Olympics, will make another run in 2016. Although Wambach says she feels stronger and healthier than ever, she has dealt with a string of injuries over the past few years, beginning with that broken leg. And at 32, she is not the same player she was in 2008.
"Abby and I have been through so much as a pair, but we try not to talk about this being the end," Rampone said. "To be a part of the Olympics is special. Sometimes I joke and tell Abby she has to stick around so she can get me tickets to the next one."
Jokes aside, Wambach is still one of the most threatening scorers on the field, and her presence not only provides experience and instills confidence, she is proving a wonderful mentor for some of the fiercest, fastest young forwards in the world in Morgan, Leroux and Lauren Cheney.
For now, though, Wambach isn't focusing on the future. She's just worried about biting back.
ESPN The Magazine senior writer
Alyssa Roenigk is a senior writer for ESPN The Magazine and ESPN.com whose assignments covering action sports, Olympics and football have taken her to six continents and caused her to commit countless acts of recklessness. In 2012, she joined the X Games TV broadcast team and ordered additional pages for her passport. Follow her on Twitter at @espn_alyssa.
MOST SENT STORIES ON ESPN.COM