Commentary
Leroux took long road to London
Her arrival was marked by an insignificant announcement in the 88th minute of the U.S. women's soccer team's opening match against France.
"Leaving the field, No. 15 Megan Rapinoe. And she is replaced by No. 11, Sydney Leroux."
[+] Enlarge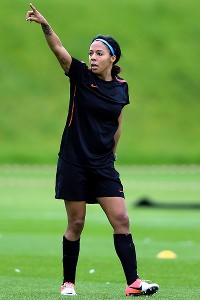 Jeff J Mitchell/Getty ImagesSydney Leroux, the youngest member of the U.S. team, played her first minutes as an Olympian against France.
Insignificant, that is, if you aren't Sydney Leroux and you hadn't been waiting patiently for 88 game minutes and the better part of 22 years to hear those words. Or if you aren't Sandi Leroux, her mother, who was sitting three rows up from midfield when that announcement flooded Hampden Park Stadium Wednesday night. To Sandi, those 16 words were anything but insignificant. Heck, she wouldn't have minded if they were spoken over the sound of a bagpipe-led marching band while confetti dropped from the sky. With those words, Sandi watched as her only daughter stepped onto the field, slapped hands with Rapinoe and then ran out to replace her at midfield. With those words, "No. 11, Sydney Leroux" joined her teammates and played her first minutes as a U.S. Olympic athlete.
It's been a long road from her hometown of Surrey, British Columbia, to this stadium in Glasgow, Scotland. A long journey from captain of Canada's U-15 team to a member of the U.S. women's national team and the 2012 Olympics. And many times along that road, both mother and daughter questioned if they'd made the right decision.
Should I have allowed Sydney to move away to live with host families and play soccer in the States?
Should I have stayed in Canada and taken the easy road?
"When she ran out onto the field, a U.S. fan sitting behind me leaned over and asked if, now that she's here, Sydney would think it was all worth it," Sandi said. "He wanted to know if I thought it was all worth it." Before you hear their answers, you must first understand his question.
Sydney Leroux was born in Surrey, a suburb of Vancouver, to Sandi, a Canadian citizen, and Ray Chadwick, an American. The moment she was born, she was both Canadian and American. "I think people forget that," Sandi said. "Especially people in Canada." Sydney's father, a baseball player who pitched briefly for the California Angels, was never around, so Sandi, a fantastic athlete in her own right who played softball for Canada in the 1987 Pan American Games, raised Sydney on her own in Canada.
From the jump -- literally, the kid practically jumped before she walked -- Sydney was a natural athlete, excelling at softball and soccer and pretty much anything her mom signed her up for. But soccer is the sport to which she felt a draw. When she was 7, she began hearing from coaches about Team USA and the women who, two years later, would win the 1999 World Cup and the hearts of sports fans -- including millions of little girls like her -- all over the world. "I think any young girl thought that was an amazing moment for women in sport," Sydney said. "Julie Foudy, Mia Hamm, all the players on that 1999 team. I looked at them and thought, 'That's what I want to do. I want to be that girl.'" And unlike most little girls around the world, Leroux's dream wasn't that far-fetched. But it certainly wouldn't be easily obtained.
At 14, she and her mom made the tough decision that Sydney would move away from home to play for club teams in Seattle and Phoenix. Always one of the youngest players on any team, she struggled to fit in and make friends. "Many times, the [U.S.] national team coach told her to go home, to go back to Canada," Sandi said. "He said there were a lot of players in the U.S. as good as her and her chances were better in Canada. He didn't want her taking their spots." But Sydney has never been one to take the easy path toward anything. "She's tenacious," Sandi said. "Her teammates don't call her the Honey Badger for nothing."
In 2008, as Sydney was nearing her 18th birthday and the U-20 World Cup, she and her mom worried she wouldn't receive her U.S. passport in time. If her birthday passed without a passport, she would be ineligible to play for the U.S. And getting that passport required a signature from her dad. "It was a tough process," Sandi said. "She begged him. I begged him. He held out until a month before her birthday, and then he signed." A few months later, Sydney came off the bench for the U.S. in its opener against France and scored two goals. She didn't leave the field again and Team USA won gold in the 2008 U-20 World Cup. "That was such a special moment," Sydney said. "I was so happy when I came on the field. I thought, 'This is my chance. Do something with this.'"
She thought the same thing when she made her first start at UCLA and when she returned to her hometown of Vancouver this past January to play for Team USA in the Olympic qualifier. But when she took the field in the opening game, it wasn't the sound of American support she heard. It was shouts of "traitor!" and "Judas!" and boos from Canadian fans who believe she abandoned her country by playing for that team to the south. "I knew everyone was booing me, but the end of my last name is an 'oooo' sound, so I pretended they were chanting my name," she said. "I want to put a positive spin on everything." By scoring five goals in that game, a 13-0 win over Guatemala, she also helped to silence the boos. "People always ask me if it bothers me that people think I'm a traitor. Honestly, I wake up every day with a smile on my face," said the player who is quickly becoming known as the funniest member of Team USA. She even ghostwrites a Twitter page for her dog, Boss. "I am one of the luckiest, happiest people in the world right now. Nothing can take that away from me -- even booing and people calling me a traitor."
That happiness has a lot to do with the teammates who surround her. Although she is the youngest member of Team USA, the only player who wasn't a part of last year's World Cup team and, of course, the only Canadian, Leroux has melded seamlessly into this squad. "Syd's so funny and lighthearted, who wouldn't want to be around someone who is going to make them laugh and smile," said her U.S. and UCLA teammate Lauren Cheney. "I think sometimes people see someone who is funny and young and so aggressive on the field and forget about the heart they might have off the field. Syd genuinely cares about people, is so easy to get along with and is the least judgmental person I've ever met. Syd on this team ... it was an easy fit."
But if competing in the Olympics is about having pride in your country, pride in where you come from, what is it like for a girl who comes from two countries to compete wearing the jersey of only one of them? "It is different for me," Sydney said. "I'm Canadian, but I'm American, too. I'm proud to play for the U.S. and represent America." And after stepping onto the pitch Wednesday night, is she more American? "I'm officially an Olympian for the U.S.," she said. "So yeah, I think I'm more American now. I play soccer for the United States." And about that question from earlier?
"Oh yeah. One hundred percent," she says. "It was definitely the right decision for me. It was all worth it." As for Mom, she agrees.
ESPN The Magazine senior writer
Alyssa Roenigk is a senior writer for ESPN The Magazine and ESPN.com whose assignments covering action sports, Olympics and football have taken her to six continents and caused her to commit countless acts of recklessness. In 2012, she joined the X Games TV broadcast team and ordered additional pages for her passport. Follow her on Twitter at @espn_alyssa.
SPONSORED HEADLINES
MORE OLYMPICS HEADLINES
MOST SENT STORIES ON ESPN.COM