Commentary
U.S. women hold the upper hand
North Korea's rebuilding means Sundhage's side should prevail
Aside from a shaky opening 18 minutes against France, things at the Olympics have gone according to plan for the U.S. women's national team: Two victories, a goal difference of plus five and some breathtaking attacking play have them sitting atop Group G. All that remains is for the U.S. to subdue a tricky North Korea side that has split its two matches, and then it can head into the quarterfinals on a high.
[+] Enlarge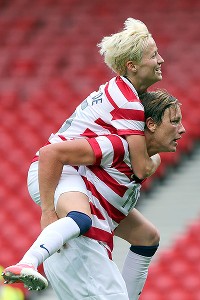 Stanley Chou/Getty ImagesAbby Wambach and Megan Rapinoe inspired the U.S. past a resolute Colombian side in the second group game. What will the duo do against North Korea?
What's on the line:
The U.S. has already clinched a spot in the quarterfinals, but there remains plenty to play for. A draw will secure the top spot in Group G and, with it, an easier quarterfinal matchup than the second-place finisher can expect. A loss won't necessarily eliminate North Korea -- it can still qualify as one of the two best third-place teams -- but any kind of result should guarantee its progress and it won't want to leave anything to chance.
Style and tactics:
The team that North Korea has brought to the Olympics is barely recognizable from the one that the U.S. faced just last year at the World Cup. Less than half the team has returned this summer, though this is due in part to the suspension of five players for doping offenses that were detected last year. Despite those absences, the style remains similar in that North Korea opts to play a highly technical version of a 4-4-2 in which the outside backs are expected to provide width, while the outside midfielders tuck inside. That said, the current team has a bit less flair and experience than in years past.
The key to the Americans' 4-4-2 is its flexibility. The speed of Alex Morgan forces defenses to respect long passes over the top, which often opens up space for playmakers such as Lauren Cheney and Megan Rapinoe to play quick passing combinations underneath. And at all times the power and heading ability of Abby Wambach has to be respected, as does the ability of the U.S. to swing crosses in from wide positions.
Players to watch:
For the U.S.: Kelley O'Hara, Carli Lloyd, Alex Morgan
O'Hara is the outside back that gets forward more often, but she'll need to pick her spots carefully given the propensity of North Korea's full backs to also move upfield. Lloyd was expected to spend most of the tournament on the bench, but an injury to Shannon Boxx has seen her step up with two goals and plenty of solid possession play. Morgan's speed will not only be counted on to stretch North Korea vertically, her diagonal runs to the corners can help keep its defenders from venturing too far forward.
Olympic Soccer
Follow Jeff Carlisle's reports on the U.S. women's national team as it tries to win gold at the London Games. Here »
For North Korea: Kim Nam-Hui, Ri Ye-Gyong, Jon Myong-Hwa
North Korea's back line gets it done with quickness rather than height, and center back Kim will be among those trying to keep the likes of Morgan at bay. Ri lines up ostensibly on the left side of midfield but can be expected to pop up anywhere, the better to utilize her incisive passing. Jon is the team's quarterback and will be expected to set North Korea's attacking tempo.
What we can expect:
It's North Korea so expect the unexpected, like benching Kim Song-Hui against France after she scored two goals against Colombia. But expect logic to be present as well, at least for the Americans. This is another game in which the U.S. has a sizable height advantage and, given how North Korea struggled on set pieces in a 5-0 loss to France, the Americans will likely do everything they can to exploit that weakness. A year ago North Korea posed some problems for the U.S. by sending numbers into wide positions; the American flank midfielders will need to be mindful of their defensive responsibilities. North Korea is also more than willing to try to press opponents in their own half, meaning that the U.S. will need to show a willingness to play direct if the opportunity arises.
Intangibles:
Given the geopolitical tensions that exist between the two countries, there will be no shortage of motivation for the North Koreans, who would love nothing better than to put one over on the Americans. Meanwhile, the confidence level of the U.S. figures to be sky high after its first two matches, while North Korea's figures to be at a low ebb following its heavy defeat to France.
Who will win:
A year may not seem like a long time in international soccer, but the gap between these two teams seems to have widened since they last met at the World Cup. The U.S. has added Morgan to the mix, while North Korea looks to be in rebuilding mode. For that reason, a stumble on the part of the U.S. seems unlikely; look for the Americans to prevail 2-0.
Jeff Carlisle covers MLS and the U.S. national team for ESPN.com. He is also the author of "Soccer's Most Wanted II: The Top 10 Book of More Glorious Goals, Superb Saves and Fantastic Free-Kicks." He can be reached at eljefe1@yahoo.com.
Soccer
Jeff Carlisle covers MLS and the U.S. national team for ESPNsoccernet.
Soccer on ESPN.com

Follow Soccer on ESPN: Twitter
Coverage on ESPN FC
Euro 2012 in Review
MOST SENT STORIES ON ESPN.COM