Commentary
Sydney Leroux takes advice to heart
U.S. substitute's first Olympic goal seals 2-0 win, sends Americans into semis
NEWCASTLE, England -- Just go crazy.
That's the advice forward Alex Morgan gave teammate Sydney Leroux, the youngest member of the U.S. women's national team, at the start of this Olympic tournament. When you come off the bench: Just. Go. Crazy.
In the 80th minute of Friday night's quarterfinal game, with the team up 1-0 and Morgan all but shut down by New Zealand's defense, coach Pia Sundhage decided her team "needed a sparkle." So she called Leroux off the bench to replace Morgan. "When I come out, I don't have anything to do other than go crazy," Leroux said after the game. "That's my favorite thing: to defend and slide tackle and cause havoc."
[+] Enlarge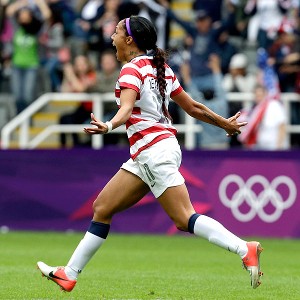 AP Photo/Sergey PonomarevSydney Leroux almost couldn't believe she had scored the first goal of her Olympic career.
Before running onto the field, Leroux met Morgan at the sideline, slapped her hand, gave her a hug -- and then took her advice. She lit up the offense with fresh legs and a whole lot of heart. After beating the New Zealand defenders down the left side, Leroux peeled out and received a ball over the top from midfielder Tobin Heath, tussled with her defender and emerged with the ball. Then Leroux drilled a left-footed shot between the legs of goalkeeper Jenny Bindon and into the net.
It took Leroux only seven minutes Friday to score the first goal of her Olympic career.
"I was unaware I scored," Leroux said. "I think I blacked out. I looked up and Kelley (O'Hara) was yelling to me. She said, 'I'm so proud of you.' And I said, 'No! Don't say that!' I'm about to start crying, and the game wasn't even over yet. It was so emotional."
Earlier in the game, after Abby Wambach scored her fourth goal in four games off a shot-turned-pass from Morgan in the 27th minute, the United States celebrated by performing Gabby Douglas-inspired cartwheels and mocking "sticking the landing." There was no celebration prepared for Leroux's goal, but, Wambach said, "It was the most sincere celebration of all, because I don't know if she could believe she just scored a goal in the Olympic Games."
Solo was celebrating in goal. Wambach had tears in her eyes. Megan Rapinoe, who was replaced by Heather O'Reilly in the 71st minute, leaped off the bench and nearly ran onto the field, she was so excited. Leroux simply screamed, her eyes wide and her expression just a little, well, crazy.
But it wasn't the padded score and insurance in the final few minutes that brought her teammates to tears. A spark plug on this team, Leroux is a sentimental favorite, a player who wears her heart on her sleeve, on and off the field. Typically, she's making her teammates cry in laughter. Friday night, they were crying because they were proud.
"

We knew a big-time goal for her would eventually come ... Syd will go in hard, and we need that when we're trying to keep a lead at the end of a game. We need someone who's going to go in, put on the pressure, go for tackles, keep the ball and just play fearless.

"

-- U.S. goalkeeper Hope Solo on teammate Sydney Leroux
"It made me emotional because that's what's special about being a part of the Olympics," Wambach said. "Seeing a kid come in, perform and do something that they didn't even think was possible. It was brilliant."
"We knew a big-time goal for her would eventually come," Solo said. "She has proven in practice and in games in the past that she can score, but lately she hasn't found the back of the net. It was a great sub by Pia and our coaching staff. Syd will go in hard, and we need that when we're trying to keep a lead at the end of a game. We need someone who's going to go in, put on the pressure, go for tackles, keep the ball and just play fearless."
All tournament, Sundhage has talked about the depth of her bench, saying repeatedly, and again on Friday, "This bench will win games." Leroux is clearly settling well into her role as the late-game Honey Badger, as her teammates dubbed her, but it's a new role for the former UCLA star. Fresh off her senior season, when she was playing 90 minutes a game, Leroux had to make a mental shift to prepare as a bench player in the Olympics. Earlier in the Games, Sundhage talked about Leroux's importance when the team needs help on the attack or when her squad is chasing a goal late in the game. "That's when you'll see Sydney," Sundhage said.
Leroux is very much in the position Morgan was in during her breakout 2011 season in which she scored two goals and had one assist during the Women's World Cup, and Leroux has been looking to Morgan as an example of how to make the transition well. "Me and Alex have played together since we were teenagers, and I know the path she's taken, so I hope I can do the same," Leroux said.
So far, so good.
"Sydney's not only fast, she's strong and she was committed to that play," Sundhage said after the game. "Her attitude is great on both sides of the ball. She is a great fighter. She reminds me a lot of Alex Morgan last year."
Just a little bit crazy.
ESPN The Magazine senior writer
Alyssa Roenigk is a senior writer for ESPN The Magazine and ESPN.com whose assignments covering action sports, Olympics and football have taken her to six continents and caused her to commit countless acts of recklessness. In 2012, she joined the X Games TV broadcast team and ordered additional pages for her passport. Follow her on Twitter at @espn_alyssa.
MOST SENT STORIES ON ESPN.COM