Commentary
Can history repeat for the U.S.?
Canada has been a pushover in the past. Will the Olympic semifinal be different?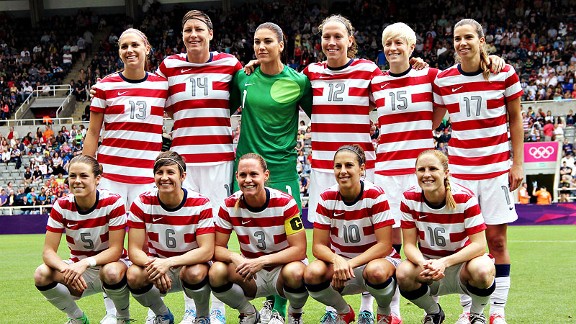 Stanley Chou/Getty ImagesThe U.S. women have looked smooth thus far, but what kind of challenge can Canada present?
As Olympic semifinal matchups go, the U.S. women's soccer team could have done a lot worse than a game against longtime adversary Canada on Monday.
Not only are powerhouses France and Japan on the other side of the bracket, but the Americans boast an all-time record of 43-3-5 against their northern neighbors. The last Canadian victory over the U.S. women came back in 2001, though it was against a U.S. B team. Just this past January, the U.S. hammered Canada 4-0 in the final of the CONCACAF Olympic qualifying tournament and prevailed 2-1 in an Olympic tuneup in June.
Yet this history, along with an uptick in Canada's confidence level, is precisely what makes Monday's match so dangerous for the Americans. Following Canada's disastrous showing at last summer's World Cup -- exiting at the group stage with three losses -- new manager John Herdman has fashioned a side that showed immense fortitude in rallying from an opening-game loss to Japan to record wins over South Africa and Great Britain as well as a tie against fourth-ranked Sweden. It's also a team that can match the U.S. in terms of fitness and athleticism.
"It seems like Canada is really peaking right now," said former Canada coach Even Pellerud in a telephone interview. "They looked very good, very comfortable on the ball, a better passing team than before, and they have special players."
It is the performance of one of those players -- attacker Christine Sinclair -- that will have a significant role in the game's outcome. Sinclair has spent much of her career for club and country as a forward and her 140 career international goals put her in third place all time behind U.S. internationals Mia Hamm and Abby Wambach. But the past two games have seen Sinclair stationed at the top of a midfield diamond behind strikers Melissa Tancredi and Jonelle Filigno, and this switch has helped Canada raise its game.
[+] Enlarge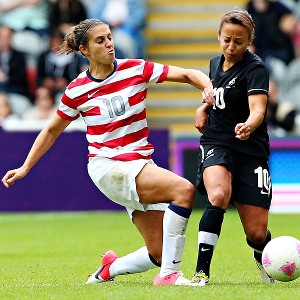 Stanley Chou/Getty ImagesCarli Lloyd has been stellar in filling Shannon Boxx's role as the holding midfielder, though Canada's Christine Sinclair will provide a much bigger challenge in the semifinal.
The fact that Sinclair is stationed a bit further from goal might seem like it's playing into the Americans' hands, but with Tancredi and Filigno both popping up for goals over the past two games, the Canadian attack has never looked so effective. And Sinclair showed in Canada's 2-0 quarterfinal win over Great Britain that she remains as deadly as ever on free kicks.
"I think with Sinclair [behind the strikers] and in combination with a hard-working midfield, they cover so much space and so much area," said Pellerud, who is now the head coach of the Trinidad & Tobago women's team. "It gives Christine more freedom to [run] at the defense, that's what she's good at. She's very dangerous, very smart."
Although the Americans' team defending has been excellent of late, the player who will be primarily tasked with stopping Sinclair -- at least when she operates out of midfield -- will be U.S. midfielder Carli Lloyd.
Prior to the Olympics, Lloyd looked destined to be something of an afterthought after losing her attacking midfield spot to Lauren Cheney. But when Shannon Boxx went down with a hamstring injury just 17 minutes into the opening group game against France, Lloyd was thrust into a holding role, where she has largely excelled. In particular, Lloyd's defense, long viewed as a weakness, has improved significantly.
"Lloyd is a very hard worker and a very tough kid," said Santa Clara University head coach Jerry Smith, who coached Lloyd during his time in charge of the U.S. women's U-21 team. "Between hard work and being a tough kid, defending is easy. Then it's just a matter of understanding a couple of things tactically. But I think she's really embracing the defensive role for the first time maybe in her life now that Shannon Boxx is out. Carli has absolutely stepped up her game."
Olympic Soccer
Follow Jeff Carlisle's reports on the U.S. women's national team as it tries to win gold at the London Games. Here »
That said, going up against Sinclair will be Lloyd's biggest challenge to date, and not everyone is convinced it's a favorable matchup for the Americans.
"If Lloyd plays that deep, I think that is the perfect matchup for Canada because Lloyd takes risks," said Pellerud. "She dribbles in risky areas and she passes flat in risky areas. That's what Sinclair loves. She's so smart with those passes. She just reads the ball and the ball goes to her feet. It's full speed ahead after that."
The other critical set of matchups will see the U.S. forward tandem of Wambach and Alex Morgan going up against a makeshift Canadian back line that has been worn thin by injuries to Candace Chapman and Robyn Gayle. So far the quartet of Rhian Wilkinson, Carmelina Moscato, Lauren Sesselmann and Marie-Eve Nault -- aided by the stellar work of holding midfielder Desiree Scott -- has held up well. The question now is: Will it last?
"Canada's defensive unit keeps worrying me, but it also keeps surprising me," said Pellerud. "I have to give the coaching staff full credit for what they've been doing with all these [injury] problems. But so far, Canada's opponents have not been able to challenge the weaknesses in the back line, especially speed."
That will change come Monday, as Morgan's pace (combined with Wambach's strength and heading ability) makes them arguably the best forward duo in the world at the moment. Even when Morgan has an off day in front of goal, as she did in the Americans' quarterfinal win over New Zealand, she can still contribute with her passing and defense.
[+] Enlarge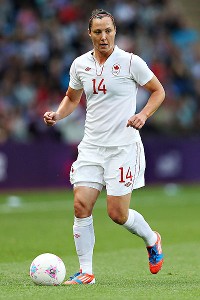 Julian Finney/Getty ImagesWith Sinclair moved into attacking midfield, Melissa Tancredi has thrived as Canada's main striker; her four goals ties Abby Wambach for leading scorer in the Olympic tournament.
The U.S. would also appear to have a significant edge in goal. While Canada's Erin McLeod has been solid during the Olympics, she doesn't have the match-saving ability of Hope Solo. Such individual brilliance in both penalty areas could be what carries the day for the Americans.
"The beauty of the U.S. team is it doesn't need to play well to win," said Smith. "They simply need to get the ball in the attacking third enough times and between Wambach and Morgan, they will just cause you a ton of problems. Then of course you have Solo in goal. Between those three people, you could actually not play well and still win the game."
The U.S. mentality helps it immeasurably in such matches. And the memory of last year's World Cup final defeat against Japan -- another opponent that had previously been dominated by the Americans -- should inoculate the U.S. against any overconfidence. As for the so-called law of averages?
"You just can't beat someone all the time," admitted Smith. "But I think as a coach, one of the more important things for me is the confidence piece. If the team feels prepared, feels confident, if they feel like this is someone we match up well with, that's probably the thing you want more than anything else, and I've got to feel like the U.S. players feel comfortable playing against Canada, that they've beaten them so many times."
Meaning this is one instance in which the U.S. will be happy to see history repeat itself.
Jeff Carlisle covers MLS and the U.S. national team for ESPN.com. He is also the author of "Soccer's Most Wanted II: The Top 10 Book of More Glorious Goals, Superb Saves and Fantastic Free-Kicks." He can be reached at eljefe1@yahoo.com.
Soccer
Jeff Carlisle covers MLS and the U.S. national team for ESPNsoccernet.
SPONSORED HEADLINES
MORE OLYMPICS HEADLINES
MOST SENT STORIES ON ESPN.COM
Soccer on ESPN.com

Follow Soccer on ESPN: Twitter
Coverage on ESPN FC
Euro 2012 in Review