Commentary
Canada cries foul over GK call
U.S. winds up with penalty kick soon after Erin McLeod whistled for rare penalty
MANCHESTER, England -- In the end, there can be only one winner. That is the misfortune of an epic game like the Olympic semifinal played Monday night between the United States and Canada at Old Trafford.
But as far as Canada's players and coach are concerned, the wrong team came out on the winning end of the Americans' 4-3 overtime victory.
[+] Enlarge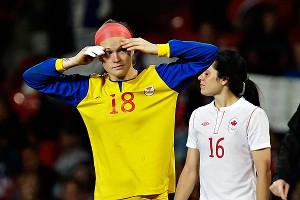 AP Photo/Hussein MallaCanada goalkeeper Erin McLeod said the head referee never warned her about holding onto the ball too long.
"I feel like we got robbed," goalkeeper Erin McLeod said. "The referee was very one-sided. She has to do what she has to do and believe in her decisions."
The decisions McLeod is referring to came around the 80th minute, when she was whistled for a six-second penalty (holding onto the ball for longer than six seconds), giving the U.S. women an indirect free kick inside the area. American midfielder Megan Rapinoe, who'd already scored two goals in the game, took the kick, which bounced off the arm of Canadian defender Marie-Eve Nault. Referee Christiana Pedersen awarded the United States a penalty kick, which Wambach converted to tie the score, 3-3.
Typically, a six-second penalty is called only after a warning, but McLeod said her only warning to stop delaying the game came from the linesman at the start at the second half, and not from Pedersen.
"I have never known this to happen in a game before," McLeod said. "It was an interesting decision. Referees never make this kind of decision."
After the game, U.S. coach Pia Sundhage and several members of the American team agreed they had never seen it called without warning. They used terms like unusual, unexpected and dramatic to describe the game. But they were not willing to concede that their win came by way of favorable officiating.
[+] Enlarge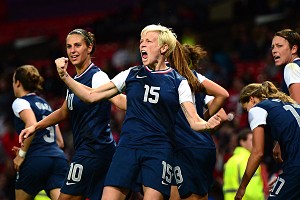 Mark J. Rebilas/US PresswireMegan Rapinoe twice pulled the U.S. women even with Canada, scoring goals in the 54th and 70th minutes.
"I've never seen [a six-second penalty] called without a warning. That was interesting," U.S. goalkeeper Hope Solo said. "But you never know what's going to happen. In soccer, you see the most bizarre things. I always refer back to our game against Brazil [in the 2011 World Cup quarters]. You never know what a ref will give you or take away. But you can't use it as excuses. We gutted it out. We found a way to win."
In the news conference after the game, a reporter asked Sundhage if she had sympathy for her opponent because of the rare and unusual six-second call. Sundhage simply shrugged and said, "Nope."
Canada coach John Herdman was less taciturn when asked about the officiating.
"The ref, she will have to sleep in bed tonight after watching the replays," said Herdman, who stirred up pregame controversy when he accused the United States of using "highly illegal tactics" on corner kicks. "She's gonna have to live with that. We will move on from this. I wonder if she will be able to."
ESPN The Magazine senior writer
Alyssa Roenigk is a senior writer for ESPN The Magazine and ESPN.com whose assignments covering action sports, Olympics and football have taken her to six continents and caused her to commit countless acts of recklessness. In 2012, she joined the X Games TV broadcast team and ordered additional pages for her passport. Follow her on Twitter at @espn_alyssa.
MOST SENT STORIES ON ESPN.COM