Commentary
Wambach drew ref's attention to GK
MANCHESTER, England -- One day. Twenty-four hours. That's exactly how long the members of the U.S. women's Olympic soccer team are allowing themselves to revel in their improbable 4-3 win against Canada in Monday night's epic semifinal match at Old Trafford.
"You have to allow yourself to feel that, to be drained, to indulge in it a little bit," midfielder Megan Rapinoe said shortly before boarding a bus taking the team from Manchester to London on Tuesday afternoon. "Once we get into the village, we focus on the gold-medal match."
But for the next 24, they will tell stories, rehash the moments they were each a part of and take a look at what went right, and what went wrong, in one of the most exciting international women's soccer matches ever played.
The team can count on Wambach
Abby Wambach's head garners a lot of attention. But Monday night, it was her mouth that proved the U.S. team's most potent weapon. Throughout the game, Wambach and fellow forward Alex Morgan attempted to draw referee Christiana Pedersen's attention to Canada goalkeeper Erin McLeod's game-delay tactics. They were hoping simply to speed up the game. In the second half, they turned it on thick.
[+] Enlarge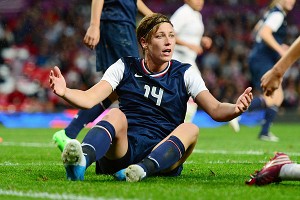 Mark J. Rebilas/US PresswireFrom the start, Abby Wambach complained to Monday's referee that Canadian goalkeeper Erin McLeod needed to play the ball quicker.
"I was saying to [McLeod], 'Come on. Play. Play the ball,'" Morgan said. "Then Abby started counting in the second half. We knew the ref had given [McLeod] a warning, and by the time she got the whistle, it was 10, 12 seconds."
Morgan conceded that she'd never played in a game in which a six-second call was made, but rare or not, she said it was the right call. "It was obvious," Morgan said. "It was blatant. At least 10 times, [McLeod] was over. And not six or eight seconds over. It was 10 or 12 or 18. We were counting out loud. The ref was aware. She didn't decide to make that call randomly."
During interviews the day before his team's Olympic semifinal match with the United States, Canada coach John Herdman called out the Americans, saying they had been engaging in "highly illegal tactics" on corners and free kicks during the tournament. "Obviously they're trying to free up a key player, but in a very illegal way," he said. "The U.S., it's what they do well." Herdman also said he hoped his comments would "raise awareness" of the Americans' highly physical play with the refs before Monday's match at Old Trafford.
During the game, the U.S. forwards raised a little awareness themselves. Call it gamesmanship; call it selling the call. Either way, it worked.
"It's great Abby did that," Heather O'Reilly said. "Making refs aware of a situation, there's nothing wrong with that. That's playing smart."
Rapinoe was ready to go
In the news conference after Monday night's game, U.S. coach Pia Sundhage talked about wanting fresh legs on the field late in the game. During the first overtime, she said she looked at Rapinoe, who had been electrifying all night, and told her she had five minutes left, six tops. Then Sundhage was going to pull her for a sub. "I thought she looked like she was getting tired," the coach said.
But Rapinoe -- who has tallied three goals and three assists in five games -- disagreed. "I felt good going into the game and I was hitting on all cylinders," Rapinoe said. "I felt like I was able to pull strings all game. I didn't want to come off the field and my teammates wanted me out there. I felt dangerous. I normally don't speak up like that. She's the coach. But I looked at her and said, 'No. I feel good.'" And Sundhage listened.
Who wins a shootout? The team that's smiling
With two minutes remaining in extra time and the score still tied, the U.S. coaches and goalkeeper Hope Solo were preparing for the game to finish in a shootout. "I walked back to the line, looked at the penalty spot and in my head, I decided on a plan of attack," Solo said. "I felt ready."
From an offensive standpoint, Sundhage said she learned a lot from last year's loss to Japan in the Women's World Cup final, and she will bring that with her into Thursday's game against Japan.
"When we had the penalty kicks against Brazil [in the 2011 WWC quarterfinals], we came from behind, scored a late goal, and [U.S. goalkeeper coach] Paul Rogers did a great job with the team," said Sundhage, who delegated the coaching of set pieces to Rogers last year. "When we got into the Japan game, I thought we would stay with what was working. But the difference was that [Japan] had came from behind, they had nothing to lose and they had a smile on their face."
Smiles, the ever-sanguine Sundhage said, can make a winning difference if a game is decided by penalty kicks.
"It is a little bit in the hands of the soccer gods," Rapinoe said. "It can be a crapshoot. But that's why we practice. Last night, Abby's penalty kick [in regulation] was brilliant."
Had Monday come down to a shootout, Sundhage said she would have taken the same approach she will take against Japan. "I will step in, take the lead, give them a big smile and make sure they enjoy the moment."
ESPN The Magazine senior writer
Alyssa Roenigk is a senior writer for ESPN The Magazine and ESPN.com whose assignments covering action sports, Olympics and football have taken her to six continents and caused her to commit countless acts of recklessness. In 2012, she joined the X Games TV broadcast team and ordered additional pages for her passport. Follow her on Twitter at @espn_alyssa.
MOST SENT STORIES ON ESPN.COM